New York State
Several NY Reps. defected from their parties to pass $1 trillion infrastructure deal
Four House Republicans and two Democrats from the Empire State were among 19 lawmakers who crossed party lines in historic infrastructure vote.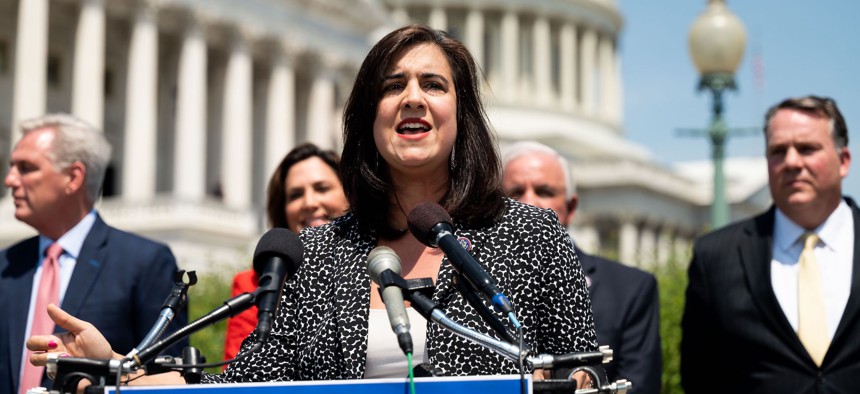 The $1 trillion infrastructure bill that passed in Congress on Friday is being viewed as a bipartisan victory for President Joe Biden as it will fund the largest federal overhaul of transit, highways, bridges and rails in decades. New York lawmakers played a significant role in crossing party lines on both sides of the 228 to 206 vote to pass the bill, with four House Republicans who voted in favor of it and two Democrats who voted against it.
The defecting legislators, who are divided among factions that have emerged throughout the infrastructure bill debate, are now facing backlash from their parties as Congress continues to negotiate the $1.85 trillion social-spending and climate portion of the package.
The infrastructure deal includes billions of dollars for New York state, including about $13.5 billion for highways, nearly $1 billion for airports and $59 billion for railroads, according to an analysis by Sen. Chuck Schumer's office.
Rep. Nicole Malliotakis is among the group of New York Republicans who voted in favor of the bill and cited the traditionalist belief of the importance of funding infrastructure as their reasoning for siding with Democrats.
"Just like President Trump's plan that I supported and pledged to pass when I was running for Congress, this will provide a minimum of $100 billion over five years that will benefit New Yorkers. From funding that could be used for expanded fast ferry service for Staten Island, upgrading NYC's subway system's pre-WWII signals and making improvements to the Staten Island Expressway to alleviate traffic congestion," Malliotakis wrote in an op-ed published Monday in the Staten Island Advance and titled "A win-win: Delivering infrastructure while dealing a blow to Socialist Squad."
Similarly, Republican Rep. Andrew Garbarino also pointed out that while his vote was in opposition to the majority of his party's, it went against those cast by Democratic "squad" members who voted against the package, including Reps. Alexandria Ocasio-Cortez and Jamaal Bowman.
"The bipartisan infrastructure bill that passed on Friday will bring crucial infrastructure investment to New York. It will not: Raise taxes ... Fund the Green New Deal … Increase our national deficit … That's why Progressives like AOC voted against it," Garbarino tweeted Monday.
He was among eight Republican "problem-solvers" who worked with Senate Democrats over the summer to negotiate the bill. Reps. John Katko and Tom Reed, the latter of whom will not seek reelection, were also part of this group. 
"When I first ran to represent Central New York in Congress, I pledged to deliver comprehensive infrastructure reform. As Co-Chair of the bipartisan Problem Solvers Caucus Infrastructure Working Group, I helped develop the framework for the legislation before the House," Katko said in a statement. "This bill will make a once in a generation investment in our nation's physical infrastructure including our roads and bridges, ports and waterways, broadband networks, electrical grid, clean water systems, and airports."
Ocasio-Cortez and Bowman were part of a larger group of progressive lawmakers who have said for months that passage of the infrastructure bill was contingent on the dual passage of a separate social spending bill. They are among six Democratic House members who voted against the infrastructure package.
A number of lawmakers from the progressive caucus that initially said passage of the two bills must occur simultaneously agreed in a last-minute deal to back the infrastructure piece. The decision came after a group of centrist Democrats who were on the fence about the social spending portion agreed to vote on it as soon as the Congressional Budget Office determines how much it will impact the federal deficit, a score that could come as early as Friday.
Republicans who voted in favor of infrastructure have made it clear that they do not plan to vote with Democrats when it comes to the social spending bill. 
"I weakened their hand. They have no leverage now," Malliotakis told Axios.
"I voted against AOC and the squad tonight," she said, adding that the social-spending bill will be "drastically weakened" in the Senate or "die altogether." 
Defectors from both sides of the aisle have faced backlash from within their parties in recent days. Rep. Tom Suozzi blasted his Democratic colleagues who voted with Republicans.
"These are two sides of the same coin: People so far out on the fringe instead of trying to get stuff done to help people and make people's lives better. That's what people are sick and tired of," he told reporters at a political conference in Puerto Rico over the weekend.
Meanwhile, Republicans closely aligned with former President Donald Trump have vowed to support challengers to the 13 members of their party who voted with Democrats on Friday. 
"RINOS (Republicans in name only) just passed this wasteful $1.2 trillion dollar 'infrastructure' bill. Pelosi did not have the votes in her party to pass this garbage. Time to name names and hold these fake republicans accountable," Republican Colorado Rep. Lauren Boebert tweeted.
Correction: This article has been updated to reflect the correct figure for the social-spending package.
Powered By
NEXT STORY: A year after reforms were promised, people leaving New York jails and prisons still lack IDs