Health Care
COVID-19 test providers are taking days to produce results
A coalition of lawmakers in Queens is calling for more testing sites as omicron is expected to take weeks to run its course.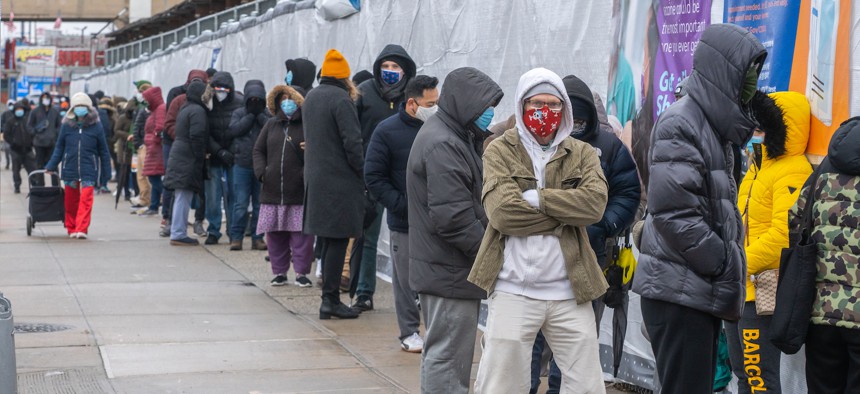 New York City lawmakers called on Mayor Bill de Blasio's administration to set up additional COVID-19 testing sites as the omicron variant's rise continues to overwhelm facilities just before Christmas, with some providers reporting delays in results of up to five days.
A coalition of seven state and local elected officials in Queens, where the western portion of the borough was hit hard by the first wave of the pandemic, held a press conference Tuesday to voice concern about the extensive wait times. 
"For days my office has received calls, emails, and outreach via social media from constituents and New Yorkers across the city expressing concern about the lack of testing capacity at a time when COVID-19 transmission rates are increasing," Assembly Member Jessica González-Rojas said. "New Yorkers should not have to wait in lines for hours, travel far, or worry their results will not be provided to them promptly."
State Sen. Mike Gianaris also held a separate press briefing in the borough, alongside New York City Council Member Tiffany Cabán and Assembly Member Zohran Mamdani, reiterating the plea. 
"This spike in infections didn't exactly sneak up on us; the outgoing mayor had had plenty of time to ramp up our capacity, rather than shuttering H+H testing sites. We need more sites now, to keep our loved ones safe this holiday season,"Cabán said, referring to a report that de Blasio's administration closed 20 testing sites in mid-November, before the explosion of omicron. 
Some independent operators say their labs can not keep up with the sudden surge in testing. CityMD warns that PCR test results can take more than five days, Gothamist reported, attributing the longer wait times to a 25% increase in testing over the past three weeks. 
Other test providers are being warned not to fabricate wait times. State Attorney General Letitia James' office issued a scathing letter to LabQ Diagnostics, a Brooklyn-based testing provider that operates dozens of sites, reminding it of state laws that prohibit false advertising. The company promises results in 48 hours on its website but some customers have reported wait times of up to 96 hours, James' office said.
"LabQ's own website states, 'Turnaround Time Matters,' but so does being honest with consumers. LabQ and all other labs should ensure that they are giving consumers accurate information about when to expect test results," the letter says.
James' office also issued a separate consumer alert asking New Yorkers to report price-gouging on the highly sought home-testing kits that have been selling out almost immediately in retail stores. Two-pack tests typically sold at prices between $14 and $25 have been jacked up to $70 in some cases, officials said.
Meanwhile, de Blasio continued to urge more New Yorkers to get vaccinated and boosted – as severe cases of the virus continue to impact those who have not been immunized at significantly higher rates. He also promised the city will have 112 COVID testing sites up and running by the end of the week. 
President Joe Biden also announced plans to open new federally operated testing and vaccination sites operated by the Federal Emergency Management Agency in vulnerable areas, starting with New York City, during a scheduled televised address to the nation on Tuesday afternoon. Several sites are expected to open before Christmas. The White House will also distribute 500 million free rapid tests that can be ordered by mail, Biden said. 
Separately, city officials on Tuesday announced $100 incentives for New Yorkers who get their booster shots before the end of the year.
De Blasio also reiterated messaging shared by federal and world leaders that while omicron is expected to continue its rapid rise, so far, it is causing mild illness that does not require hospitalization for the majority of the infected who have been vaccinated.
"This is going to be a temporary reality, and I want to emphasize that," de Blasio said during a virtual press briefing on Tuesday. "We've got to keep focused on the big picture … which is to keep this city moving forward … And the way to do that is vaccination. What unites all the strategies is vaccination."
Biden on Tuesday went as far to reassure fully immunized Americans that they are safe to celebrate the holidays as planned – as long as they are masked while indoors. 
"I know some Americans are wondering if you can safely celebrate the holidays with your family and friends. The answer is yes you can, if you and those you celebrate with are vaccinated," Biden said, while reporting that 200 million Americans, or about 60% of the population, have been fully vaccinated. "You know you've done the right thing, you can enjoy the holiday season."
With reporting by Rebecca C. Lewis.