Health Care
FAQ: All of your omicron questions answered
State and local officials have rolled out a fresh slate of measures to combat the spread of the highly transmissible new coronavirus variant in recent days.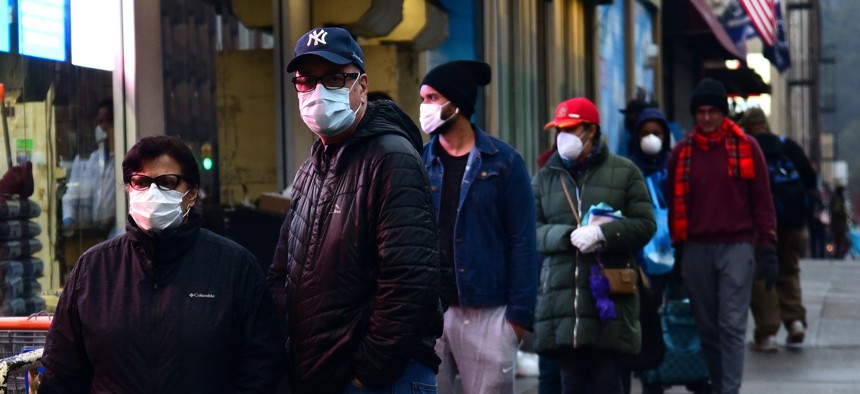 As New York's COVID-19 positivity rates have surged amid the arrival of the highly transmissible omicron variant, officials have rolled out a fresh slate of measures to combat the spread. New testing sites, publicly provided personal protective equipment and additional enforcement protocols are just some of the services announced in recent weeks.
With a new phase of the pandemic upon us – just as holiday gatherings and winter weather threaten to exacerbate caseloads – we've answered some of the most commonly asked questions about the current state of the virus and how New Yorkers can protect themselves from it.
How prevalent is omicron in New York?
The omicron variant, which was discovered in South Africa at the end of November, has driven cases in New York to unprecedented levels and now accounts for an estimated 90% of new COVID infections in the state.  In New York City, positivity rates doubled in just three days beginning Dec. 9, according to city health department data. 
Statewide, the positivity rate stood at 10.4% as of Tuesday, up from 5.6% on Dec. 14, officials said.
Beginning Dec. 17, New York recorded four consecutive days of record-high case counts since the start of the pandemic, only to break the record again by Wednesday, when the state logged more than 28,000 new cases. And last week, New York surpassed a grim milestone – more than 60,000 COVID-19 deaths since the start of the pandemic, with 59 recorded on Friday.
However, the death-rate is still far below what it was in December 2020, when the state was logging more than 100 deaths a day on average. COVID-19 hospitalization numbers are also about half of what they were in January this year.
How effective are vaccines and natural immunity against omicron?
Scientists have found that omicron is significantly less responsive to antibodies from prior infections, as well as those in vaccinated people compared to previous variants. However, studies show that while protection against omicron from the first two doses of the vaccine fades over time, booster shots recharge antibody levels by 25 times for Pfizer's shot and 37 times for Moderna's.
"Hospitalization rates among unvaccinated New Yorkers are 13x those among vaccinated New Yorkers," city Health Commissioner Dave Chokshi tweeted. "We can't stress this enough — vaccination is highly effective at preventing severe outcomes from COVID-19, including hospitalization."
As of Sunday, 82% of all New Yorkers, and 94% of adults, have had at least one vaccine dose, according to state officials.
Omicron is also showing resistance to two of the three monoclonal antibody treatments used to treat COVID patients and some hospitals, including NewYork-Presbyterian, N.Y.U. Langone and Mount Sinai have stopped using them, The New York Times reported.
Where can I get tested?
Both city-sponsored and independent testing sites in New York City have seen lines snaking around blocks in recent days, with some logging hours-long wait times. 
Free testing, both PCR and rapid, is available at city-run sites in every borough, and wait times can be checked online. 
Mayor Bill de Blasio on Wednesday announced that the city would have at least 119 testing sites up and running by the end of the day. New York City Health + Hospitals is also offering free testing, and all city-run sites will be open seven days a week.
The state will begin offering testing starting Dec. 27 at the Times Square-42nd Street and Grand Central subway stations, Gov. Kathy Hochul said Wednesday.
The White House has also deployed federal workers to set up testing sites in New York and other vulnerable areas of the country, starting Wednesday with a unit at Travers Park in Queens.
Are home tests available?
Self-swab antigen tests are sold at pharmacies and doctors' offices but are flying off the shelves and selling out quickly. 
The city has begun distributing 500,000 home-testing kits, along with 1 million N95 masks, through community groups, particularly in areas most affected by the pandemic.
Hochul also promised to mail home tests to eligible New Yorkers, with a focus on areas with lower vaccination rates. She previously said the state would make 1 million home tests available through schools, as well as public testing and vaccination sites.
On the federal level, 500 million free antigen test kits are set to be distributed by mail, Biden said Tuesday.
How accurate are self-administered tests?
At-home tests, done via nasal swab, can return results within about 15 minutes and are said to pick up about 85% of positive cases. 
Are businesses shutting down? 
Some restaurants and Broadway productions have shut down temporarily, but officials from the local to federal levels have said mass closures are a last resort not currently on the table. 
"It's going to take a lot for me to lock down the city," incoming New York City Mayor Eric Adams, who takes office in less than two weeks, said Thursday. "My goal is, I don't want my city to close down again … The goal is to properly have an equitable distribution in real time to respond to the COVID threat."
White House officials have also said the federal government has no plans to shut down the U.S. economy. 
"We have the tools to fight this virus, including omicron, and we're in a ... stronger place than we were a year ago and there's no need to lock down," White House COVID-19 response coordinator Jeff Zients said at a Wednesday press briefing.
What are the rules regarding masking and vaccination?
Effective Monday, all New York businesses that do not require proof of vaccination were required to begin mandating masks, according to protocols Hochul announced earlier this month.
In New York City, proof of vaccination is required for patrons of indoor restaurants, bars and other entertainment venues. Private employers must also mandate vaccinations for workers by Dec. 27, de Blasio announced this month. Within 45 days, the businesses must require workers to show proof of full vaccination or face up to a $1,000 fine.
Some businesses, such as The Metropolitan Opera, have taken the measure a step further and will require patrons to show proof of a booster dose. The protocol will take effect at The Met on Jan. 17.
De Blasio on Thursday announced that proof-of-vaccination and masks will be required to attend the city's New Year's Eve celebration in Times Square. Capacity will also be reduced to 15,000 from 58,000, and entry has been delayed to 3 p.m.