Health Care
New York hits another day of record COVID cases
The state broke its single-day case-count record for the fourth consecutive day amid omicron's rip.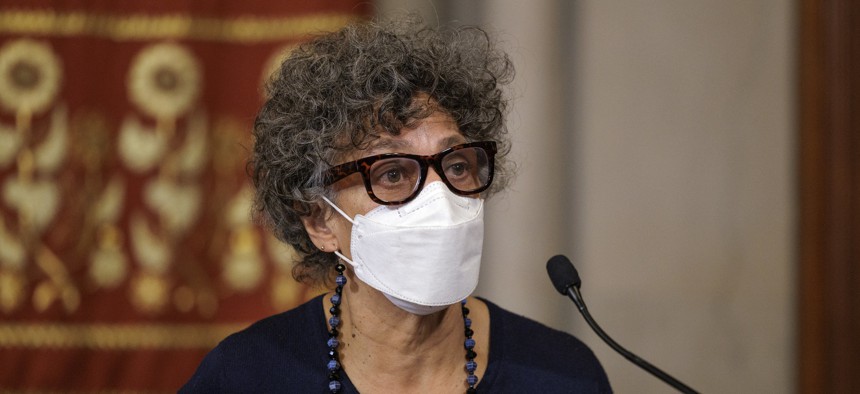 New York state broke another record for the most COVID-19 cases in a single day, with 23,391 recorded Sunday, Gov. Kathy Hochul said Monday, while announcing that the state's own health commissioner, Dr. Mary Bassett is among those who have tested positive for the virus.
"She has tested positive through a COVID rapid test. Everyone who sees me is tested or all the team that comes through here is tested every day,"  Hochul said during her weekly COVID-19 press briefing, flanked by Director of State Operations Katherine Garcia and Jackie Bray, the acting commissioner of the New York State Division of Homeland Security Emergency Services. 
Bassett "left the office immediately" after testing positive, Hochul said. "Of course she is vaccinated and boosted, so this would be a breakthrough case, but she's feeling fine."
Monday marks the fourth consecutive day that the state has reported a record number of new COVID-19 positives since March 2020, representing a four-fold increase from case counts just a week ago, when the omicron variant began to take hold in the U.S. The seven-day average statewide positivity rate stands at 7.4%, officials said. 
Despite the volume of new cases, Hochul reiterated previous messaging that the number of people becoming seriously ill is still far below what it was during some of the darkest days of the pandemic. 
"This is not March 2020, this isn't even December 2020," Hochul said. "We're going to be as aggressive as possible … but in terms of people's own personal anxiety about it, just know that it's very likely to be minor symptoms if you're vaccinated and boosted."
Hospitalizations in the state currently stand at 4,020, less than two-thirds what they were a year ago, Hochul said. However, she said that small hospital systems in rural and upstate communities are also becoming increasingly overwhelmed, after she visited vaccination sites in Warsaw and Johnson City earlier in the day. 
Hochul also touted the positive effects of her executive order enabling the state to pause elective surgeries at hospitals that had 10% or less staffed bed capacity. On Dec. 6, she announced that 32 hospitals met the criteria. That number has now dropped to 28, a sign that some hospitals have been able to increase their number of available beds.
When asked by a reporter if she stands by her Nov. 18 statement that she wants Manhattan office buildings back up and running in the New Year, Hochul struck a more hesitant tone but stopped short of reneging the statement. 
"We have an economy that needs to be resuscitated, and I want to keep that going. But I also trust the judgment of businesses and their employees to do the right thing," she said.
The number of New Yorkers getting vaccinated also continues to rise. Ninety-five percent of adults have received at least one dose, officials said, citing CDC data. About 40% of New Yorkers who are eligible for a booster have received the extra shot, Hochul said, including 80,000 on Sunday alone.
Hochul on Monday also announced a $65 million investment for counties to enforce her masking rule at businesses that do not require proof of vaccination, along with plans to distribute more free personal protective equipment and home-testing kits. The measures are part of what Hochul called a "winter surge plan," that also includes a text and voicemail-messaging campaign urging people to get vaccinated and boosted.
Earlier in the day, Hochul said that the state would send inspectors to perform spot checks around the state to ensure that businesses follow the mask or vax mandate. The move came after several local leaders said they would not enforce the mandate themselves, leading some to question what, if anything, the governor would do to force the hands of reluctant counties. However, Hochul said that those spot checks would not target specific areas, like those with resistant leaders.
The state has ordered 10 million rapid tests, the governor said, including two million for school districts, one million for county emergency managers and 400,000 to state vaccination sites. New York City schools will also receive 1.5 million testing kits. Half will be delivered before the New Year, officials said.
In addition, the Division of Homeland Security and Emergency Services will distribute six million masks to county emergency managers. 
In New York City, the troubling increase in COVID-19's spread, thanks to the omicron variant, has led to a series of new measures, renewed cautions and a sense of déjà vu for anyone looking to get tested. Lines for brick-and-mortar and pop-up testing sites alike have once again begun winding around blocks with hours-long wait times to get inside. 
Mayor Bill de Blasio has said he'll open up more testing sites – after he reportedly shut down 20 prior to the new spike – and has called on President Joe Biden to invoke the Defense Production Act to ramp up production of testing kits and COVID-19 treatments, a plea Garcia echoed in a letter she said would be sent to the federal government Monday.
Several New York City agencies also implemented additional COVID-19 protocols on Monday. The New York City Police Department directed all cops to wear masks while on the job. New mandates also went into effect at New York City childcare facilities and private schools Monday, where all employees were required to show proof of vaccination.
New York City public schools are also experiencing outbreaks of breakthrough cases, but the large majority of buildings remained open on Monday, and officials said there are no plans for widespread shutdowns. 
"We have, as of this morning, four schools closed out of 1,600 and a positivity level just over 1%, obviously compared to a much higher level for the city," de Blasio said during a Monday press briefing. "The situation room has been beefed up immediately. We saw just literally between, you know, Monday and Friday last week, a big sudden uptick in cases."