Health Care
Hochul's new mask mandate has flavors of old and new
The governor declared a major shift in COVID-19 policy, with a sign-off from the state health commissioner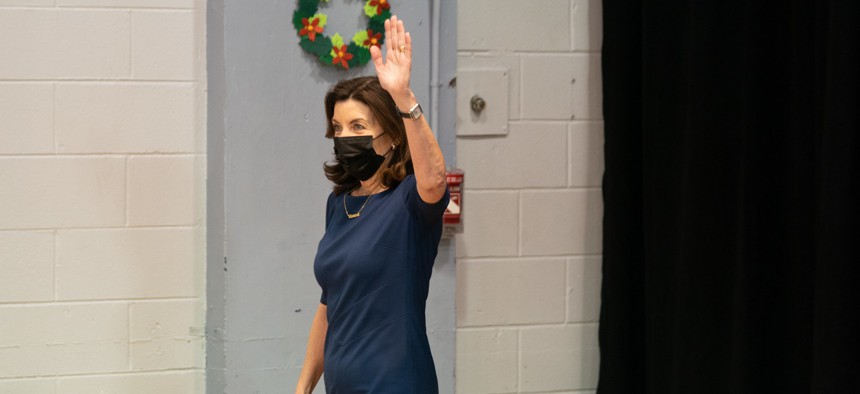 Gov. Kathy Hochul on Friday announced a new state mask mandate after several weeks of speculation over whether she would make the move or not. The governor issued her first significant reintroduction of coronavirus-related restrictions statewide a little differently than her predecessor, but reactions from critics remained the same. 
Under the mandate, which takes effect Monday and will remain in place until at least Jan. 15, people must wear masks in all indoor public spaces across the state unless a business or venue implements a vaccine requirement. Enforcement will fall to local health departments and businesses that don't comply will face $1,000 fines but individuals won't face penalties.
The regulations are similar to those already in place in New York City, where people must show proof of vaccination for many indoor locations including restaurants, theaters and gyms. Whereas one dose is sufficient in the city to get into places until Dec. 27, when a full two-dose course will be required, the state would require people to have received their full vaccination course at least two weeks ago before entering indoor venues.
As COVID-19 cases started to rise throughout the state and the new omicron variant began to spread, Hochul faced increasing questioning over whether she would reimplement a state-wide, or even regional, mask mandate or begin requiring people to be vaccinated. Until recently, she seemed resistant to the idea. "The localities, those that enforce this are doing it. We support them," Hochul said on Dec. 2. "But there's also the reality that it's almost impossible to enforce this kind of behavior among a population that just won't do it."
In a shift from the implementation of coronavirus mandates in the past, Hochul no longer has the expanded emergency powers granted to former Gov. Andrew Cuomo at the beginning of the pandemic. With those powers, he issued edicts through executive order with all central authority in him. 
This time around, the new mask mandate did not come in the form of an executive order but emergency regulations that came from the state Department of Health and the Public Health and Health Planning Council. "The State Health Commissioner issued a determination solidifying the requirement," read a press release announcing the mandate. That determination modifies masking rules from November approved by the council. In this way, the mandate isn't really new, so much as it has amended conditions to existing rules already in place.
Since Hochul no longer has the power to issue decrees in the same manner as Cuomo, these types of decisions will technically need to come from acting Health Commissioner Mary Bassett and other public health officials at the state level, who have authority to issue regulations during a public health emergency. 
Criticisms of COVID-related restrictions from Republicans and moderates certainly have not changed even if the mechanisms for implementing them have. GOP gubernatorial challenger Rep. Lee Zeldin condemned Hochul's return to a universal indoor masking policy, as well as other major coronavirus-related decisions as of late. "I do not support Kathy Hochul's decision to impose a statewide mask mandate, I do not support her threats and heavy handed approach firing essential workers … and I do not support her order ending elective procedures," Zeldin said in a press release. 
State Sen. Minority Leader Rob Ortt blasted the mandate as "half-baked" and "a complete reversal from her previous comments." And Assembly Minority Leader William Barclay accused her of the same "heavy-handed process" as former Gov. Andrew Cuomo. 
Given that enforcement will fall on local leaders and health departments, this kind of resistance may make it difficult to enforce the mandate and vaccination requirements in the areas that need them the most. Lt. Gov. Brian Benjamin recently said that in his steps to address vaccine hesitancy, he has found that Republican and conservative-leaning parts of the state have the worst vaccination rates. Those parts of the state also have the highest rates of COVID-19 cases. "One of the things that we would like to try to do is to find ways to have conversations to take the partisanship out of getting vaccinated, wearing masks and keeping us all safe," Benjamin said at a Thursday COVID-19 briefing. But if these reactions are any indication, that bipartisanship may remain a pipedream.