Health Care
NYC's supervised injection sites face pushback
Rep. Nicole Malliotakis introduced a bill to defund the "Overdose Prevention Centers."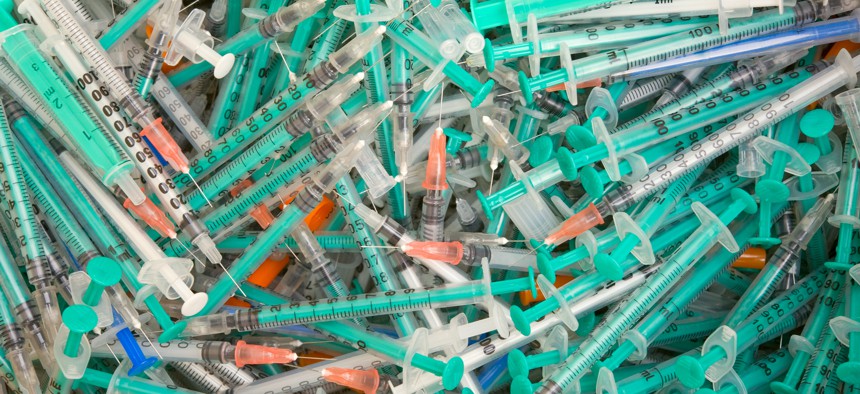 Last week, New York City announced the launch of its first supervised injection sites in an effort to combat its opioid crisis – and the "Overdose Prevention Centers" are already getting pushback. 
On Wednesday, Republican Rep. Nicole Malliotakis introduced the "Defund de Blasio's Injection Sites Act of 2021" legislation in Congress. The bill would hold back city, state, tribal or private entities from receiving any federal funding to operate supervised injection centers. 
"We've already identified millions of federal dollars that have been sent to these facilities," Malliotakis said in a press release. "Gifting money to heroin shooting galleries that only encourage drug use and deteriorate our quality of life is an egregious abuse of taxpayer dollars."
Malliotakis also sent out a letter to New York State Attorney General Letitia James on Wednesday, requesting that she take action and shut down the sites. 
This isn't Malliotakis' first attempt at blocking supervised injection sites. 
In 2017, New York City Mayor Bill de Blasio introduced a one-year pilot program in response to the ongoing opioid crisis across the city that included four supervised injection sites across the five boroughs. The proposed sites would have made medical professionals and social workers available to stop overdoses and provide counseling for users. 
In response to de Blasio's proposal, Malliotakis wrote to the U.S. Attorney General Jeff Sessions, urging the Department of Justice to stop the proposed pilot program from happening. While de Blasio tried his best to push the pilot program forward, it was blocked by then-Gov. Andrew Cuomo and President Trump, who were both against it. 
One of the city's supervised injection sites is also facing criticism from community members. 
Rev. Al Sharpton has stated his opposition to the Harlem injection site. 
"We are compassionate and want to help all the vulnerable population in New York City, however, we cannot be complacent regarding the decades-long process of systemic racism that has oversaturated our community," an email sent out by the National Action Network, Sharpton's organization stated.
Concerns also stem from the fact that the Harlem site is located near a daycare, according to the New York Post.  The Post also reported that the site will draw an estimated 6,000 drug users, annually, to a neighborhood that's overwhelmed with social service providers. 
The National Action Network is planning to hold a demonstration outside of the Harlem clinic on Saturday.
"The siting of the nation's first formal opioid injection site without any community consultation is another in-your-face demonstration of how New York City continues to ignore the opinions of Harlem and locate programs on our streets for the benefit of wealthier and often whiter neighborhoods," one of the organizers told the Post.