New York State
Local Republican leaders say they won't enforce Hochul's mask mandate
The backlash follows some right-wing-fueled confusion about the rule, which took effect on Monday.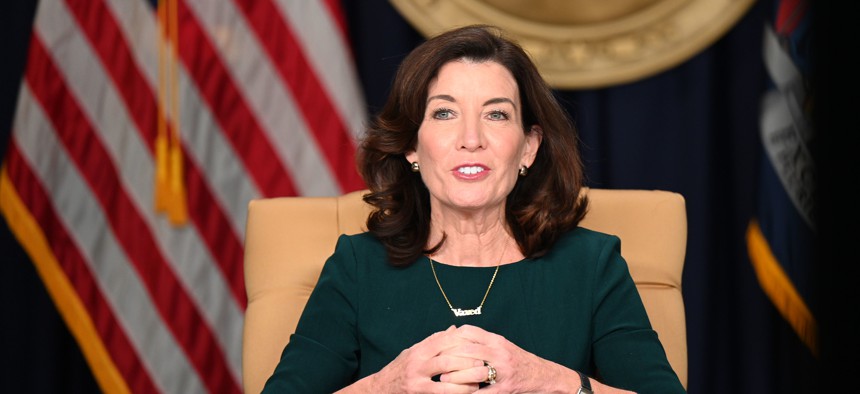 Republican officials across New York state are waging a resistance campaign to Gov. Kathy Hochul's renewed mask mandate – with some local leaders declaring they will refuse to enforce the rule.
Dutchess County Executive Marc Molinaro, a Republican, announced Sunday his administration would not impose the mandate, which took effect Monday, calling it a burden on small businesses that would inevitably become "confrontational."
"As we educate & inform residents to take the necessary mitigation steps to protect themselves & those they love, we will not escalate tension or conflict or further burden our local small biz by allocating resources we do not have to this impractical & unenforceable measure," he tweeted.
Molinaro joins at least one other Republican county executive, Ed Day of Rockland, in putting up a roadblock to the requirement.
"The mask mandate is unenforceable. Unless you want to have police locking people (up) like they're doing in Australia, it's not enforceable," Day told CBS 2, claiming Hochul's administration asked him to reassign health department employees working on vaccine distribution to enforce the mask mandate.
"Nobody wants to spend police resources doing that. So they said our health departments are gonna do this. And I said, 'That is not gonna happen.' I have a health department right now who is doing a great job in immunizing people," Day said. 
Hochul on Friday ordered all indoor businesses that do not require proof of vaccination to require patrons to wear masks up until at least Jan. 15, or face up to a $1,000 fine. The announcement was met with almost immediate criticism by state GOP lawmakers, with both the state Senate and Assembly minority leaders issuing statements blasting the rule. 
Responding to the criticism, Hochul on Monday said she received support from some rural localities and noted some county executives requested the mandate. 
"Every county is different, and I've spoken to many of them. Some county executives have asked us to do this so they have what I would call air cover," she said during a press briefing. "I've had calls even in some of the more rural areas where they're grateful that we did this, so they can explain this is a statewide mandate. So there's a difference of opinion. I do have faith in New Yorkers."
When asked about the refusal to implement the rule by some local leaders, Hochul said "we hope counties will enforce it."
In New York City, Republican City Council Member Joe Borelli – who was one of the chief critics of ex-Gov. Andrew Cuomo's COVID-19 restrictions – also said Hochul's new rule lacks teeth. 
"Part of the issue for Hochul's mask mandate is that under Cuomo, the inspection agencies, biz owners, & public all knew and understood Cuomo was an absolute ruthless POS who would issue fines, jam inspectors, and ensure retribution… no one seems to be afraid of Kathy's wrath," he tweeted.
Nassau County Executive-elect Bruce Blakeman is yet another Republican to join the criticism chorus, calling the mask rule a "shotgun approach" in a statement that noted 97% of adult residents in the county have had at least one dose. 
The backlash follows some confusion sparked over the weekend by a photo of Hochul, unmasked, and hand-in-hand with Assembly Member Rodneyse Bichotte Hermelyn at the Brooklyn Dems holiday party. Hochul herself posted the shot to Twitter the same day she announced the renewed mask mandate, and those on the right quickly pounced on the opportunity to call out the perceived hypocrisy. 
"Remember, the indoor mask mandate begins today for peons like us," tweeted Bob Lonsberry, a conservative radio host, alongside the image.
But the backlash overlooked an important detail: The mask rule only applies to businesses where vaccination cards are not checked. 
Some health departments, however – such as New York City's – have recommended masking up despite vaccination status. 
With reporting by Zach Williams. 
Powered By
NEXT STORY: Eric Adams wants to "Get Stuff Done." What stuff?