Energy & Environment
East River Park construction can continue, high court rules
The Thursday rulings by the New York Court of Appeals put an end to a long-fought war between New York City and activists who are against the project.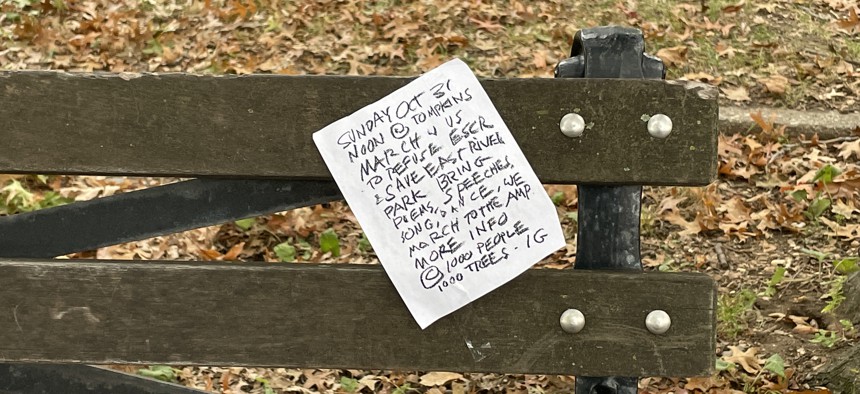 Activists have lost their years-long battle to stop the rebuilding of Manhattan's East River Park, after an appeals court on Thursday rejected three motions intended to halt the ongoing demolition.
The city's $1.45 billion East Side Coastal Resiliency Project began in 2020 on a 2.4-mile stretch of the park along the East River, from East 25th Street to Montgomery Street. It was developed in the wake of Superstorm Sandy in 2012 and intended to prevent future flooding by raising the ground level and creating a flood barrier.
Activists have argued that the project would eliminate some of the little available park space in the neighborhood for years during the project, destroy wildlife and harm air quality. Represented by lawyer Arthur Schwartz, they formed the East River Action coalition and filed a lawsuit in April claiming the city withheld information about the project – legal action that eventually led to Thursday's rulings.  
The Appellate Division, First Department, in November upheld a lower court's decision to toss the suit, which claimed the city withheld information about the project. 
When activists filed their latest appeal with New York's highest court, construction was supposed to temporarily stop but crews continued with the work anyway, prompting the group to file a motion to hold the city in contempt of court. The group, represented by Schwartz, was also seeking a stay of proceedings that would have postponed the project further.
The Appeals Court dismissed the stay as "academic" and denied the other two requests in the Thursday decisions, offering no additional explanation. 
The rulings were celebrated by Mayor Bill de Blasio's administration and Council Member Carlina Rivera, who advocated for the project.
"The City's legal case was rock solid – as solid as the plan we were defending to make this park and community more resilient to the climate threats we face," New York City Corporation Counsel Georgia Pestana said in a statement to NY1. "This is a huge win for the City of New York but especially for the many, many New Yorkers who live near and visit the park."
The East River Park Action group on Friday said many in the group are "mourning hard" following the decision.
"Thank you to all the hundreds of smart, rowdy, intrepid activists who agitated with great spirit and fortitude for three years against the most destructive, fatally flawed plan the city could come up with," the group's co-founder, Pat Arnow, said in an email to supporters.