New York State
Five things to know about SUNY Chancellor Jim Malatras
The embattled university leader has a long history as the quintessential loyalist to ex-Gov. Andrew Cuomo.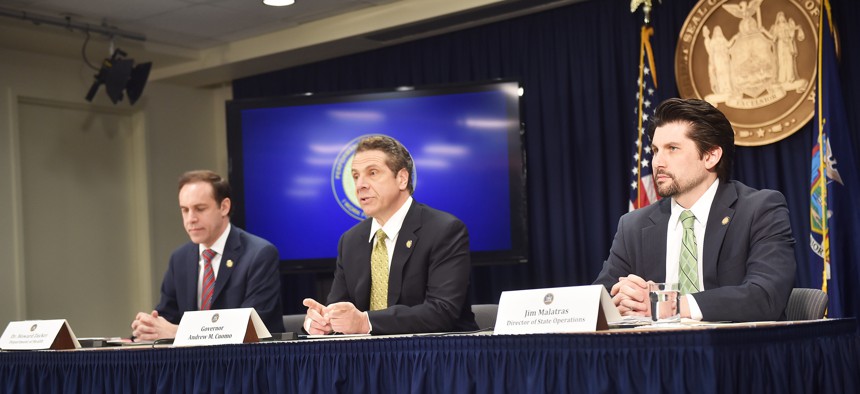 SUNY Chancellor Jim Malatras is fighting to keep his job following recent revelations about his style of leadership in transcripts released as part of a state attorney general investigation into ex-Gov. Andrew Cuomo. Arguably sexist and profane language? Reported involvement in some of the various scandals that led to the downfall of the three-term governor? The Board of Trustees that oversees the 64-campus system appears satisfied with a simple apology from Malatras, who records show made $359,630 last year. 
Malatras is no ordinary university leader. He is the first SUNY graduate to ever become chancellor and his professional background is mostly in government rather than academia. Past chancellors had backgrounds much more like his predecessor, a trained engineer and former provost at Johns Hopkins University, but the board hired Malatras in Aug. 2020 to replace her after forgoing a national search of candidates. His government experience and closeness to Cuomo were two reasons why, the board said at the time. Those qualities now threaten his career like never before as faculty, students and others continue calling for his ouster.
A growing group of faculty, students and elected officials are calling for him to resign or be removed by the board. That appears unlikely to happen in the short-term, but the political drama surrounding Malatras is likely to continue. 
Here are five things to know about the embattled SUNY chancellor as he faces an uncertain future. 
Malatras followed Cuomo up the political ladder.
The SUNY chancellor first entered government as a legislative director to longtime Assembly Member Richard Brodsky of Westchester in the early 2000s, according to Malatras' LinkedIn page. His career trajectory changed in 2008 when he began working for Cuomo when he was state attorney general. He later worked for his gubernatorial campaign and administration. 
A 14-month stint as the chief of staff for the SUNY central administration separated longer tenures as a deputy secretary for the governor and his director of state operations. A few years leading the Rockefeller Institute of Government and SUNY Empire State College suggest increasing distance from Cuomo over time, but his recurring role in the former governor's once-celebrated COVID-19 press conferences highlighted his ongoing closeness to Cuomo.
A 2019 tweet by former gubernatorial aide Lindsey Boylan began a chain of events that led to Malatras' current problems.
Boylan called her time as an economic development aide to the governor as "a toxic and demoralizing experience" in a tweet she posted on May 21, 2019 while running for Congress. Text transcripts released by the state attorney general show Malatras joined other Cuomo allies in mocking her claims and riffing on potential responses like releasing work records to undermine her credibility. That just so happened to be what Cuomo aides ended up doing more than a year later when Boylan first accused the former governor of sexual harassment, though Malatras does not appear to have been involved in that specific effort. 
More women eventually came forward to accuse Cuomo of misconduct just as a litany of other scandals erupted, including an alleged cover-up of data showing the number of nursing home residents who died of COVID-19 in hospitals. As things worked out, Malatras had a reported role in that as well. 
That Board of Trustees controls his fate.
The university is ruled by trustees mostly appointed by Cuomo before he left office in August. The board has said publicly that it wants Malatras to keep his job despite outside pressure. The New York Post reports that board Chair Merryl Tisch – a deep-pocketed donor to a litany of powerful Democrats – has had some success at working the phones on his behalf. State Senate Finance Chair Liz Krueger of Manhattan gave up plans to join calls for his resignation after meeting with Malatras at the urging of Tisch. Key elected officials like Gov. Kathy Hochul and state Senate Higher Education Chair Toby Ann Stavisky of Queens have said they respect the board's position and do not want Malatras to go anyways. 
He is chancellor at a pivotal point in the history of the SUNY system.
Malatras took on his new job at a time when COVID-19 was raging and deep cuts in state support to the university appeared possible, which made his relationship to Cuomo particularly important. The board credited Malatras with keeping the coronavirus under control after campuses reopened to in-person learning last year. Increasing access to financial aid, food, child care and mental health services are examples of his success over the past year, according to a recent statement by the board. Hochul recently told City & State that "continuity at this point is important" – especially given upcoming efforts to "overhaul" the university that she said she plans to unveil in January. 
The controversy is not going away.
SUNY faculty leaders are calling on the board to conduct an independent investigation of the workplace culture fostered by Malatras at the Rockefeller Institute, Empire State College and the university system. The list of lawmakers calling for his resignation continues to grow despite an apology letter and support from the board. Hochul's political opponents are making a campaign issue out of her unwillingness to intervene. New reporting by the Times Union shows that some SUNY officials were aware of questionable episodes in Malatras' past even before he became chancellor. Malatras, for his part, has offered some insights in the past into how he approaches adversity. "I hold it to be true that Fortune is the arbiter of one-half of our actions," reads a quote by Machiavelli at the beginning of Malatras' 2008 doctoral thesis. "She still leaves us to direct the other half, or perhaps less." 
With reporting by Rebecca C. Lewis.