Energy & Environment
Governors Island opens for winter and preps to lead NYC's climate goals
Clare Newman, president and CEO of the Governors Island Trust, discusses the island's new year-round schedule and how it plans to do climate-focused research and education in an interview with City & State.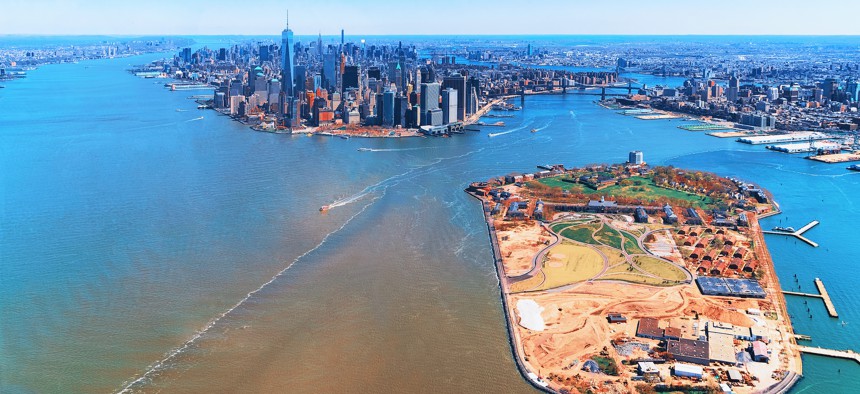 Governors Island is set to be the center for climate solutions in the city. In October, the Trust for Governors Island announced they received 12 expressions of support in response to creating a hub centered on climate-focused research and education. Individuals from academics and non-profit research institutions from across the world will have the opportunity to collaborate with one another to seek solutions amid the global climate crisis. 
The announcement of the center comes after the Mayor alongside the Trust launched a global competition that would create this hub on Governors Island. 
City & State spoke with the president and CEO of the Trust, Clare Newman about the island's role in leading the city to climate solutions, how the pandemic impacted the island and working with the incoming administration. This interview has been edited for length and clarity. 
Can you talk to me about the Trust and its role?
We're a not-for-profit that was established with the sole mission of making Governors Island a fantastic public place for New Yorkers. That really is how we guide everything we do on the island because we literally do everything that folks see when they come to the island. We mow the lawns, we run the ferries, we repair the infrastructure, we take care of the historic buildings and we run all of the public programming that folks love.  We serve as sort of stewards of the island.
How has the pandemic impacted your operations?
For us, we have really worked hard throughout this process to think about how we, just a big, very special open space in New York, can be of service to folks who have needed that more than ever. The whole team here really went to work hard to think about how can we open the island in a way that's safe for New Yorkers, and that expands public access, especially to communities that don't have as much access to parks and open space. We did what everybody else was doing. We set up a time ticketing season. We increased the cleaning protocols. We changed our ferry service to add a stop in Red Hook and expand what neighborhoods we were able to serve directly by for bikes and pedestrians. The idea that you could come to Governors Island and actually have a feeling of a getaway, in the middle of the pandemic, I think was really the way that we looked to be of service and to make sure that that was accessible to a broad range of New Yorkers.
How did the pandemic impact your financial support? Were you able to tap any of the federal stimulus or recovery funds? 
We rely on private fundraising, to a degree and to events to a larger degree, we rely on revenue share from the concessions that operate here on the island. So all of that revenue was down. We managed our way through that and managed to manage our way through that without laying off any staff and by continuing to provide service to New Yorkers, but it was like a high wire act. I think a lot of nonprofits in New York City felt that way for the past couple of years. We did both rounds of the PPP loan. Truly critical for us during that time period. Considering how dramatically our revenue adept really, I think did what the program was intended for, which is enable us to keep people employed and keep providing the level of service to New York City residents.
And now you're back! I saw you've got the winter program. 
Thanks to Mayor de Blasio, the mayor's office and the whole city, this year is the first time in history that Governors Island has been open to the public year bound. That was an enormous leap forward for us. Now people can come here all the time like I used to have all these days in the past couple of years, I'd be out here on like a gorgeous November or December sunset and looking around and saying to myself, everyone should be able to experience this again. But also really critically important to so much of the work that we're doing around arts and culture and the climate center, being able to expand access to the island, and really to help continue this journey of stitching it back into the fabric of the city of New York. 
Glad you mentioned the Climate Center, can you talk a little bit more about that?
That's a relatively new initiative that we've had in the works in partnership with the Mayor's Office for a couple of years now. When we look at what's sort of grown organically here on the island,  so much of it relates to education, to environmental research to arts and culture. Those are the people who've been attracted to the island, where the programming has naturally occurred. I think a clear and exciting opportunity to have Governors Island play a key role in helping prepare cities around the world for climate change. There really doesn't exist a sort of single place that you analogize with education, research and innovation, about how we can change urban environments to be much more prepared for climate change and to continue to prevent global warming on scale. What we've been pursuing is really, at the moment, this process to secure an educational partner who would anchor that work, and who would come and in partnership with the trust in the city and all of our other partners build this beacon in the center of New York Harbor that can be both symbolic and a great hub to bring folks together from around the world to help collaborate on this next generation of solutions that we need. 
What lessons have you learned from these very difficult times?
This idea started before the pandemic, but I think if anything, that pandemic has only underscored the need for a project like this. One thing we saw during the pandemic is the need for much greater collaboration at the federal, state, city levels and across different countries. For us, in particular, I think that really brought home something we heard in our interviews, which is that you do need a single, physical place, even with the rise of situations like this. Where you can bring together different stakeholders and build a community where then people are prepared to actually collaborate in an effective way when you do have these shocks to the system. 
What are your hopes for the incoming administration? What hopes do you have in the coming months, in terms of any kind of changes or support?
We feel that there's a huge amount of alignment between this project and the mayor-elect's vision around climate, education, workforce development. We're really thrilled to have made so much progress with this idea. And to be able to work together and very close partnership to take the next steps snd really see this brought to fruition in the coming months and years. 
Is there anything else you'd like to share?
In addition to the work we're doing now, on the educational institution side, we're continuing, of course, to think about other projects here that also helped to strengthen the Climate Center vision. The Harbor School is going to be expanding into another building on the North Island. We just announced a deal with a developer to adaptively reuse a former schoolhouse on the northern part of the island, to be a space for an accelerator and small businesses that are all totally focused on issues of environment, climate, and resiliency. That will also have an event space that can help bring folks in these issue areas together.