Health Care
New York City expands COVID-19 vaccine mandate to all private employers
The new requirement will take effect Dec. 27, Mayor Bill de Blasio announced Monday.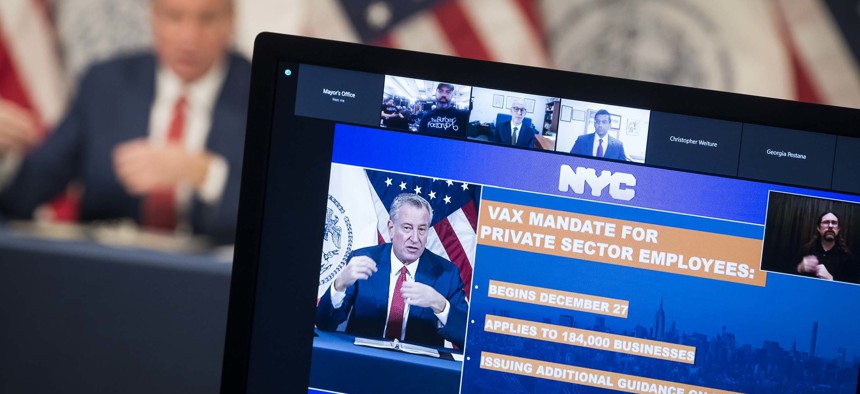 New York City will extend its COVID-19 vaccine mandate to all private sector employees, effective Dec. 27, Mayor Bill de Blasio announced Monday.
The city is the first in the country to adopt a vaccine requirement for all private businesses. De Blasio also announced Monday that the city is expanding its vaccine mandate for all indoor restaurants, along with fitness and entertainment centers, to include children ages 5 to 11. In addition, all patrons over the age of 12 will be required to show that they are fully vaccinated, rather than having received just one dose.
"We've got omicron as a new factor, we've got the colder weather, which is really going to create additional challenges with the delta variant. We have holiday gatherings," de Blasio said on NBC's "Morning Joe" while announcing the new requirements. "We in New York City have decided to do a pre-emptive strike to really do something bold to stop the further growth of COVID and the dangers it's causing to all of us. So as of today we are going to announce a first-in-the-nation measure. Our health commissioner will announce a vaccine mandate for all private employers across the board."
The mandate will apply to businesses with more than one employee but not remote workers, officials said. 
Update: On Dec. 15, de Blasio announced details of the enforcement protocol, including that any workers who refuse to meet the vaccine requirements must work from home. Within 45 days of the Dec. 27 deadline, employees must show proof of full vaccination, rather than a single shot. Businesses who violate the new rules could face up to a $1,000 fine, the mayor said.
Children ages 5 to 11 will also need to show proof of vaccination to participate in "high-risk" extracurricular activities, including sports, band, orchestra and dance, starting Dec. 14. 
Health Commissioner Dr. Dave Chokshi, who issued the vaccine order on Monday, warned that not only is the omicron variant a factor, but "we've seen case numbers grow in recent weeks due to delta, the devil we know. They have doubled since a recent low point in early November, increasing in every borough and every age group," he tweeted.
As of Saturday, nearly 92% of adult New Yorkers in the state had received one vaccine dose, according to Gov. Kathy Hochul's office, and 81% were fully vaccinated. The statewide COVID-19 positivity rate stands at 4.4% and 40 new deaths were reported on Saturday.
The new vaccine mandate will take effect just four days before de Blasio will exit the mayor's office and Mayor-elect Eric Adams will take over. De Blasio said he is in "close coordination" with Adams regarding the new policy.
"Every conversation we've had about fighting covid, he has been really consistent on the point that he is feeling urgency about these new threats. He understands that my job is to keep New Yorkers safe until Dec. 31 and then hand the baton to him. So I feel very, very good about the conversations we've had and the close coordination he and I are constantly involved in," de Blasio said during a Monday press conference.
Already, the new mandate is facing possible legal challenges. 
"The Pajama Class is once again spared, but the mechanics, store clerks, steamfitters, janitors, plumbers, secretaries, security guards, bank tellers, and the fed ex guy are all damned. A tale of two cities, indeed, @NYCMayor," Republican Council Member Joe Borelli tweeted, referring to the exception for remote workers. "We will have a lawsuit through our attorney partners ready to go as soon as the mandate is implemented, if not sooner. Just an fyi."
Addressing the legal challenges during Monday's press conference, City Corporation Counsel Georgia Pestana said officials are "confident that this will survive any challenges."
"The health commissioner has an obligation and a responsibility to protect the public health. Here, he is issuing an order that is intended to do just that in a public health emergency," she said. "He has the authority, and it is across the board, so it's not picking one industry over another and treating them differently."
Lawyer Steve Bell, of Dorsey & Whitney, said that he expects legal challenges, but noted the dangers of the virus are a strong argument in court. 
"We can expect to see many other mayors and local governmental entities across the country follow his lead. Of course, there will be resistance and no doubt legal objections.  However, the harsh realities of the seemingly more contagious Omicron variant create an atmosphere in which aggressive measures may be required to halt the spread of the virus," Bell said in a statement.
– with additional reporting by Jeff Coltin