New York State
Democrats seek to expand voting rights while moving closer to gerrymandering
Proposed legislation would make it easier for New Yorkers to vote and cause fewer ballots to be thrown out due to errors.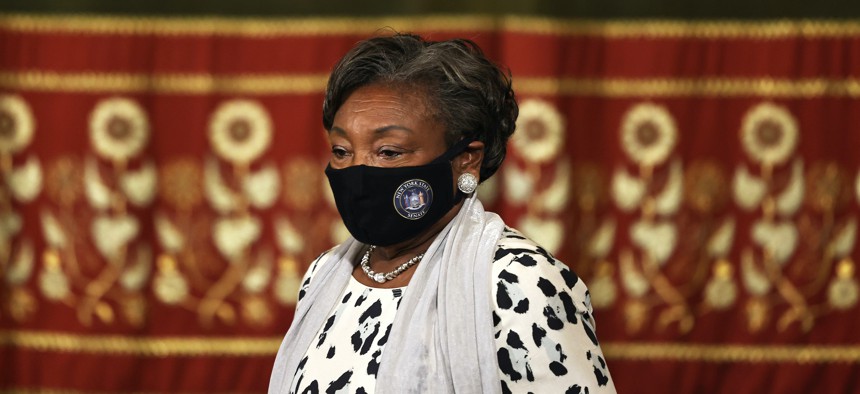 Democratic lawmakers are moving closer this week to make it easier for many New Yorkers to vote. Such changes are part of a broader first-week agenda that would likely help the party maintain its dominance in state politics.
Legislation slated to pass the state Senate today would give voters more time to register to vote, provide more leeway to local boards of elections to count affidavit ballots and give millions of people the right to vote by mail through the end of the year. The Democratic supermajorities in the state Senate and Assembly are also expected to reject proposed congressional and legislative lines and move one step closer toward solidifying their position in state politics through gerrymandering, which could help the party nationally maintain a slender majority in the U.S. House after the midterms.
State Senate Majority Leader Andrea Stewart-Cousins of Westchester cast the bill package on Monday as representative of the broader efforts Democrats have made on voting rights since they took over the state Senate in 2018. "Obviously for us to win elections is not by restricting people who can vote by continuously delivering legislation that serves in the best interest of New Yorkers," she told reporters in a virtual press conference. She added that the package was just the beginning of addressing what a recent state Senate report described as a "five-alarm fire" threatening the franchise for millions of New Yorkers. "We will continue to focus on getting it right, continuing to look at how boards of elections operate all over the state. ... We are by no means finished," she said. A spokesperson for Assembly Speaker Carl Heastie of the Bronx did not respond to a request for comment by publication time.
The bill package also included tweaks to election law. One important piece of legislation that is expected to pass the state Senate on Monday would allow people to use COVID-19 as a basis for requesting to vote by mail, a practice that recent elections showed disproportionately benefited Democrats. New Yorkers would also have until the 10th day before an election, rather than the 20th, to register to vote. Local boards of elections would be able to operate portable early voting locations and absentee ballot drop-off locations. Voters would no longer have their ballots disqualified for voting at the wrong polling location (as long as they are in the right county) or for leaving stray marks where "the express intent of the voter is unambiguous," according to the legislative language. The Democracy Preservation Act would aim to curb the influence of foreigners in New York elections.
Democrats are looking to continue lowering barriers to voting despite voters' rejection of proposed amendments to the state constitution that would have allowed the state to enact same-day voter registration and no-excuse absentee voting. "We saw the results of that concentration of money and misinformation," Stewart-Cousins said Monday, alluding to the millions of dollars that Ronald Lauder provided to a Conservative Party effort against the proposed amendments. Advocacy organizations like the Brennan Center for Justice, which released a report in December with recommendations on improving voting in New York, have backed such measures at a time when Republican legislatures in other states are continuing their efforts to limit voting rights. "I want to make a clear juxtaposition against what the (state) Senate is going to do today," state Senate Elections Committee Chair Zellnor Myrie of Brooklyn said at the press conference. "The message to all of the voters is that the state Senate will remain a defender of democracy."
What happens in New York on election law is a matter of national importance, especially considering how it might affect the balance of power in Congress. Republicans appear likely to gain seats in the House because they control the redistricting process in many states, while truly independent redistricting bodies in states like California limit Democrats' ability to gain a big advantage. One-party rule in Albany could allow Democrats to even the score to some degree by gerrymandering the Empire State. Democrats are taking another step toward that Monday by rejecting draft maps proposed by the state Independent Redistricting Commission. The dueling sets of maps – one backed by commissioners appointed by Democrats and the other by their GOP-appointed colleagues – have significant differences but could be more fair to Republicans than what Democratic lawmakers might approve after they reject both sets of maps proposed by the commission for a second time.
Attempting to gerrymander the legislative and congressional maps would be nothing new in state politics, though the courts have intervened at times to curb the practice. Republican leaders – former President Donald Trump most prominently – have hardly helped their own electoral cause by demonizing voting by mail while encouraging their supporters to doubt the legitimacy of elections. Yet, the ongoing moves to supersede the work of the Independent Redistricting Commission appear to be motivated more by partisan interest than ideals about improving state-level elections at a tumultuous time in American history. "We're ready to follow the process and see what it produces," Stewart-Cousins said Monday when asked whether her chamber will seek to control the redistricting of state Senate districts. "I'll take that as a 'Yes,'" Republican state Sen. Phil Boyle of Long Island tweeted in response. So while New York has certainly come a long way in recent years on allowing more people to vote through changes like the legalization of early voting, both chambers of the state Legislature are showing early on in this legislative session that improving democracy remains very much a work in progress.
Powered By
NEXT STORY: New council members denounce conditions at Rikers