New York State
New York Senate report outlines election dysfunction – and possible ways to fix it
After a string of embarrassments, legislators are eager to restore trust in state elections.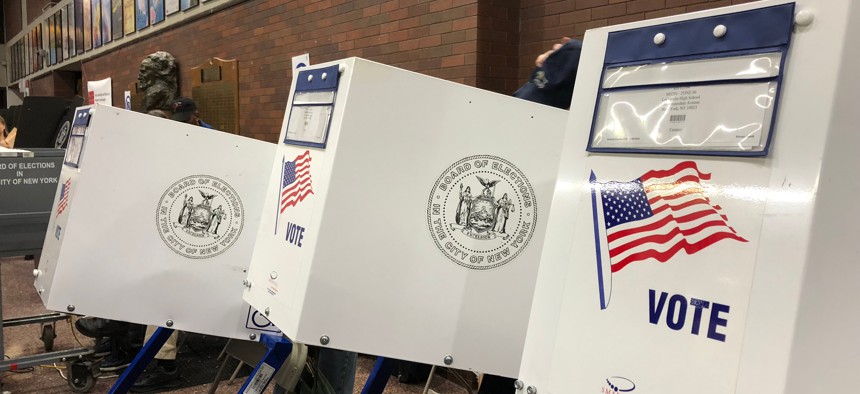 After a series of high-profile election snafus, the state Senate Elections Committee released a nearly 50-page report on the ills of election administration in New York. Although the report described a dire – if not new – situation around voting in the state, it also laid out a potential roadmap for solving the myriad problems with solutions including restructuring the New York City Board of Elections and changing the selection process for commissioners.
Based partly on hearings held around the state, the report concluded that the dysfunction of New York's elections systems is not the work of any particular bad actors trying to make voting harder or the electoral process more opaque. Rather, the problems are structural, baked into the state constitution and laws from decades-old reforms. 
Several prominent mistakes in recent elections are a result of these problems, according to the report, rather than single-case incidents of incompetence or malfeasance. An embarrassing mistake due to the erroneous inclusion of practice ballots in an early round of counting in New York City's first ranked-choice primary in June led to the five hearings held by the Elections Committee. And the 2020 race between Rep. Claudia Tenney and then-Rep. Anthony Brindisi laid bare myriad mistakes by local boards of elections as the results of the tight race were parsed out in court. But these examples are far from the first – or only – instances of hiccups in the state's elections administration.
Calls to reform the New York City and state Boards of Elections, as well as the other county boards across the state, are not new. Nor are many of the recommendations made by the state Senate Elections Committee in its report. Chief among them, at least among those in New York City, is restructuring the city's board. Currently, it has a total of 10 commissioners – two per borough – and is the only board in the state with such a setup. The report suggests reducing the number of commissioners and removing the role of local political parties in picking the commissioners to streamline board operations. It also says that there should be a more transparent process when selecting the executive director and other senior staff, including public hearings and a robust search process, and recommends removing bipartisan requirements for staff positions. Currently there must be one Republican and one Democrat for every job, from voting machine technician to janitor.
Such changes would not require amendments to the state constitution, a necessity for more sweeping reforms to how elections in the state are run. With those statutory reforms, the city Board of Elections would still need to be bipartisan, with an equal number of commissioners from the two major parties. And amendments to change those bipartisanship requirements among other bigger overhauls would take at least two years to get approved – they would first need to pass the state Legislature in 2022 and again in 2023 before heading to voters. "The stakes for election reform, and for protecting voters' rights, have never been higher," state Sen. Zellnor Myrie, who chairs the Elections Committee, said in a statement. "My Senate colleagues and I will not hesitate to address these challenges head-on, and look forward to acting on this report when we reconvene in January." The report does not make specific mention of any potential constitutional amendments, focusing instead on what the state can achieve more immediately through statutory or regulatory changes
The report does, however, mention the recent failure of two proposed voting reform amendments long pushed for by Democrats. Voters rejected proposals to enable no-excuse absentee voting and same-day voter registration. 
"The message is clear," the report read, "without aggressive action to reform our elections and a full-throated defense of voting rights, opponents of expanding democracy can and will prevail." The unexpected rejection of the two ballot questions seemed to have served as an additional warning bell for New York, which as recently as 2018 had some of the most outdated voting laws in the entire country, as voting rights are under attack around the U.S.
In addition to structural reforms, the report also recommends operational reforms, like changing the process for how commissioners get appointed and setting higher standards for poll workers. These could include the adoption of conflict of interest rules to prevent commissioners from serving on a local board while simultaneously acting in a leadership position with their local political party or as an elected official. The report also suggests implementing minimum qualification requirements for any potential commission and a process for removing one should the need arise.
The report also makes several recommendations about outstanding legislation lawmakers can approve to remove barriers and make voting easier that were not included in the reforms passed in 2019. These include implementing a statewide voter registration model and allowing votes cast in an affidavit ballot at the wrong polling location to still count for races that voter is allowed to vote in. Several of these legislative fixes already have bills awaiting action from  lawmakers.
Powered By
NEXT STORY: Cuomo transcripts, impeachment report and Blood Center resolution