New York State
What's going on in the Brindisi-Tenney race?
It's a month after the election and we still don't know the winner in New York's 22nd Congressional District.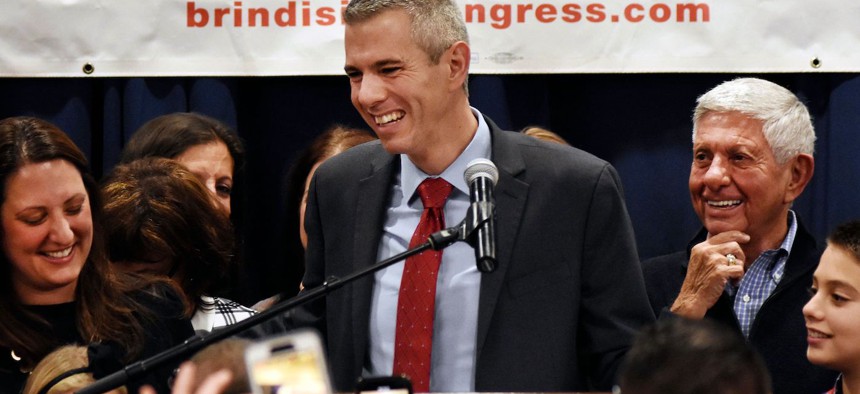 Nearly a month after Election Day, almost every race in New York has been determined. Some of those races took an extremely long time, including the election for the 50th Senate District in Central New York, where coronavirus exposure halted ballot counting for two weeks in Onondaga County. Democrat John Mannion announced victory in that contest on Monday.
But there is still one key race still undecided: New York's 22nd Congressional District in the Mohawk Valley and Southern Tier, one of the only two congressional races still undecided in the entire country. Democratic Rep. Anthony Brindisi and Republican challenger former Rep. Claudia Tenney, who is trying to win back the seat she lost in 2018, are in court trying to determine the winner in this razor-thin election. With the vote totals constantly changing, it can be hard to follow the ups downs. And the ins and outs of the legal cases are dizzying. Here's an overview of everything you need to know.
Who is leading right now?
According to official results that include early voting, Election Day, absentee, military and affidavit ballots submitted by election officials from each of the eight counties that make up the district to the state Supreme Court in Oswego County, Tenney leads by 12 votes. Local election officials submitted those totals on Nov. 30, the first time since Election Day that vote totals for the whole district were made public. Before Thanksgiving, Brindisi claimed he had gained the lead himself, by the same margin of 12 or 13 votes. But days later, Tenney said Brindisi's apparent lead was the result of a tabulation error in Herkimer County and that she was actually ahead by 13. That revelation came on Nov. 29, several days after all the counties were supposed to have provided final vote totals to the campaigns, drawing criticism from the Brindisi campaign for the fact that officials corrected the error without public notice. Tenney was ahead by over 28,000 votes after Election Day, but as the nearly 60,000 absentee ballots were counted, her lead dwindled to just a few hundred votes. Updated vote totals brought the difference to where it unofficially stands today. 
So does that mean that Tenney is the winner?
No, and not just because the judge has not allowed the counties to certify their results yet, after irregularities with disputed ballots arose in court in late November. First, officials in Chenango County found 55 uncounted ballots a day after submitting their final count to state Supreme Court Justice Scott DelConte. Of those, 11 were from people not registered to vote, while the other 44 could potentially swing the election. Those votes remain unopened, awaiting guidance from DelConte on how to proceed with the ballots, which are affidavit ballots from the early voting period. Voters can cast an affidavit ballot, sometimes called a provisional ballot in other states, if their information is missing from the rolls, and it is later determined whether their vote should be counted depending on whether they are an eligible and registered voter. Aside from those uncounted ballots, for which Chenango officials could not provide an explanation as to how they were missed, DelConte must still rule on some 2,500 disputed absentee and affidavit ballots. And this is before a recount that the judge could potentially order if the final margin of victory is small enough. Although there is still no declared winner, Tenney attended freshman orientation for new members of Congress, just as Brindisi did in 2018 before that race had been decided.
Why is this playing out in court?
Before the counting of paper ballots even began, this race was fated to be decided in court. Tenney filed a lawsuit on Nov. 4 asking a judge to impound the paper ballots in the race, a fairly common move in tight races. Brindisi did the same thing in 2018 when he first ran against then-Rep. Tenney in a closely watched and contentious race, although he eventually won by over 4,000 votes. This year promises to be much tighter. And it's already dragging out longer, as Tenney conceded on Nov. 28, 2018 while a final decision this year is still days away at the earliest. DelConte ruled on Nov. 10 that counties could begin counting votes, laying out procedures on counting undisputed ballots and requiring election officials to copy any ballots to which either campaign objects for judicial review. Some counties began that day, while others began several days later. After the absentee ballot counting process, Tenney's lead shrunk to about 100 votes by Nov. 20, according to both campaigns, even closer than the 300-vote margin based on publicly available unofficial vote counts. Before the final vote count was submitted on Nov. 30, this process happened outside the public eye, with several counties declining to provide updated vote totals until they had completely finished counting.
How many disputed ballots are there now?
There are about 2,500 ballots that DelConte must rule on, with the most attention on the at least 809 absentee or affidavit ballots contested by the Tenney and Brindisi campaigns, according to the Syracuse Post-Standard. Absentee ballots challenged by a campaign were counted initially, while affidavit ballots disputed by a campaign were not. This means votes tallies could ultimately either increase or decrease. Also included are more than 1,600 affidavit ballots rejected by county election officials without objection by the campaigns and not included in the final vote total submitted to the court. DelConte must also decide what to do about the 55 unopened affidavit ballots recently discovered in Chenango County. This comes after further confusion over 39 absentee ballots from Oneida County that arose during court proceedings before Thanksgiving, when DelConte began reviewing disputed ballots submitted to him. Election officials marked the paper ballots with sticky notes to explain how they were handled, why they were disputed and if they had been counted. This was in apparent violation of state law, which said that such information must be written on the back of ballots. By the time they made it to the courtroom, several sticky notes were missing and Oneida election officials could not say which ballots they counted or why they were contested. Additional sticky-note confusion caused further delays.
What comes next?
Although DelConte had originally asked the two campaigns to submit their written arguments over how to handle the disputed and rejected paper ballots that could determine this election by Nov. 30, he extended that deadline to the afternoon of Dec. 2. He set the next public hearing date for Dec. 7. And so the saga continues.