Campaigns & Elections
Preliminary instant runoff errors at the NYC BOE
The board withdrew initial projections that showed Eric Adams with a much smaller lead over Kathryn Garcia.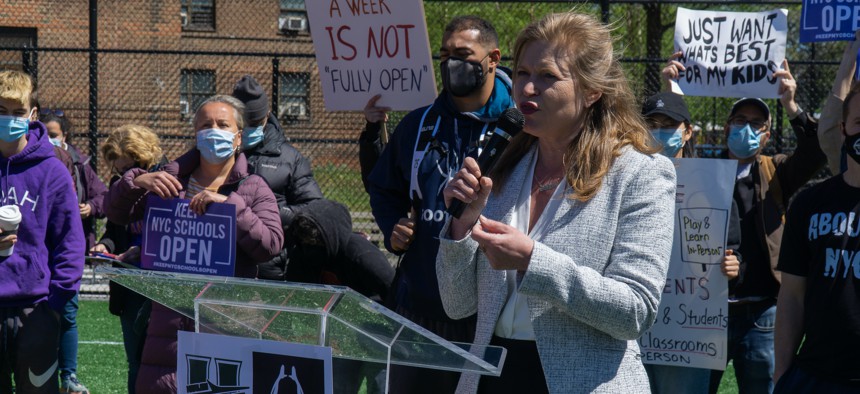 On Tuesday evening, the New York City Board of Elections deleted the unofficial, preliminary ranked-choice voting tabulation for the New York City Democratic mayoral primary and comptroller's race and acknowledged making an error. In a tweet, the BOE said that approximately 135,000 fake test votes were accidentally included in the results posted earlier in the day, which had shown Kathryn Garica surging from third to place to just 2.2 percentage points behind first-place vote leader Eric Adams. BOE spokesperson Valerie Vazquez-Diaz told City & State that the corrected preliminary RCV results would be released on Wednesday, but did not provide a time. 
This is the first major election where New York City is using ranked-choice voting, and it could lead to a shocking result if Garcia, the former Sanitation commissioner, wins. But it wasn't immediately clear how the error might have affected the tabulations and how they might change on Wednesday. 
On Tuesday afternoon, preliminary results counting just in-person votes had left Adams with 51.1% to Garcia's 48.9%. That is a huge reduction from the election night results measuring only first-place votes showing Adams with a 12 percentage point lead over Garcia and a 9.5 percentage point lead over the second-place candidate Maya Wiley. But when voters' lower-ranked preferences were factored in for the instant run-off, Garcia leapfrogged Wiley and narrowed the gap with Adams. 
However, the results this week were always meant to be incomplete and preliminary. The BOE has yet to factor in nearly 125,000 Democratic absentee ballots into the tabulations. The BOE plans to factor those into instant runoff results in one week, on Tues. July 6. Then final, official results – pending any potential litigation – are expected until the week of July 12 after absentee ballots have been counted and the official instant runoff performed. 
Once absentee ballots are factored in, the results could change for some races from what we see today – perhaps drastically. A full accounting of absentee ballots could result in Wiley having more votes than Garcia as the instant runoff plays out. In this hypothetical scenario, Garcia would be eliminated in the final round, and her votes would flow to Wiley, rather than the other way around. In the preliminary results released Tuesday, just 3,806 votes separated Garcia in second place from Wiley in third.
Garcia, the former New York City sanitation commissioner, put out a measured statement Tuesday, even as her chance of victory appeared to skyrocket from very unlikely to eminently possible.
"Even with today's ranked choice report we are still waiting for more than 120,000 absentee ballots to be counted and we are confident about a path to victory," she said in an emailed statement. "Once all the votes are counted, I know everyone will support the Democratic nominee and that's exactly what I intend to do. We look forward to the final results. Democracy is worth waiting for."
Curious statistics raised questions about the accuracy of some of the results released by the BOE. Election night results from the BOE showed 799,827 votes counted after 96.6% of scanners were reported. If 3.4% of scanners were uncounted, that would suggest approximately 28,000 votes were uncounted – maybe more, maybe less, since some scanners count more votes than others, depending on turnout at the poll site. But the results released Tuesday added some 142,000 in-person votes to the total, with 941,832 votes counted. Mayoral candidate Joycelyn Taylor never earned much attention or support in the race, and election night results showed her earning just 2,199 first-choice votes, or 0.27% of first place votes. But the RCV results released Tuesday showed Taylor earning 17,278 first round votes – a massive jump. Other lesser-known candidates like Isaac Wright Jr. also saw surprisingly large jumps in first-choice votes. 
The BOE acknowledged the discrepancy nearly three hours after the preliminary results were first reported. And in a late night tweet, explained that approximately 135,000 test votes were wrongly included.  
Before the BOE admitted error, Adams seized on the issue Tuesday in an emailed statement from his campaign, saying that they were asking the BOE to explain irregularities before the campaign comments further. 
Late Tuesday night, Adams released another statement following the BOE's admission. "Today's mistake by the Board of Elections was unfortunate. It is critical that New Yorkers are confident in their electoral system, especially as we rank votes in a citywide election for the first time," Adams said in a statement texted to City & State. "We appreciate the Board's transparency and acknowledgment of their error. We look forward to the release of an accurate, updated simulation, and the timely conclusion of this critical process."
The BOE also released results from the comptroller race, where City Council Member Brad Lander maintained his lead in the race even as the second-place candidate, City Council Speaker Corey Johnson, closed the gap between them. These results are also preliminary, but with in-person ranked-choice votes accounted for, Lander had 51.7% of the vote, to Johnson's 48.3%. That 3.4 percentage point difference is significantly smaller than the 8.8% gap shown by the preliminary election night results.
Lander's campaign manager, Chris Walsh, released a statement saying the campaign ran a "significant outreach program to absentee ballot requesters" and that "we are confident that the outstanding votes will widen our lead." Johnson released a statement saying the race was "too close to call" and to "make sure every vote is counted."
With two apparently close races at the top of the ticket, candidates may be preparing for legal fights. There's a Friday deadline to file preemptive lawsuits preserving the right to challenge the BOE if a campaign takes issue with a ruling, election attorney Jerry Goldfeder told City & State. 
Goldfeder noted that close races also raise the specter of a manual recount, where all votes are tallied by hand, which is required by state law if the margin of victory is less than 0.5% of the total votes cast. However Adams' preliminary 2.2% point lead and Lander's 3.4% lead are both comfortably outside of that margin. A manual recount of nearly 1 million ballots could take weeks, if not months, depending on the number of workers allocated to the counting. 
The BOE has not yet released runoff scenarios for campaigns for borough president and City Council.