State Sen. Todd Kaminsky is running for Nassau County district attorney
An upcoming election for Nassau County district attorney is not just about finding a replacement for it will also test whether Republicans can roll back Democratic gains on Long Island by painting Democrats as soft on crime.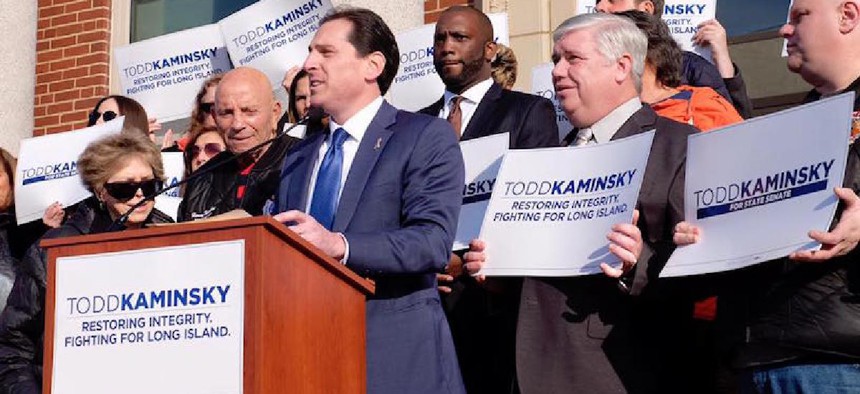 An upcoming election for Nassau County district attorney is not just about finding a replacement for it will also test whether Republicans can roll back Democratic gains on Long Island by painting Democrats as soft on crime. That could be hard to do now that state Sen. Todd Kaminsky – a former prosecutor who represents suburbs such as Rockville Center, Valley Stream and Long Beach in the southwest corner of the county – has jumped into the race. The election this November will be a special election to replace Madeline Singas (who won reelection last year) after she vacated her county position earlier this month to become a judge on the Court of Appeals. County Democratic leaders formally nominated Kaminsky over the weekend. 
The state Senate delegation that was once the cornerstone of a GOP majority in the chamber is long gone. Republicans won a few competitive races on Long Island in the 2020 cycles, but they were mostly in Suffolk County. President Joe Biden beat former President Donald Trump by about 10 points in Nassau County last year, and the party has a registration advantage over Republicans among active voters of nearly 90,000 people.
Republicans, however, are not going down without a fight over his past support for bail reform and the role they claim it has had in fueling rising crime in New York. Those reforms took effect at the beginning of 2020, but crime continues to be low by historical standards in Nassau County. There were 51 homicides in 1989 but just 14 last year, Newsday reported. However, that was five more than in 2019. Total crimes fell by 7.16% year-to-year fueled by a steep drop in grand larcenies. 
Kaminsky has established a centrist record since he first won election to the state Senate in a 2016 special election to replace former Republican Majority Leader Dean Skelos after Skelos was convicted on federal corruption charges. Kaminsky's record as a federal prosecutor could also give him a boost in a county known for its large population of police and other members of law enforcement. Name recognition as the unofficial dean of the Long Island Democratic state Senate delegation and support among the significant Orthodox Jewish community in Nassau – Kaminsky is Jewish – could also help, according to Larry Levy, executive dean of Hofstra University's National Center for Suburban Studies. "Kaminsky will be tough to beat, tougher than a generic Democrat," Levy said in a text. "He's well-positioned to win but the race is not a slam dunk."
The opioid crisis, gun violence, and rising hate crimes are three areas that Kaminsky's campaign will focus on. "I will bring my experience and know-how to make sure that we aggressively prosecute those crimes," he said in an interview after formally announcing his candidacy Monday morning. "I have put gang leaders into prison. I have worked on countless cases taking guns out of the hands of criminals and off our streets. I dismantled one of the most prolific narcotic trafficking organizations." 
When asked whether he thought bail reform had any role in recent increases in some violent crimes, Kaminsky sidestepped the question by highlighting his support for changes made to bail reform in the 2020 state budget that gave judges more discretion to impose cash bail. 
These positions have incurred the wrath of advocacy groups on the political left. "We are deeply suspicious of Sen. Kaminsky and his record on criminal justice issues, especially the positions he took around bail reform and weaponing them in attacks against progressives," Jonathan Westin, director of New York Communities for Change, said in an interview. 
Yet, the progressive bench on Long Island does not appear to be as deep as it is in New York City, where reformer Alvin Bragg appears likely to win a contested Democratic primary for Manhattan district attorney. "I think we're more or less in an infancy stage in Nassau County," Democratic political consultant L. Joy Williams said of a competitive left-wing candidate emerging in a district attorney race on Long Island. 
A spokesperson for the Working Families Party, which backed insurgent candidate Tiffany Cabán in the 2019 Demoratic primary for Queens County district attorney, could not provide comment as of publication time about its own plans for the Nassau race. 
The likely absence of the political left in the election could be a boon for Kaminsky, by allowing him to focus on winning votes from the political center without having to worry about his left flank, especially since Republicans are making no secret about how they want to define Kaminsky as a criminal-loving liberal. "The only people who are happy about Todd Kaminsky's nomination for district attorney are the thousands upon thousands of dangerous criminals who he voted to set free during his tenure in the state Senate," reads a statement from Nassau County Republican Chair Joseph Cairo. "Nassau Democrats could not have selected an individual who is softer on crime." 
Kaminsky, however, has been among the Democrats in Albany who have blocked efforts by colleagues to reform the criminal justice system. This includes the "Clean Slate" bill that fell short in the final week of the scheduled legislative session, which would have automatically sealed the criminal records of people once they have served their sentences. "Even if it's members of my own party, I'm happy to push back to make sure that law enforcement officials have the tools they need to do the jobs," he said in an interview. Still, Kaminsky voted for the 2020 budget that included reforms to bail and criminal discovery laws though he helped lead efforts to tweak them the following year. He also supported the new limits on solitary confinement that passed the Legislature this year. His departure from the state Senate could mean that Democrats lose their supermajority – at least temporarily pending special elections that could be called by Gov. Andrew Cuomo – if state Sen. Brad Hoylman prevails in the Manhattan borough president's race. 
Republicans are not so nuanced in their claim that Kaminsky's willingness to support some reforms means he is outright enabling criminality. While Kaminsky appears to have the edge in the November election, Republicans could have a chance depending on who they nominate. A spokesperson for the county party said that multiple potential candidates are being interviewed later this week. Newsday reports that Joseph Nocella, currently Hempstead Town attorney, state Supreme Court Judge Thomas Feinman, state Supreme Court Judge Francis Ricigliano, former district attorney office staffer Joy Watson and former prosecutor Ameer Benno are all in the mix. 
The Republican nominee will likely focus on crime and Kaminsky's record in the state Legislature. Given that he has supported some reforms and Republicans tend to support none at all, it seems entirely reasonable to assume that the race will be a referendum on criminal justice reforms. A comfortable win for Kaminsky would suggest that voters approve of the moderate reforms he supports, while an upset win for Republicans, or a very close race, could be a sign that GOP messaging on criminal justice reforms is undermining Democrats' emerging dominance on Long Island.