This Week's Headline
Cuomo transcripts, impeachment report and Blood Center resolution
Rounding up the week's political news.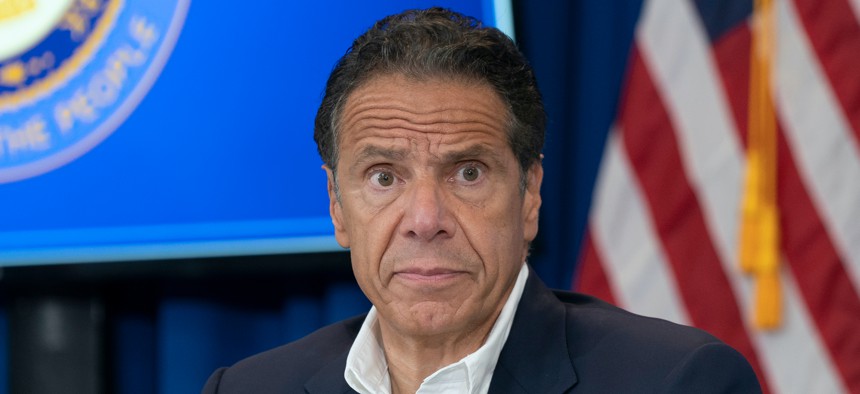 It's been one of those weeks when you just never know what's going to happen next. One might think it would be hard to one-up a conservative member of Congress tweeting a video from a popular Japanese anime edited to make it look like he was killing Rep. Alexandria Ocasio-Cortez. That particular show – Attack on Titan – actually serves as a critique of fascism, genocide and ethnic cleansing, but it those deeper meanings were probably not informing the video, which shows Rep. Paul Gosar of Arizona swooping in to slash the neck of a giant with Ocasio-Cortez's face photoshopped on it. But the surprises of the week didn't stop there, nor did the bizarreness. Keep reading for the rest of that news.
James releases Cuomo investigation transcripts
After saying for months she could not yet release them, the state attorney general has made public thousands of pages of transcripts from her office's investigation into claims of sexual harassment against former Gov. Andrew Cuomo. This included over 500 pages of interviews with the ex-governor himself, in which he consistently denied having memory of various alleged encounters, while admitting that occurrences like staff sitting on his lap or his giving female staffers kisses were things that could have happened. Cuomo also danced around questions, debating the definition of words like "girlfriend" and what constituted touching "near the butt." James also released transcripts of the interviews with the various women who have said that Cuomo sexually harassed or assaulted them, including Brittany Commisso, who said the governor groped her, and the anonymous State Trooper No. 1, whose account had been unknown prior to the release of the state attorney general's report. One of the many bits of information buried in the pages related to Cuomo's handling of the COVID-19 pandemic, which was not a direct subject of the investigation but was one of many developing scandals under scrutiny at the time of the former governor's resignation. Namely, a former top Health Department official asserted that Cuomo did not allow the state to coordinate efforts with local departments of health, something that one of New York City's top public health officials seemed to agree with through a tweet.
Assembly impeachment probe coming to a close
That wasn't the only investigation news for Cuomo in the past week. The same day that James released the transcripts, the chair of the Assembly Judiciary Committee said that he would call members back to Albany on Nov. 18 and 19 to review the impeachment report put together by the investigators the chamber hired. It's somewhat unclear whether this is a final report, or a draft that may yet still be changed before its official release. The ranking Republican member of the committee said that he expects a public release of the report in two or three weeks.
BLM protesters oppose return of NYPD plainclothes unit
New York City Mayor-elect Eric Adams discussed his desire to bring back plainclothes anti-crime units to help combat gun violence. Mayor Bill de Blasio and the New York City Police Department disbanded the plainclothes unit last year amid racial justice protests. Some Black Lives Matter activists are not happy to hear about the possible reversal of that decision. Hawk Newsome, co-founder of Black Lives Matter of Greater New York, said that there would be "riots" and "bloodshed" in the city if Adams did bring back the plainclothes officer units when the incoming mayor met with activists. The prediction or threat, depending on how one views the statement, has not deterred Adams from his intent to bring back the units.
Deal on controversial Blood Center facility reached
One of the hottest land use issues in New York City has come to a conclusion. Upper East Side community members and local officials have been opposing a new New York Blood Center facility on the grounds that as originally planned, it would be too tall for the neighborhood. Local lawmakers who have expressed their opposition included Rep. Carolyn Maloney, state Sen. Liz Krueger and most importantly, Council Member Ben Kallos. The saga gained attention in part because a blood center location wouldn't seem like a natural target for community dissatisfaction. And normally, if the local council member gives a project the thumbs down, their fellow members follow suit thanks to a practice called member deference. But that didn't happen this time as the City Council approved the project with some tweaks in a break with the long-time practice.