Education
Eric Adams clarifies stance on remote learning
The mayor said the city will keep schools open, a day after suggesting he was warming to a remote learning option.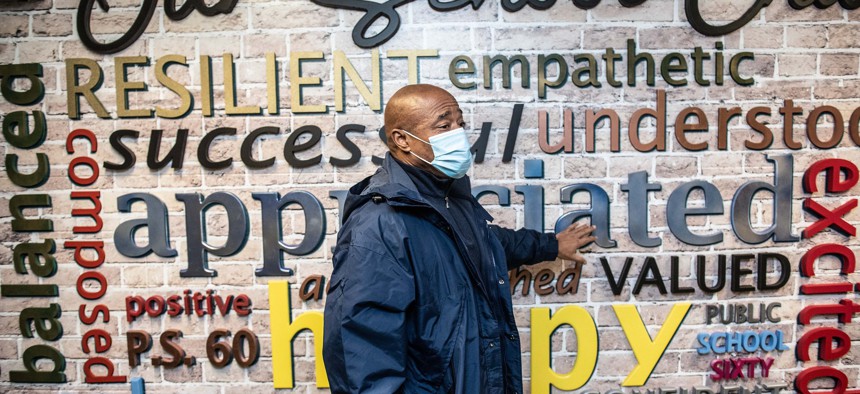 Mayor Eric Adams reaffirmed his commitment to keep schools open on Friday, a day after indicating he may be warming to the idea of remote learning amid mass absences driven by the COVID-19 omicron wave. 
"I don't know if there was a misinterpretation of what I said yesterday. Schools are not closing. I want to be very clear on that. We are not closing schools," Adams said at a Friday press briefing. "What we are doing…We are now speaking with the UFT on different methods on how we can make sure our children are educated in a very safe environment."
The United Federation of Teachers has been calling on Adams to follow suit with Chicago, Cleveland and other large urban districts that have gone remote during the latest COVID-19 surge. 
"I'm just amazed that no one is commending us on what we have accomplished. We are not Chicago," Adams said Friday.
Despite the union's demands, Adams had been solid in his pledge to continue in-person instruction – until Thursday, when he indicated he was in talks with the UFT about moving to virtual learning.
"We will find the right way to educate our children in a very safe environment and if we're able to put in place a temporarily remote option, we're welcome to do so," Adams said Thursday, while reiterating that is not his preference.
"I want children in school because it's not only the academics. You hear me say it all the time, it is the holistic approach (to) the full development of the personhood of the children. All the experts state they should be in school," he said.
The Thursday remarks were seen as a departure from the mayor's previous statements that closing schools was not on the table. About a quarter of students have been absent each day since New York City schools returned from winter break on Jan. 3. Teachers are also facing a staffing shortage and have reported chaos surrounding in-school COVID testing.
UFT President Michael Mulgrew, who has vowed to continue working with the mayor to keep schools open, also said Thursday during an appearance on Fox 5 that Adams is "really thinking it through" when it comes to remote learning, which Mulgrew urged parents to use "judiciously" to avoid even more absences.
Even if the Department of Education does move forward with remote learning, officials have said it could be months before a workable plan is in place. Schools Chancellor David Banks said Thursday that it could take "at the very least to the end of the school year" to complete.
"If I could figure out a way to do a remote option starting tomorrow I would … It's not quite as simple as that because you have to negotiate this stuff with the unions," Banks said at a virtual meeting of the Chancellor's Parent Advisory Council. "I do think we can come up with something because there's enough political pressure that has been put on."
The remote learning debate comes as the city has seen a slight dip in COVID-19 cases in recent days, what experts say is a sign that the omicron wave could have reached its peak in New York City.