Health Care
New York officials push to turn the page on omicron
Are the lessons learned enough to prepare for what may arise down the road?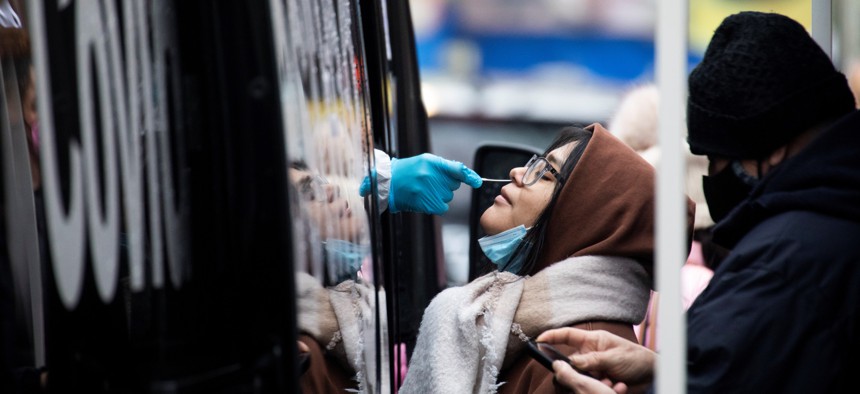 There are promising signs that New York is past the peak of the omicron wave of COVID-19 cases. The state had more than 30,000 new cases on Jan. 19, down from a peak of more than 90,000 cases on Jan. 8. Deaths, which have lagged behind cases, were over 250 per day in mid-January, still well below the April 2020 peak of about 1,000 deaths per day.
State Health Department Commissioner Dr. Mary Bassett said she has seen "convincing data" of a downturn in hospitalizations downstate, and that she sees the trend heading toward a plateau elsewhere. "But it's still going up in some areas upstate, so we have to keep an eye on that," she told City & State.
Earlier in the week Gov. Kathy Hochul echoed this caution, saying, "We are not out of the woods yet with this winter surge."
And that is what worries many state leaders and health officials: If New York is still in the woods, then what lurks in the shadows? And is the state prepared for the next phase of the pandemic?
Those concerns are not without merit. Leaders are facing low staffing levels at hospitals, poor morale among medical front-line workers, limited availability of COVID-19 tests, continued opposition to wearing masks and getting the vaccine by some, and uncertainty over whether and how the virus might mutate again.
Hochul and New York City Mayor Eric Adams have vowed to keep the government, businesses and schools open. They have said they will develop plans to deal with any future surge in COVID-19 cases while seeking a way for New Yorkers to live with the virus.
"The lessons of this current pandemic are many and some of them are painful," Manhattan Borough President Mark Levine said. "It's pretty clear that we hollowed out public health in this country and really paid a price for it over the last two years. It's also clear that the history of deep inequality and access to medical care has led to horrific impact on communities of color in this crisis. We have much more work to do to protect ourselves from either another wave of COVID or another pandemic."
Levine's sentiments appear to be shared by Hochul. In her 2022-2023 budget announced on Jan. 18, she included a $10 billion plan to grow New York's health workforce by 20% over the next five years, calling it the largest investment in health care in state history. It includes $4 billion to supplement health care and mental health worker wages and bonuses, of which $1.2 billion would be allocated for retention bonuses; $500 million for cost-of-living adjustments for human services workers; and $2.4 billion for infrastructure improvements to hospitals, nursing homes and clinics, as well as funding to increase testing capacity. Hochul had already asked the federal government for an additional 800 military medical personnel to help handle COVID-19 cases in New York City and state.
"One hard lesson we learned about what happens when there's a lack of investment is how our health care system crumbled under the stress of the pandemic and that's why we're making up for lost time," she said.
In New York City earlier this month, Adams announced that he will target the omicron variant by committing $145 million in resources to support public hospitals as well as independent hospitals and medical facilities that provide services to the uninsured and those on Medicaid. Of that funding, $111 million will go to boost staffing at New York City Health + Hospitals and the city Department of Health and Mental Hygiene. About $33 million will be added to the COVID-19 Hospital Loan Fund, which in partnership with Goldman Sachs, provides unsecured loans to independent safety net hospitals serving the uninsured and those on Medicaid.
The funding will help shore up hospitals beyond the omicron surge, said Eboné Carrington, the former Harlem Hospital Center CEO who served on Adams' transition committee. "It's to help them get through the next couple of waves," Carrington said.
The announcements were welcome news to people like Assembly Member Richard Gottfried, who said funding increases would be a welcome departure from Gov. Andrew Cuomo's approach to health care spending. "In recent budgets under Gov. Cuomo, there were repeated efforts to cut that funding and the Legislature had to work to try to find funding to restore those cuts," said Gottfried, chair of the Assembly Health Committee. Last year, Cuomo's original budget proposal had included $600 million in cuts to hospitals. He had also proposed cutting Medicaid costs by limiting reimbursements for prescription drugs bought by community-based health centers.
"Medicaid reimbursement rates need to be improved and we need to pay hospitals more to cover the cost of people who don't have health coverage," Gottfried said. "We have state funding that is designed to reimburse hospitals for what is called indigent care, but that funding is inadequate and a disproportionate share of it goes to hospitals that don't provide a lot of indigent care."
In addition to the health care funding allocated in the proposed state budget, Bassett said, "My interest is in achieving structural solutions that will keep us from having the recurrent need for cash subsidies to struggling hospitals." Though she's just at the beginning of working out how to do that.
But it is not just Medicaid funding and indigent care that concerns state and local health officials. Testing is also a concern. The demand for COVID-19 testing far outstripped the supply as schools, businesses and communities attempted to stay open safely. In late December, state and local elected leaders in Queens complained about the lack of tests. "New Yorkers should not have to wait in lines for hours, travel far, or worry their results will not be provided to them promptly," Assembly Member Jessica González-Rojas said. Bassett said the state has ordered 64 million COVID-19 tests with 16 million being delivered so far.
Levine, along with other elected leaders and public health experts, warned that years of disinvestment and neglect of our public health system must be addressed for those efforts to succeed.
"The level of payment reform that's required for the Medicaid program and for underinsured or uninsured individuals is really at the heart of this conversation," Carrington said.
Gottfried said passing his long-standing single-payer health care bill, the New York Health Act, would help. As City & State previously reported, getting consensus on it in this session will be an uphill battle, despite significant support in both chambers. Public sector unions are among the opponents, concerned about the impact on members' health benefits. "There are obviously interest groups that are opposed to the bill and we're working to try to meet their concerns and overcome their opposition," Gottfried said.
Beyond bolstering the public health care system, it will take planning and cooperation between all sectors of New York life to avoid getting caught flat-footed once again by COVID-19 or another health threat. "Not only can we do more to prevent these events, but we should be better prepared to respond to them and also to recover from these threats," said Dr. Wafaa El-Sadr of the Columbia University Mailman School of Public Health and leader of the newly created Pandemic Response Institute.
The institute, which is funded by the New York City Economic Development Corp., is a collaboration between Columbia and the CUNY Graduate School of Public Health and Health Policy, and it will partner with nonprofits like the United Way of New York City, corporations and faith-based institutions. It will focus on improving technologies to collect and share data in real time; bolster research and the technologies that will enable officials to quickly ramp up for the next public health emergency; coordinate drills within communities; and promote racial equity in the response to future health crises. "Our goal is not to replicate and duplicate what the city is doing. The goal of this institute is to work hand in hand with the city and other stakeholders to really identify the gaps and identify the priorities and focus on those," El-Sadr said.
One way in which New York City Council Member Carlina Rivera has been looking to identify gaps – and address racial and gender inequities – is through a bill that would create an Office of the Patient Advocate within the city health department. "It would collect patient feedback and complaints regarding health care experiences in New York City, answer general questions about insurance and access, and have an investigative and reporting team to look at troubling trends in our city health care facilities," the former Hospitals Committee chair explained. Initially introduced in 2019, she is hoping the bill will pass in the current term.
Meanwhile, the city health department said much of its work to address racial disparities in vaccine distribution and testing have centered on the Taskforce on Racial Inclusion and Equity, led by NYCHA executive Sideya Sherman.
Bassett said the state doesn't have a program similar to the Pandemic Response Institute, but the state's Public Health Corps fellowship program was focused on preparing for future public health emergencies. The program was created to identify and train public health professionals to work with local health departments and communities.
Levine has hailed the creation of the institute, and has also told a newly created COVID-19 recovery task force in his office to help plan and advocate for better preparedness, among other responsibilities. It is chaired by Aldrin Bonilla, who is executive vice president of the Fund for the City of New York and a former Manhattan deputy borough president. While the task force is still being formed, Bonilla said it is already considering ideas that could help deal with future surges.
The Manhattan Solid Waste Advisory Board, which is under the borough president office's purview, has proposed strengthening the infrastructure around wastewater testing. Bonilla noted the growing area of research relating to detecting and tracking the presence of the coronavirus in municipal wastewater. "By looking at our wastewater, both the liquid and the solid waste, this could be a leading indicator so you can get ahead of the next wave."
Recently, Adams told MSNBC, "It's time to live with COVID and build systems around COVID until it dissipates and leaves us." Levine said he agreed with that approach, and added:  "Let's have systems in place so that we can immediately pivot without some of the chaos and delays that we endured over the last two years."