Technology
What you need to know about Eric Adams and cryptocurrency
The new mayor is converting his first paycheck into Bitcoin and Ethereum in a bid to make New York City a cryptocurrency capital.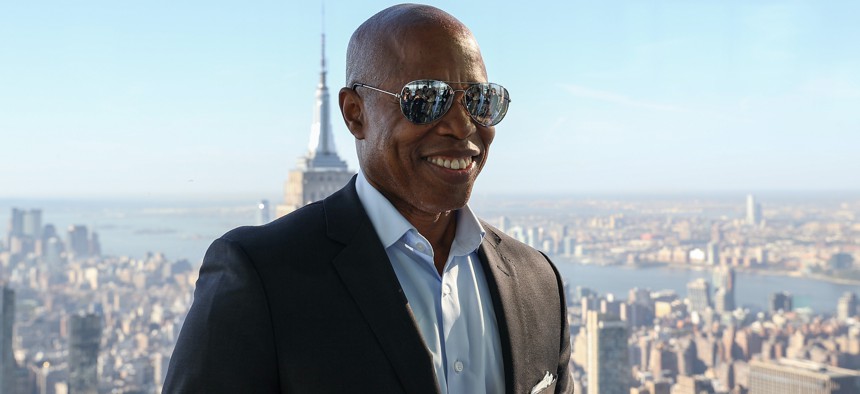 Eric Adams is following through on his promise to receive his first paycheck as mayor of New York City in cryptocurrency – sort of. Due to federal labor law restraints, New York City can only pay employees in government-issued currency, so Adams will convert his first paycheck into Bitcoin and Ethereum, two digital currencies, on a popular exchange called Coinbase. 
If this all sounds a little hard to grasp, that may be because Adams is embracing a currency – and more broadly a digital system of transaction – that is still nascent, at times volatile, and yet to be widely used by government leaders. 
Adams' move to convert his first paycheck – arriving on Friday – into cryptocurrency is more than anything a stunt to demonstrate his confidence in the increasingly popular technology. But this won't be the last you hear from Adams about Bitcoin, Ethereum, Web3 or blockchain. Here's what you need to know about Adams' cryptocurrency ambitions for New York, and why even his benign move of converting dollars into digital coins is getting so much attention. 
Why does Eric Adams care about cryptocurrency?
Before even being sworn in as mayor, Adams declared his ambitions for New York City to be the cryptocurrency capital of the world. "NYC is going to be the center of the cryptocurrency industry and other fast-growing, innovative industries," Adams tweeted last November, when he originally pledged to take his first three paychecks in Bitcoin in a bid to one-up the mayor of Miami's pledge to take a measly one of his paychecks in Bitcoin.
Based on Adams statements so far, making New York City the crypto capital of the world appears to mainly be about targeting a fast-growing pocket of the technology sector to bring new jobs and businesses to the city. "New York is the center of the world, and we want it to be the center of cryptocurrency and other financial innovations," Adams said in a statement earlier this week. "Being on the forefront of such innovation will help us create jobs, improve our economy, and continue to be a magnet for talent from all over the globe."
But Adams isn't the first elected official to evangelize the potential benefits of embracing cryptocurrency and blockchain, the digital ledger on which the virtual currencies are traded. Assembly Member Clyde Vanel launched a task force in 2019 to study how the state should both regulate and use cryptocurrency, as well as attract crypto startups. And Assembly Member Ron Kim has pointed to potential social equity benefits of blockchain technology, introducing with state Sen. Julia Salazar a bill that would create a state-administered digital wallet – often referred to as a "public Venmo" – which could more easily allow New Yorkers without traditional bank accounts to make and receive payments.
Isn't cryptocurrency already being used in New York?
There is already a regulatory framework for cryptocurrency companies to do business in New York, though critics say it's almost prohibitively stringent. Through the BitLicense – an early but rigorous approval administered by the state Department of Financial Services – roughly two dozen cryptocurrency companies currently have approval to buy and trade in New York. (They include Coinbase, the exchange Adams is using to convert his paycheck into cryptocurrency.) Technology companies and other crypto cheerleaders call the BitLicense overly restrictive, while those wary of the volatile currency say stringent regulation is necessary.
As mayor, Adams can't loosen the state's regulations – though he could certainly advocate for it. But fans of crypto are nonetheless hopeful that they have a friend in Adams. "We have a mayor coming into office who is very excited about the potential of this technology to democratize the mechanisms of our society and fundamentally change the way power is distributed – financial power and social power," Andrew Rasiej, the founder of Civic Hall and a co-leader of the technology committee on Adams' transition team, said during a sponsored City & State event on cryptocurrency last fall. 
Why are some people skeptical – and critical – of cryptocurrency?
In addition to those wary of cryptocurrency because of its newness, volatility and lack of backing, environmental advocates are aggressively campaigning against a common method in which coins are created. Digital currencies like Bitcoin are released into circulation by a complicated process in which many thousands of computers compete against each other to be the first to solve complex puzzles that unlock new digital coins and verify transactions of coins. This method of Bitcoin mining is referred to as "proof-of-work," and it takes a massive amount of energy to power those specialized computers working to verify transactions. (An analysis by The New York Times found that Bitcoin mining consumes more electricity annually than Finland.) Bitcoin mining sites can be warehouses filled with these super-powered computers – or as is the case in New York, converted power plants housing the computers.
Assembly Member Anna Kelles has introduced a bill that would put a moratorium on the use of proof-of-work cryptocurrency mining, but it's yet to progress in the legislature. Still, attention to the environmental concerns about cryptocurrency mining is growing in New York, even as Adams champions the industry downstate.