New York City
Adams offers tepid support for a controversial real estate developer tax break
Far from the champion his predecessor had been for the program, New York City Mayor Eric Adams has offered little public support for the renewal of 421-a.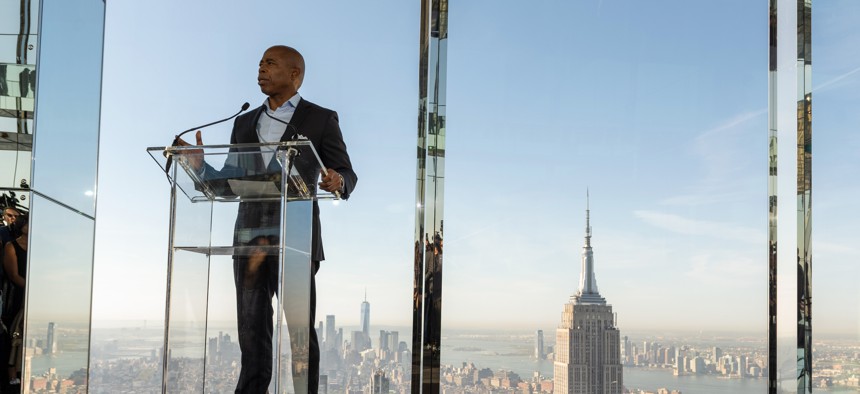 It's budget crunch time in Albany, which means that everyone is making their final appeals for various proposals to make the final cut. That includes New York City Mayor Eric Adams, who once again repeated his call for mayoral control over traffic cameras and setting speed limits in the five boroughs on Friday. That, bail reform and mayoral control for schools have headlined his first state budget priorities. 
But the night before he began railing against traffic deaths during a high-profile press conference in Brooklyn, Adams weighed in on a very different issue on Twitter: tax breaks for developers. He expressed support for Gov. Kathy Hochul's proposed replacement for the controversial 421-a program, which incentivizes developers to build affordable housing in otherwise market rate projects with the promise of years of tax abatements. The program will expire in June, so Hochul included a new 485-w plan in her budget, similar in structure to what already exists but with deeper affordability and more transparency measures.
Housing advocates have criticized incentives giving developers years of tax breaks in exchange for housing that isn't all that affordable. They require only a limited number of units in any project to get set aside, and they often remain out of the price range for very low-income New Yorkers based on the levels of affordability developers must follow. They have the same complaints about the proposed replacement for 421-a. 
Until now, Adams had not vocally prioritized this particular budget issue, although it's highly consequential for New York City. In fact, since Hochul proposed her replacement, to the support of real estate and the opposition of housing advocates, the tax break has flown under the radar. Both chambers of the state Legislature excluded 485-w from their one-house budget resolutions, and it hasn't broken through as a major public debate topic. With other priorities hanging in the balance, Adams' late public support for the tax break, lukewarm compared to usual fiery rhetoric, does serve to bring some attention back to the issue. But it may also indicate the waning influence of the real estate industry on elected officials.
The last time the 421-a program expired in 2016, former Mayor Bill de Blasio had been a strong proponent for both its renewal and reform. Ahead of its actual expiration, he championed a sweeping proposal to revamp the tax incentive program in 2015. And when it lapsed in 2016 before its eventual renewal, de Blasio took an active role in trying to get the tax break back even with his lack of power in Albany. Though it may be only his third month in office, Adams has taken a far more hands-off approach to 421-a and its potential replacement, expressing support in prepared budget testimony and in tweets, but focusing on his other priorities more. 
Given the dearth of attention the proposed 485-w proposal has gotten outside of strictly housing and development circles, even just a supportive tweet from the mayor of New York City a week before the budget is due could get some more eyes on the issue. Given the 2016 expiration and the fact that the Legislature has only gotten more progressive and hostile to developers in the past six years, the fate of 485-w is hardly guaranteed. Despite Hochul's promise of significant reform of the program, her plan still left housing advocates deeply unsatisfied, and many lawmakers still want simply to end the tax break.
Still, Adams' overall disengagement from the issue of renewing 421-a – and arguably from the Albany process in general depending on which lawmakers you ask – offers early insight into his own priorities as mayor, and perhaps more consequentially, the level of influence that the once power real estate industry has over both the city and state. A position once held by a champion of the affordable development tax break has been diminished to the odd tweet and singular budget testimony. After large donations to Adams' campaign from real estate interests, his comparative quietness is very loud.
De Blasio certainly was never a big shot in Albany, but when it came to the 421-a program, he served as a reliable supporter for a tax break developers desperately want to see continue. That hasn't translated to his successor, despite Adams' history in Albany and state-level political savvy many political observers expected to translate into a relatively smooth relationship with state lawmakers. Absent a champion, even one who has no say in the final decision, the fate of the governor's 485-w replacement is far from certain. And its failure would represent the latest in a series of painful blows to the real estate industry in New York.