Criminal Justice
Advocates blast Eric Adams for using teen suspect's botched case in bail push
A judge found the NYPD illegally stopped and frisked the teen, causing his gun to go off.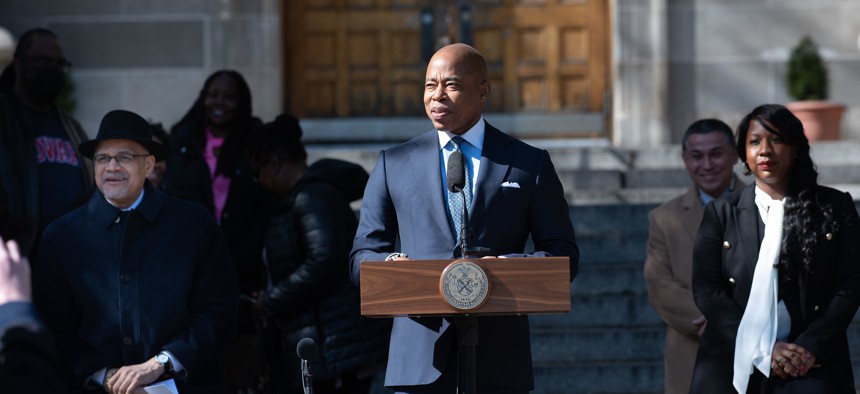 Criminal justice advocates demanded an apology from Mayor Eric Adams on Wednesday for making a 16-year-old accused of shooting a police officer part of his case for stricter bail laws, following revelations that New York City Police Department officers mishandled the arrest, then lied about it under oath. 
Adams in January blasted Camrin Williams' release on a $250,000 bond following his arrest in the alleged shooting of NYPD Officer Kaseem Pennant in the Bronx, linking Judge Denis Boyle's decision to bail reforms he wants to roll back. "New Yorkers should all be outraged that a repeat offender, accused of shooting at a police officer, is today walking free on bond because judges are precluded from even considering danger to the community, like every other state and our federal courts," Adams said in a statement, referring to his push for judges to be allowed to consider the level of danger the defendant poses to the community when making bail decisions. "It is further proof that our current system is failing us," he said.
According to a Bronx judge, it was the NYPD that failed to live up to its duties in the case. Following a review of officers' testimony and video evidence, Judge Natia Semaj accused NYPD officers on Tuesday of stopping Williams in Belmont on Jan. 18 for "no apparent reason," the Daily News reported. Officers Pennant and Taulant Gjonbalaj then searched the teen as he cooperatively stood with his hands raised, Semaj said, and caused Williams' gun to go off when they patted him down, shooting the teen and Pennant. "There was absolutely zero reason for any of those officers to approach this individual. They approached him, they detained him, they searched him, and no officer even bothered to come up with a half-way legitimate reason for any of that," Semaj said. Gjonbalaj then gave an "absolutely incredible" testimony that "was inconsistent with his fellow officer's testimony," she said. "It was self-serving, it had no value." Semaj transferred Williams' case to juvenile court following her review, in which she also noted that "there is no disputing the fact that Mr. Williams had a gun on him."
When asked by City & State if he still thinks Boyle should have held Williams without bail, the mayor said in a statement: "I agree with the judge that there is no denying Mr. Williams had an illegal gun on him that night – a gun that ended up injuring both him and a police officer. This was Mr. Williams' second gun-related arrest and exactly the reason why we need to work to get guns off the streets. We're going to continue to provide officers with the tools, the training, and the support they need to keep communities safe."
NYPD Deputy Commissioner of Public Information John Miller also referenced Williams' record and accusations he was carrying an illegal gun in response to the judge's ruling.
"This is dangerous work but the intent is to foster peace and achieve just outcomes for all New Yorkers whether they are victims, witnesses, or young people who make wrong decisions to carry firearms. We may respectfully disagree with the judge, but we intend to litigate this case in the courtroom," Miller said in a statement submitted to City & State after publication.
Semaj's ruling sparked backlash from criminal justice reform advocates, who accused Adams of "peddling misinformation about bail reform" in Williams' case. "The story had been widely circulated in the media and by officials including Mayor Eric Adams, who released an official statement from the Mayor's Office that falsely accused the teen of "shooting at" an officer and wrongly tied the case to bail reform and other pre-trial legislation as part of an ongoing misinformation campaign to undermine modest pre-trial reforms," Marvin Mayfield, director of organizing at Center for Community Alternatives, said in a statement on Wednesday. "Mayor Adams owes New Yorkers an apology." The New York Civil Liberties Union tweeted that Adams "was wrong – about bail reform, but also about the incident."
After publication, Williams' lawyer also joined the calls for Adams to walk back his previous statements.
"We are disappointed that the Mayor would develop and promote a narrative before all of the facts were available, and that he would use this case to try and roll back the hard fought, common sense reforms to our bail system," attorney Dawn Florio told City & State in a text message. "Mr. Williams is entitled to due process, but instead he received public scrutiny and persecution, and was demonized in the press, before all the facts were known. The Mayor should issue a formal apology to Camrin Williams with the same zeal that he issued his attacks. Camrin Williams deserves the same media platforms that promoted this narrative to issue statements acknowledging the truth of the matter. This is a case that belongs in family court."
New York's bail reforms passed in 2019 require judges to release suspects without bail for most misdemeanors and nonviolent felonies. While that portion of the law is not applicable in Williams' case, the law also states that judges should use the least restrictive means necessary when determining a defendant's conditions for release. The specific measure Adams is calling for – the use of a "dangerousness" metric in setting bail – has been banned in New York for decades, and advocates say it can result in racial biases. 
The NYCLU also raised concerns about the use of stop and frisk in the case, another hot-button policing tactic that Adams has called a "great tool" in the past, when used properly. "Black and Brown New Yorkers are disproportionately targeted by the NYPD for searches + harassment ... NYC's mayor should be concerned with advancing true solutions to community safety, not fear-mongering around bail reform," the NYCLU tweeted.
– With reporting by Jeff Coltin
Powered By
NEXT STORY: Amid rising traffic deaths, NYC officials amplify 'home rule' push