Policy
City employees are eyeing the exits as Adams insists on in-person work
The mayor has been adamant that workers come into their offices full time. But municipal employees looking for remote work flexibility warn of a morale crisis and service slowdowns.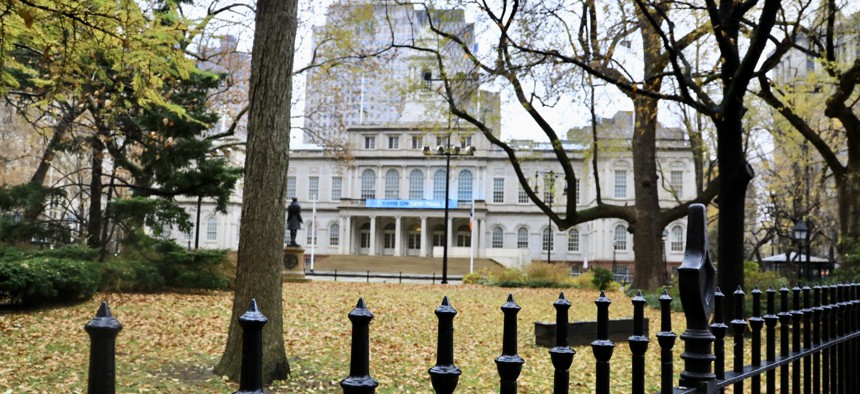 When employees at New York City's Department of Housing Preservation and Development started to return to work in the office in the spring of 2021, they arrived to find a bat had taken up residence in their abandoned downtown Manhattan building. Looking back now, the bat at 100 Gold St. probably should have served as an omen that municipal workers' mandatory return to offices would be shaky.
A large subsection of the city's workforce – mainly uniformed and public-facing employees – have been working in-person throughout the pandemic. (Roughly 17% of the city's workforce consists of uniformed service employees, including at police, fire, correction and sanitation
agencies.) But the public servants who were mainly confined to offices prepandemic quickly shifted to remote work in March 2020. After a gradual return to offices that began last spring, those workers were required to return to the office full-time in September 2021. The order, carried out by then-Mayor Bill de Blasio, was explained as a necessary step to get better quality work out of the city's employees. "From a government perspective, our folks not being in their offices, not being able to coordinate and work together on how to address issues, create solutions, it's made a huge impact unfortunately in the wrong direction," de Blasio said in an interview that month.
Some city employees dreaded the mandatory return to offices – and bitterly resented the implication that they weren't working as hard or as efficiently while confined to their homes during the worst of the pandemic. They raised concerns that the in-office mandate would lead to attrition, a brain drain and eventually a decline in ability to provide city services. Plus, new variants of the virus still posed a health risk. 
Some workers held out hope that incoming Mayor Eric Adams would implement a more flexible policy – even one that allowed for a hybrid schedule allowing some in-person work and some remote work. Adams made several statements during the campaign suggesting that he might head in that direction, including supporting the idea of taking advantage of remote work to convert then-empty city office space to affordable housing. 
But Adams has not taken a different course than de Blasio. If anything, he seems to be leaning harder into the notion that both public and private sector employees belong back in their Manhattan offices, telling workers that they can't "stay at home in your pajamas all day," and that employees need to be working in person to stimulate the economy and support peripheral service-based businesses like dry cleaners. Six months after they were brought back to the office full-time, some city employees said they were disappointed to see Adams doubling down on the in-office work mandate. 
But it's not just city workers' job satisfaction that's on the line, or what multiple people described as a morale crisis in the municipal workforce. City & State spoke with a dozen current employees at eight different city agencies – all but one of whom spoke anonymously for fear of retribution – who raised concerns that the city's policy requiring employees to work in the office is contributing to retention and hiring issues as the size of the municipal workforce sits at a five-year low. Many responded to a thread on Twitter that raised concerns that the city's civil service capacity is being "systematically gutted."  While the public sector has never been able to compete with private sector employers for offering workers the highest salaries, employees City & State spoke to said that the in-office work mandate is making the city even less competitive in a job market where candidates have become accustomed to finding flexible remote or hybrid work options. Workers warned that if staffing shortages continue, New York could see a reduction in the quality or quantity of services that the city provides.
Though Adams has shown some signs of softening his position that all kinds of workers should be in the office – remarking recently that the tech sector is "operating differently" – he doesn't yet seem to be changing his position on keeping government employees in the office. "Mayor Adams is clear that getting people back to the office is critical to the city's economic recovery, and to that end, the city has been leading by example," a City Hall spokesperson wrote in an email. "He is continuing to build a stellar team who can 'Get Stuff Done' and make government work for all New Yorkers."
Jeremiah Cedeño, a city employee, is the co-founder of City Workers for Justice, a group of municipal employees that began organizing after the murder of George Floyd in 2020, and that is now pushing for remote work flexibility and higher pay for city workers. Cedeño and others said that just a little flexibility to work from home would go a long way – especially if increasing pay for city employees is off the table as Adams looks to find budget savings. Without that, Cedeño said that some workers are making the difficult decision to abandon public service. "I hear all the time from folks who are looking for work elsewhere. And they don't do it happily, because we all love working for the city of New York," Cedeño said. "We've been getting stuff done long before Mayor Adams made that his catchphrase."
Other city employees described being caught in a perfect storm of low pay during a period of inflation and ongoing staff shortages forcing remaining workers to take on heavy workloads. In some cases, workers said they're doing the jobs of two or three people. "It's something I shudder to think about," an employee at the city Department of Health said, when asked about the possibility of the city not being able to fill current vacancies. "I can't continue the level of work that I have put in for the past two years, it's not sustainable. There's only so long that I can sort of put up with it before I run away, stark raving mad."
"Every day I get a goodbye email."
The city's current vacancy rate isn't just a feature of Adams' administration. As of February, New York City's actual full-time headcount stood at about 283,000 even though the city is budgeted for a full-time headcount of about 306,000 for this fiscal year. While the city averaged a vacancy rate of around 2% prior to the pandemic, the share of unfilled positions has grown over the past two years, reaching 8.4% by November 2021, according to a report by the city's Independent Budget Office. That headcount decline last fall was in part due to employees being placed on unpaid leave for not complying with the COVID-19 vaccine mandate. 
A February report by the state comptroller traces the staff reduction back to the beginning of the pandemic, when the de Blasio administration implemented a hiring freeze. Though the city is used to seeing some attrition, it's usually hired enough people to make up for the losses. An annual average of more than 31,000 full-time hires offset annual losses between fiscal years 2012 and 2020. But in fiscal year 2021, the city hired only 17,210 employees. "The pace of hiring has picked up since April 2021, but not fast enough to offset attrition through October 2021 on a citywide basis," the comptroller's report found.
And though the city is currently budgeted for employing about 23,000 more full-time positions than it actually employs now, the comptroller's report noted that it could be a challenge to hire that many people by this June, when the current fiscal year ends. "Since FY 2012, the most the City has added between December and June is 18,826 employees in FY 2017," the report read.
One city employee City & State spoke to said that she is leaving for another position with higher pay and the flexibility to work remotely. As a mother, the ability to work from home factored heavily in her decision. "Women with families were like, 'I'm going to seek something better that's going to actually get me to see my kids for bedtime and not for like 30 minutes a day," the employee said of watching colleagues leave before her. "There has not been an ability in most departments to hire and replace for those positions. So when someone leaves they may move someone into that management role. Or if it's a lower level, they often just don't fill it."
That employee was one of several City & State spoke to who said that they had previously considered staying in government service for a long time. "Every day I get a goodbye email," she said. "It's really sad."
City employees are not the only ones who are sharing concerns about staff shortages leading to a decline in services. "The recent decline in staffing, while not unique to the City, could challenge its ability to deliver municipal services during the post-pandemic recovery period; and in some cases (as City has already acknowledged) could limit the delivery of some municipal services in the short run," the state comptroller's report read. But the report notes that the city could find some creative budget solutions without cutting services. 
Finding savings through reductions
Adams campaigned on and is now pursuing a budget built around 3% savings across nearly all city agencies. A large chunk of the savings in Adams' so-called Program to Eliminate the Gap will be found through eliminating some already vacant positions at many city agencies – resulting in 3,205 full-time eliminated positions this fiscal year and over 7,000 full-time eliminated positions in the coming fiscal years. 
The planned 306,000 headcount for the end of this fiscal year factors in these eliminated positions. So even with Adams' vacancy reductions, the city still has over 20,000 positions to fill. "The city is notorious for being one of the most difficult places to hire. The civil service system is so byzantine and so stupid, that we're basically left in a place where even if Mayor Adams was like de Blasio and allowed us to backfill these vacancies, best case scenario it would still take like a year and a half to replace the people that have left," an employee at the Department of Education said. 
Even so, Adams has given assurances that the savings achieved won't result in service reductions, but are instead focused on eliminating inefficiencies. But there's some fear that as Adams looks to eliminate some of the current vacancies in the city's headcount, it won't just be redundant positions eliminated, but necessary ones. The city said that it worked with agencies in developing each savings plan.
Members of the City Council, which is currently in the process of holding hearings on Adams' preliminary budget, are keeping an eye on the vacancy reductions as they evaluate Adams' proposal. Council Member Carmen De La Rosa, who chairs the Committee on Civil Service and Labor, said that some jobs are heading in the direction of more telework. "We're going to lose a very digitally conscious portion of the workforce if we don't follow suit," she said, adding, though, that there are inequities in who can and can't – construction workers and nurses, for example – work remotely.
"Losing 28 full-time employees is not a good thing."
Employees from multiple agencies raised concerns about staff shortages leading to a loss of services. In the city's housing-related agencies, leaders are speaking up. During a City Council budget hearing this week, the leadership of the city Department of Housing Preservation and Development and the Department of Buildings reported 14% and 21% vacancy rates within their respective agencies. 
The Department of Housing Preservation is set to see 28 of its more than 300 current vacant positions eliminated through Adams' saving plan. "Any commissioner who says they were not disappointed by a reduction, it won't be truthful," HPD Commissioner Adolfo Carrión Jr. said on Monday. "Losing 28 full-time employees is not a good thing."
Sharon Neal, a deputy commissioner at the Department of Buildings, said at the hearing that despite aggressively seeking to fill the department's vacancies, including for plan examiners and inspectors, "unfortunately, we're just not seeing the yield we normally would on an annual basis for filling those positions."
Others who testified at the housing committee hearing on Monday warned that understaffing will exacerbate the shortage in supply of affordable housing. "What we're hearing from developers, housing providers and homeless advocates is that this is really impacting two things. One is the pipeline of affordable housing," Rachel Fee, executive director of the New York Housing Conference, a policy and advocacy group, told City & State. Fee said that developers of new affordable housing sites are being told that they can't be assigned a project manager. "And then for projects that are already in the pipeline, some of them are waiting a really long time," she added. And then there is the work of placing individuals experiencing homelessness in already available housing. The Supportive Housing Network of New York, a member network of supportive housing nonprofits, found in a survey last fall that there is a 10% vacancy rate in existing supportive housing units due to a lack of referrals, despite many applicants in need waiting for units.
Both Carrión Jr. and Neal said that their agencies are having trouble competing in the job market for qualified candidates. A current employee at HPD who is involved with hiring told City & State that they didn't think the department was in a "crisis mode" yet in terms of not being able to get done the work that they do. But hiring is an issue. "We have had people leave in the past six months that we have not been able to backfill for a combination of reasons, including not being able to find candidates to replace them because of the lack of flexibility and the salary range," the employee said. "Or we do have people to replace them and the hiring process in the city takes so long that people are pending approval for six months and they find a new job by the time you actually get approval to offer them a start date."
A spokesperson for Adams did not directly respond when asked whether the mayor would consider implementing a hybrid schedule or any more flexible work arrangements, but said that the city's salaries are competitive. But for some employees who are looking at the door – and for candidates who are considering coming to work for the city – Adams may have to make a more compelling case. "If he really wants to get stuff done, and there's nobody to get stuff done with, I don't see how that's gonna continue to work throughout this whole four years," the education department employee said.