Policy
Key state lawmaker questions bonding proposal for Belmont racetrack
The New York Racing Association is seeking $450 million in state-backed bonds despite past criticism of its finances.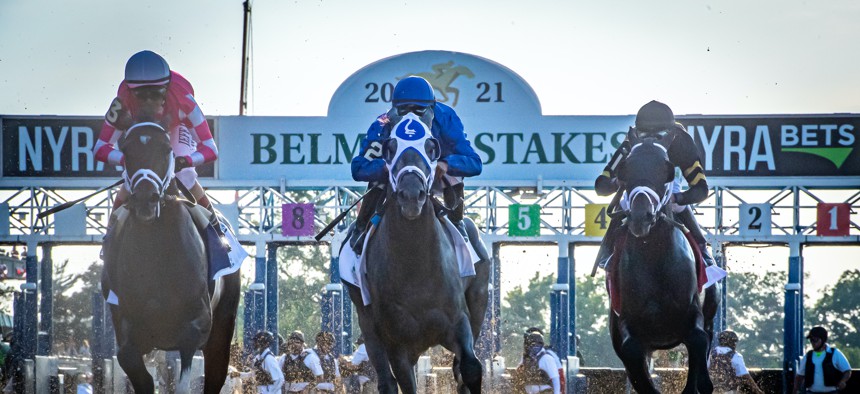 Budget negotiations are full of surprises. Even state Senate Finance Committee Chair Liz Krueger has found herself out of the loop as Gov. Kathy Hochul, Assembly Speaker Carl Heastie and state Senate Majority Leader Andrea Stewart-Cousins push to meet the April 1 state budget deadline.
"I just learned about an hour ago that they're talking about $400 million for (a) racetrack in Long Island," Krueger said at a virtual press conference this morning. "I don't understand why we would put $400 million into a racetrack."
To be clear, the state will not be providing taxpayer money to build a new racing facility at Belmont Park in Nassau County, but the New York Racing Association (which runs the track on behalf of the state) is seeking approval to issue $450 million in bonds with state backing, which would help NYRA access lower interest rates. Payments on that debt would be made by the association, though it remains unclear to what extent taxpayers might be on the hook if the association were to default on the proposed 30-year bonds. 
Current plans call for replacing the existing clubhouse and grandstands at the facility in addition to constructing tunnels to a 55-acre parcel that is currently unused, according to NYRA. "A new Belmont Park would complete the overall transformation of the property, secure the future of thoroughbred racing downstate and create jobs and economic opportunity in Nassau County," spokesperson Patrick McKenna said in an email. Discussions with the state have been ongoing for the past year, he added. 
A recent analysis by the Times Union found that most horse tracks in the state would not survive without billions in state support that includes tax breaks, favorable leases, debt forgiveness and revenue from video lottery terminals, which economists told the paper amounts to about $2.9 billion in total subsidies since 2008. NYRA receives about half of that amount, according to the Times Union. A March 2022 audit by state Comptroller Thomas DiNapoli found that NYRA officials had spent "lavishly" despite purchasing rules. 
The main reason NYRA wants the bonding authority is to get borrowing terms that would be more favorable than without state backing. McKenna downplayed the possibility that NYRA would ever default on the state-backed bonds it seeks, especially with revenues from video lottery terminals guaranteed revenue stream through 2033. Revenues also remained relatively strong during the pandemic despite the economic turmoil. "The New York Racing Association is in strong financial shape due to responsible budgeting and financial planning," McKenna told City & State. 
A spokesperson for Hochul did not respond to a request for comment by publication time about the proposed bonding authority, which received support from the Newsday Editorial Board, and whether it has already been included in budget bills submitted to the Legislature. The budget deadline is just a few days away, and Krueger told City & State that the bonding proposal took her by surprise. She is now asking the comptroller for his official opinion on approving the request. "That raises a red flag for me right away," Krueger said at the press conference about the comptroller's recent audit. "So, yes, we need more information, a lot more information. I think it is crucial."