Policy
New bill would cut New York's mobile sports betting tax rate in half
The sponsors of the mobile sports betting legislation have proposed an amendment to gradually lower the tax rate as more operators are added.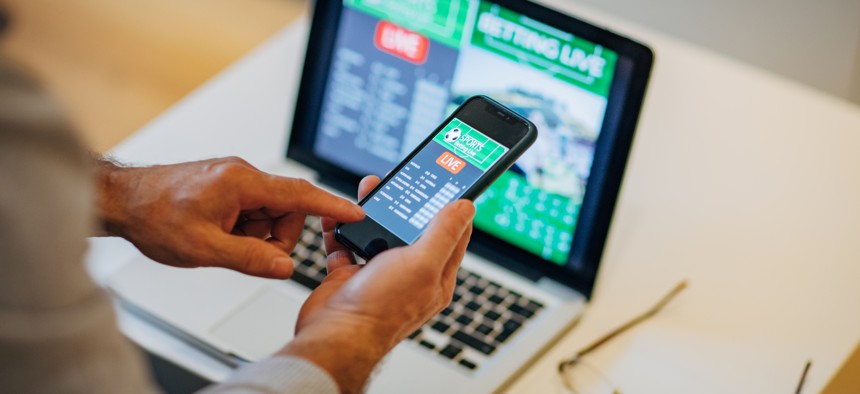 A month after state lawmakers celebrated a record-breaking tax revenue windfall from newly legalized mobile sports gambling revenue, the bill's sponsors are floating an amendment that would slash the tax rate in half – effectively gifting gambling companies hundreds of millions of dollars that would have gone to education. 
Sen. Joe Addabbo Jr. and Assembly Member Gary Pretlow have proposed legislation that would gradually reduce the tax rate as more mobile sports gambling operators opt in to the New York market. There are currently nine licensed operators, under the umbrella of two sports betting providers, Betfair and Sports Information Services. If at least six additional operators join, then the rate would be reduced to 25% under the proposed legislation. Promotional bets, such as free wagers, would also be tax free.
The proposal would be a boon for operators, including DraftKings and FanDuel, that have vocally opposed the tax rate, which is the highest in the country for mobile sports betting. "For our people, who are operators, they would like to see that tax rate adjusted, certainly," New York State Gaming Association President Michael Kane told City & State, stating the obvious. Kane also noted that the association's members were pleased with the provision that would allow them to deduct monthly losses from subsequent tax bills, something they are not currently able to do.
Since mobile sports betting went live on Jan. 8, it has brought in $104 million in tax revenue for New York and $101 million in revenue for mobile sports betting companies, according to the New York State Gaming Commission report for the week ending Feb. 27. In the first 30 days of operation, mobile sports betting generated $70 million in tax revenue for the state, setting a monthly record among all states that have legalized the game. In New York, 98% of the tax revenue goes toward the state's education fund and is distributed to local school districts. The rest is split between problem gambling education and youth sports programs. 
Addabbo, who chairs the Senate Racing, Gaming and Wagering Committee and has sponsored numerous casino- and gambling-related bills, said the legislation is intended to make mobile sports betting "a better product for the residents of New York," he told City & State, adding that the financial impacts are under review. "We may hold fast on 51% because if we find out that lowering 51% drastically affects educational funding, then guess what, we shouldn't reduce the 51%."
The bills would reduce the tax rate to 50% if at least one additional operator joins, then to 35% with four new operators before dropping to 25% at 15 operators or more. The tax rate would increase if the total number of operators dipped below the current level. While Addabbo has said the amendment would attract more business to the market, there has been additional interest at the 51% rate, Kane said. Addabbo told City & State in February that existing operators had already approached him about lowering the tax rate and he was opposed to doing so under the current structure with nine operators. "This 51% is something the state was very clear about from the outset … there is no secret, no surprise here," he said.
Addabbo is vying to adopt the proposal through the state budget process. But with just two months of mobile sports betting on the books, it's unlikely that lawmakers will have the appetite to make changes so soon. "I'm not sure how much traction this bill has particularly the part about the tax reduction because it doesn't appear the Division of Budget is in favor of that at this point," Kane said. "The bill is very early in its lifespan."
A DOB spokesperson said "we do not comment on pending legislation." A spokesperson for Gov. Kathy Hochul said "Governor Hochul will review the legislation if it passes both houses of the legislature."