New York State
New York prepares for Ukrainian refugees
Advocates and lawmakers are calling for temporary protected status for Ukrainian nationals who are currently in New York, along with additional funding for refugee services.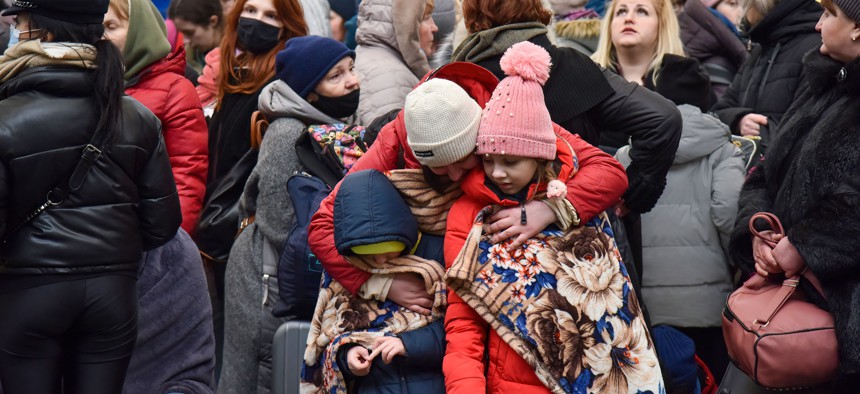 Amid the Russian invasion of Ukraine, hundreds of thousands have fled in a matter of days for nearby European countries, and they're expected to fan out around the globe if the crisis is not resolved. Ukrainian citizens who were in the U.S. temporarily on special visas when the invasion began last week are seeking an extension of their statuses to stay here longer.
It's likely weeks, or even months, before Ukrainian refugees seek shelter in the United States, experts say, but already local and state government leaders, along with a coalition of refugee aid organizations, are preparing for their arrival in New York.
"Just as the Statue of Liberty stands tall in our harbor, New York stands ready to welcome Ukrainian refugees," Gov. Kathy Hochul said on Feb. 24, the day Russia launched the invasion. "We remain engaged with the Biden administration and we will be prepared to accept and support those who seek shelter in our state."
New York City Mayor Eric Adams also called on the Biden administration to "use every tool at their disposal" to protect Ukrainians who are currently in the U.S., including DACA recipients and students, and aid Ukrainians abroad who seek refuge here.
New York City is home to the largest Ukrainian American community in the U.S., with more than 150,000 Ukrainians living here. Ukrainian American community organizations, including nonprofit and religious leaders, have been fielding panicked calls from Ukrainians in the U.S. in recent days who are seeking information about how they can get their family members overseas safely to New York.
Just as the Statue of Liberty stands tall in our harbor, New York stands ready to welcome Ukrainian refugees.
– Gov. Kathy Hochul
"As soon as the bombs started happening, we went right into our pre-planning notes about what to do during this time, and that was to immediately call for some kind of Temporary Protection Status for people who are here in this country," Andrij Dobriansky, spokesperson for the Ukrainian Congress Committee of America, told City & State.
Council Member Inna Vernikov, who emigrated from Ukraine to the U.S. in 1996 at the age of 12, has also been working as an informational liaison for Ukrainians in New York who are concerned about their relatives overseas. She has been coordinating with refugee camps in Moldova and Chernivtsi, Ukraine, her hometown near the Romanian border, which she said has been spared of attacks. Refugee coordinators are "working 24/7, very hard to resettle (people), to get them food, shelter and medicine, or to get people to hospitals who need medical care," she said.
Historically, New York takes in more refugees than most other states. As of March 2, 2,297 of the 76,000 Afghan refugees evacuated to the U.S. since troops withdrew in August have resettled in New York, according to the state Office of Temporary and Disability Assistance, which houses the New York State Enhanced Services to Refugees Program, known as NYSESRP. The program was created in 2017 as a stopgap to federal funding cuts for refugee services made by former President Donald Trump's administration. 
The agency coordinates with refugee assistance organizations that provide entrants with social services upon their arrival, including the International Institute of Buffalo. The Institute coordinates resettlements with the U.S. State Department, and connects refugees with services such as English language learning and job placement to helping families navigate the school system and find housing. 
As soon as the bombs started happening, we went right into our pre-planning notes about what to do during this time.
– Andrij Dobriansky, spokesperson for the Ukrainian Congress Committee of America
"From a humanitarian perspective, I am very hopeful we won't have a Ukrainian refugee population coming to the United States . . . you want to hope a refugee population can return home. That's always the ultimate hope," Jenny Rizzo-Choi, interim executive director of the International Institute of Buffalo, told City & State, adding that she does not expect to see Ukrainian refugees in Buffalo "immediately" because evacuation efforts require extensive coordination with the United Nations: "Camps have to be set up for processing people. It usually takes one or two years for a population that has left its homeland to be processed and screened and ready for resettlement."
Afghan refugees were evacuated and resettled much quicker in the U.S. due to the abruptness of the U.S. military exit and the unique responsibility the U.S. had to protect Afghan asylum seekers who had been aiding U.S. military efforts for years and came under immediate threat from the Taliban when troops left. Many Afghans who came to the U.S. as part of "Operation Allies Welcome" are under temporary "parole" status that allows noncitizens under threat to come here immediately. Concerns have been raised that the U.S. is not approving enough applications for Afghan asylum-seekers. Among those whose applications have been approved, some have received employment authorization documents from the U.S. government that contain errors, delaying their delivery.
Hochul's hometown of Buffalo, and other municipalities upstate, are a hub for refugee communities in New York, with significant populations of Congolese and Syrian refugees, in addition to Afghan refugees. Buffalo has taken in 497 Afghan refugees, second to Syracuse, where 522 Afghan refugees have resettled, officials said.
Anticipating the influx of Afghan refugees last year, Hochul increased the state's refugee services budget from $3 million to $5 million in December. But funding was cut back down to $2 million in this year's proposed 2022-2023 budget, introduced by Hochul in January, and lawmakers and advocates who were pushing for an increase to the refugee funding before the Russian invasion say the war gives new significance to the request.
Assembly Member Jonathan Rivera is one of dozens of lawmakers who wrote to state Senate Majority Leader Andrea Stewart-Cousins and Assembly Speaker Carl Heastie on Feb. 17, urging an additional $4 million for NYSESRP. He said the war in Ukraine is "a moment to truly see in real time, on a planet-wide stage, that there are people desperately in need. And what we can do in New York state to help them is this," Rivera told City & State.
A spokesperson for Hochul said this year marks the first time the governor's executive budget has included funding for the "enhanced services to refugees program," adding that the Legislature "has the ability to add spending to the budget for this purpose, as they did in FY 2022, and we look forward to a discussion about this and other priorities in the days ahead," Hochul spokesperson Avi Small said in a statement to City & State.
Powered By
NEXT STORY: David Banks lays out vision for expanding remote learning