New York State
Passage of Antilynching Act recalls New York's ugly history
With the Emmett Till Antilynching Act, murders like those committed in New York's 1863 draft riots would be classified as federal hate crimes.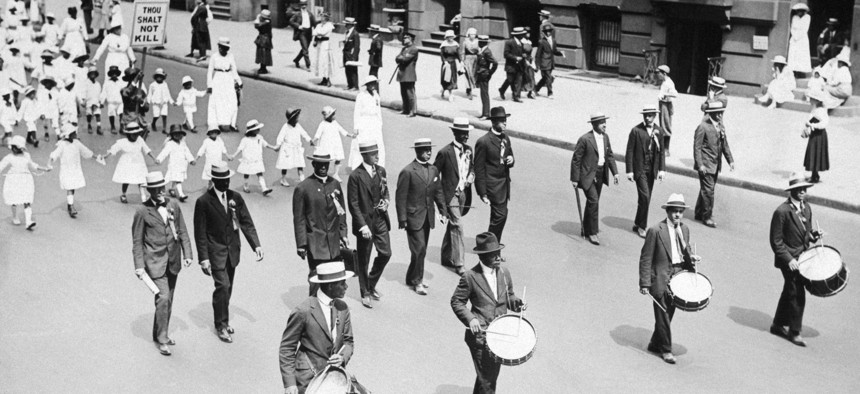 On Monday, Congress passed an anti-lynching bill that would classify as lynching a federal hate crime across the country. U.S. Senate Majority Leader Chuck Schumer was an ardent supporter of the Emmett Till Antilynching Act, which took more than 200 attempts to get passed over the past century.
"Congress is finally succeeding in taking the long-overdue action by passing the Emmett Till Antilynching Act. Hallelujah. It's long overdue," said the New York senator after the bill was passed in Congress. He, along with U.S. Sens. Corey Booker, Tim Scott and Bobby Rush had been actively pursuing its passage in recent years. 
The bill was a step toward correcting the violent and hateful history of the United States, where thousands have been killed by lynching. Beyond the enslavement and sale of Black people in the state dating back to the 1600s, New York has a gruesome history of violence against Black people. 
"In thinking about the draft riots, it would have been very nice for New York City to have an anti-lynching law in place considering the savagery of the riots," said Syreeta McFadden, a professor of English at the Borough of Manhattan Community College, about this recent legislation passing. McFadden has expertise in covering race in America, and has published work on lynchings in Union states.
An insurrection in 1863 by working-class Irish immigrants led to the beating and lynching of over a dozen Black men working alongside them in New York City. It began out of anger from being subject to the military draft for the Civil War, and the white rioters took their frustrations out on innocent Black workers who were trying to escape the violence themselves. The rioters managed to burn down an entire orphanage for Black children in the city after it was evacuated and battled with police and troops for days. It took four days, armed journalists at the New-York Tribune, pleas from secular leaders and the use of federal troops to quell the riots that claimed the lives of at least 115 people. 
After this riot, there was a sense of urgency among the Black community in New York City to flee as to avoid any further violence at the hands of the Irish workers as the war proceeded onward. So, they moved to other areas of the city and state, bringing the total population of Black residents down by 20%. McFadden also said that she has more questions than answers given the history of these bills being applied incorrectly, or not at all. 
"If we take the case … of Ahmaud Arbery, and the conviction of those involved in his killing. If you think about that … our current attorney general was hesitant to go ahead and prosecute those who violated his civil rights. Mr. Arbery's mother had to agitate to make that go forward," said McFadden. 
As of now, the act has yet to be signed into law by President Joe Biden, but it almost certainly will be. It would be the first federal legislation of its kind in describing lynching that results in serious bodily harm or death as a hate crime, and it would carry a sentence of 30 years if someone were to be convicted under the bill. 
"So yeah, I'm grateful for this act. It is long overdue and highly embarrassing for a multiracial democracy to not actually move forward in this regard … but I am still not so sure about how the enforcement mechanisms will look. I just got questions," said McFadden.