Policy
State Senate passes protections for victims of sexual harassment
The bills include language to close loopholes that protect public employers from lawsuits and extend statute of limitations for reporting violations.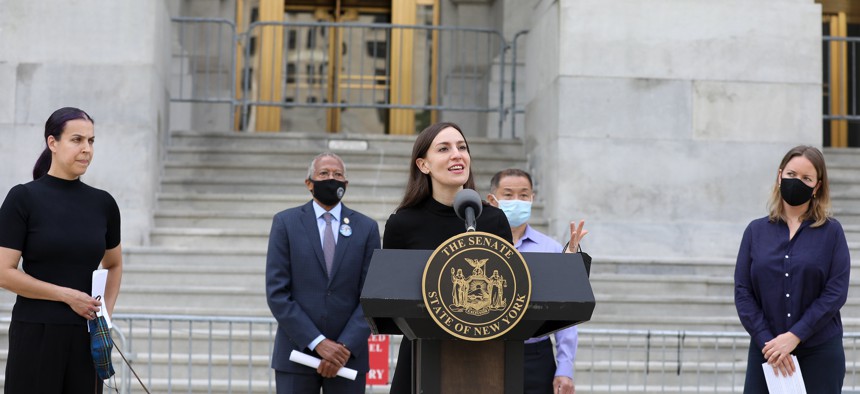 In New York as of right now, a staff member of an elected official could be the target of sexual harassment and face difficulty suing their employer due to a legal loophole. They have a three-year window to take legal action. They might fear for their job prospects, fear retaliation or they might fear a fine if they speak up about the harassment. 
Those barriers began to lift on Tuesday.
A collection of bills aimed at strengthening protections against sexual harassment passed the state Senate, marking a victory after years of advocacy to change the workplace culture in Albany and around the state. The Sexual Harassment Working Group, founded by former legislative staffers in 2018 to combat abuse in Albany, was a primary advocate for the legislation. 
"Closing the 'license to harass' loophole is quietly momentous… It's hard to understate just how important and necessary this is," said Erica Vladimer, a co-founder of the Sexual Harassment Working Group. 
That bill, sponsored by state Sen. Andrew Gounardes and Assembly Member Yuh-Line Niou, has passed both chambers of the state Legislature. It closes that loophole by stipulating that the state, town or city represented qualifies as the employer of elected officials and their staffs, meaning those entities can be liable for harassment. Previously, municipalities had occasionally argued that they were not technically employers of public officials, allowing them to avoid accountability. When staff of former Assembly Member Vito Lopez accused him of sexual harassment and sued the Assembly, for example, a judge dismissed their claim, saying the state was not technically Lopez's employer. 
The other bills the state Senate passed this week included ones that targeted fines against victims for breaking a nondisclosure agreement, created a free hotline for victims of sexual harassment, ensured that victims' future job opportunities are not impacted when they report harassment and protects victims from workplace retaliation in the form of releasing personnel records. Another bill extended the statute of limitations to report harassment to six years. 
"Three years is simply not enough time for an employee to share their story…when they feel ready to," state Sen. Andrew Gounardes said on the Senate floor when discussing the bill to extend the statute of limitations for reporting abuse to six years. 
The Assembly also passed some of the bills, including the hotline bill and the public employer bill on Tuesday and the bill to protect victims from retaliation on Wednesday. 
State Senate Majority Leader Andrea Stewart-Cousins said in a statement that she applauds "today's bill sponsors for their unrelenting advocacy on these issues." One of the sponsors, state Sen. Alessandra Biaggi, added, "last year, we witnessed a paradigm shift in our State's culture." 
The slate of bills also comes at a time when former Gov. Andrew Cuomo is on an expensive legal and media campaign to discredit sexual harassment allegations against him from his time in office. He was most publicly accused of harassment by former staffer Lindsey Boylan, which became a watershed moment for former workers under the former governor.
Vladimer said that while she does not feel that the passage of these bills necessarily means that a culture is changing within the public or private sectors in New York, it represents a big step toward providing safe space to victims who have not had a clear pathway to reporting and documenting workplace violations in the past.
"I'm sad that it took, you know, another round of harm being brought into the public spotlight for us to be able to get this passed. But it is really meaningful that both the Senate and the Assembly are showing what we call institutional courage," said Vladimer.