New York City
What we know about the future of mask, vaccine and other COVID-19 mandates in NYC
Mayor Eric Adams is lifting the school mask mandate and Key to NYC vaccine requirement, but released a new system for putting restrictions in place during future surges.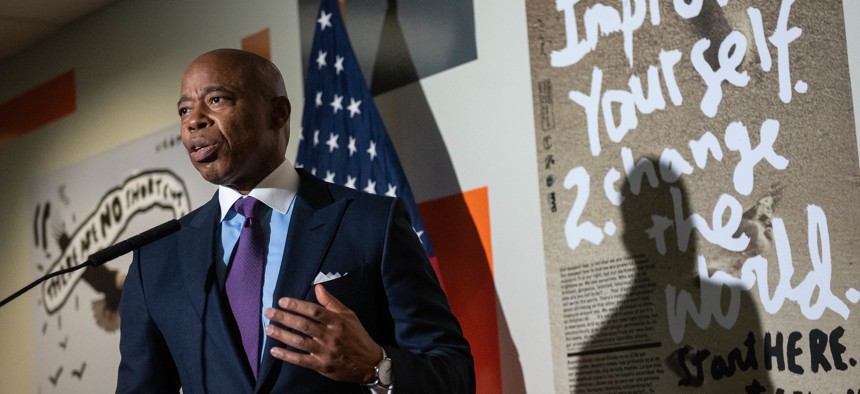 Earlier this week, New York City Mayor Eric Adams announced that he planned to lift the city's school mask mandate and the requirement to show proof of COVID-19 vaccination at restaurants, gyms and other indoor venues. Some public health experts and lawmakers suggested that the decision seemed arbitrary, and urged the mayor to set clearer benchmarks for when those and other restrictions should be relaxed or reinstated, based on community transmission and other key COVID-19 indicators.
On Friday, Adams confirmed that as of Monday, March 7, the city will lift the school mask mandate for kindergarten to 12th grade students and suspend the "Key to NYC" proof of vaccine requirement in indoor venues like bars and theaters. But Adams also released a new color-coded "COVID Alert" system that lays out when the city should consider putting those and other restrictions back in place during future spikes in cases or new variants of COVID-19. 
The four-level system includes easy to understand guidelines for how individuals and the government should bolster defenses during increased spread of COVID-19 or worrisome new variants. But the system includes little in the way of specific mandates, with most of the guidelines amounting to suggestions that the city "consider" reinstating measures like a school mask mandate or the Key to NYC program. 
City officials suggested there was a reason for leaving some leeway in the new guidelines when asked why the system won't automatically trigger the reinstatement of mask or vaccine mandates in certain settings when the city hits a certain level of new cases, for example. Dave Chokshi, the city's outgoing health commissioner, said that in the event of an increase in cases or hospitalizations, the city will consider whether the Key to NYC or other vaccine requirements should be put back in place. "But that's not something that will be automatically done, in part because it depends on the nature of a new variant, exactly what the velocity of increase is, and what's happening in our hospitals," Chokshi said on Friday. "We take the indicators into account in concert and holistically, rather than with very specific actions following indicators."
Anna Bershteyn, a professor in the department of population health at the New York University Grossman School of Medicine, told City & State earlier this week that tying restrictions to specific benchmarks can be tricky before we know what a new variant is going to look like. "Where to put those benchmarks is potentially going to change, because with each wave, the virus could have different (levels of) severity, it could interact with vaccines in different ways, different levels of effectiveness," she said.
In an op-ed earlier this week, Jay Varma, a top health advisor to former Mayor Bill de Blasio, wrote that metrics alone can't dictate how to monitor the pandemic or set restrictions. "It has become clear to me that decisions about restrictions cannot be solely determined by any single metric or combination of them," he wrote in The New York Times. "Whether they are case rates, test positivity, I.C.U. bed utilization or other figures, these metrics must be considered along with many other, qualitative factors."
Adams said on Friday that New York City is currently at the green level of "low" COVID-19 community spread. It's because of that low spread – and the 87% of adult New Yorkers who are fully vaccinated – that Adams said he feels comfortable lifting the school mask mandate and suspending the Key to NYC program. (Adams was fairly upfront about the fact that his motivations for lifting the Key to NYC program are also aimed at attracting new economic activity, particularly from tourists, however.) 
The city's health department said that levels of community spread under the city's new matrix correspond with the CDC's matrix for COVID-19 community levels, which are calculated based on new COVID-19 hospital admissions per 100,000 in the past 7 days, the percent of staffed inpatient beds occupied by COVID-19 patients, and total new COVID-19 cases per 100,000 in the past 7 days. 
In a statement, New York City Public Advocate Jumaane Williams pointed out that according to the CDC's website, each of New York City's five counties were classified as having "medium" community levels as of Friday afternoon. Theoretically, that would have put the city's alert level at "medium" risk too. But according to New York City's current data – 5.81 new COVID-19 hospital admissions per 100,000 in the past seven days, 5.3% of hospital beds occupied and 51 new cases per 100,000 in the last seven days – the city actually falls under the CDC's "low" level. It's unclear exactly how the CDC was calculating the five boroughs as having medium level, but a spokesperson for the city health department confirmed that the city's alert levels are calculated using city data compared to the CDC community level matrix. By that calculation, New York City is at "low" community spread. The CDC did not immediately respond to a request for comment, but later on Friday afternoon, the agency's website had been updated to show each of the five boroughs at "low" community level.
Nonetheless, the initial discrepancy caused some confusion on Friday. "Consistency of messaging and metrics is essential to giving New Yorkers the tools they need to protect themselves and one another, and rebuilding trust that government will not repeat the mistakes of the past," Williams said in a statement. 
Williams, who earlier called for the city to create a clearer system for when to relax or reinstate COVID-19 restrictions, added that he was glad to see the mayor release this color-coded system. But he doesn't think the Key to NYC program should be suspended now. "Vaccine requirements are helping New Yorkers both be safe and feel safe as they patronize local businesses, and we should only move forward only in a way that ensures we don't go backward," Williams said in the statement. "Lifting Key2NYC sends the wrong message at the wrong time."
Here's what we know about what each of New York City's new COVID Alert levels mean, and how New Yorkers could see restrictions change under them. Check out the full matrix here.
Green – Low community spread
When current New York City data corresponds with the CDC's "low" community level, the city is in the green zone. That doesn't mean getting rid of all existing requirements though. Under the "low" alert level, New York City advises that employer vaccine mandates stay in place and that face masks continue to be required in hospitals, on public transportation and in other settings with vulnerable individuals and unverified vaccine status. It also recommends that the city consider mandating up-to-date vaccination for certain settings if there's a new variant or sustained increase in cases. Individuals are encouraged to wear face masks in settings where others' vaccination status is unknown. 
Yellow – Medium community spread
The next step up in the matrix is when the city shows signs of medium community spread. This level corresponds with the CDC's "medium" community level, and could be triggered by increases in COVID-19 case levels, hospitalizations, a jump in the percent of occupied hospital beds, or some combination of the three. 
Under this alert level, the recommended actions for city government include considering whether to require masks in settings like schools again, as well as considering reinstating the Key to NYC program and adding required booster doses if there's a new variant or sustained increase in cases.
Orange – High community spread
Under significant increases in COVID-19 cases and hospitalizations – for example, more than 200 new cases per 100,000 over the past seven days and more than 10% of hospital beds occupied by COVID-19 patients over a seven-day average – New York City would fall into the "high" alert level. 
In this orange level, the city's system recommends continuing all actions from the previous alert levels, as well as requiring face masks in all indoor public settings. It also recommends increasing the city's testing and vaccination capacity.
Red – Very high community spread
New York City's "very high" alert level is akin to what New York experienced in the spring of 2020, according to the city's health department. There isn't actually a separate CDC level for this category; the city would go into the red zone if data hit the CDC's "high" community level and also saw more than 90% acute care hospital beds occupied. As described in the city's alert matrix, this means seeing the city's health care system "overwhelmed by COVID-19 cases."
In this red alert level, recommendations for government include making congregate settings less crowded – potentially through capacity restrictions – as well as considering restrictions on activities like indoor dining and encouraging telework. In this level, individuals would also be encouraged to wear face masks in indoor and crowded outdoor settings and avoid nonessential activities like eating indoors.