Energy & Environment
How do you plant more trees in New York City? Give them away
In Canarsie, tree saplings were available for residents to grab and go plant in their own backyard ahead of Earth Day.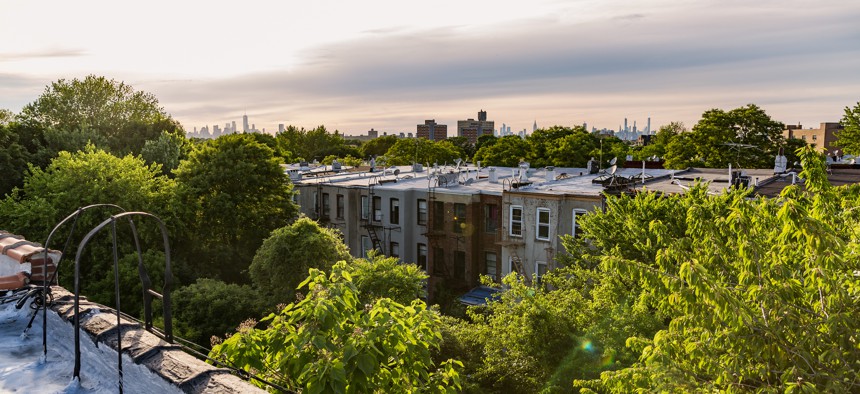 Saturday, a tree giveaway was held at the Wyckoff House Museum in East Flatbush, Brooklyn. Some 150 native tree saplings from nurseries around New York state ranging from serviceberries to black cherries were available to distribute to residents on a gray, cool weekend morning on behalf of New York Restoration Project, a nonprofit organization focused on environmental work, with financial support from Bloomberg Philanthropies. 
"With all the global warming and everything, I could plant a tree for the Earth Day initiative, and for conservation. Literally, I'm so happy that I got this," said Brooklyn resident and special education teacher Janine Hippolyte after picking up her tree for her backyard. 
Another local resident, software developer Charles Hanson, said the trees reminded him of his home in Jamaica, and that he wanted to get fruit trees in his backyard for beautification. 
"I got a fruit tree last time around. They got some sort of bacteria on the leaves, but they're still going strong. I want another one," said Hanson while waiting in line for a sapling. He had been waiting two hours for volunteers to let him know that he could walk up without registration to get a tree. He was able to get a berry tree for his garden.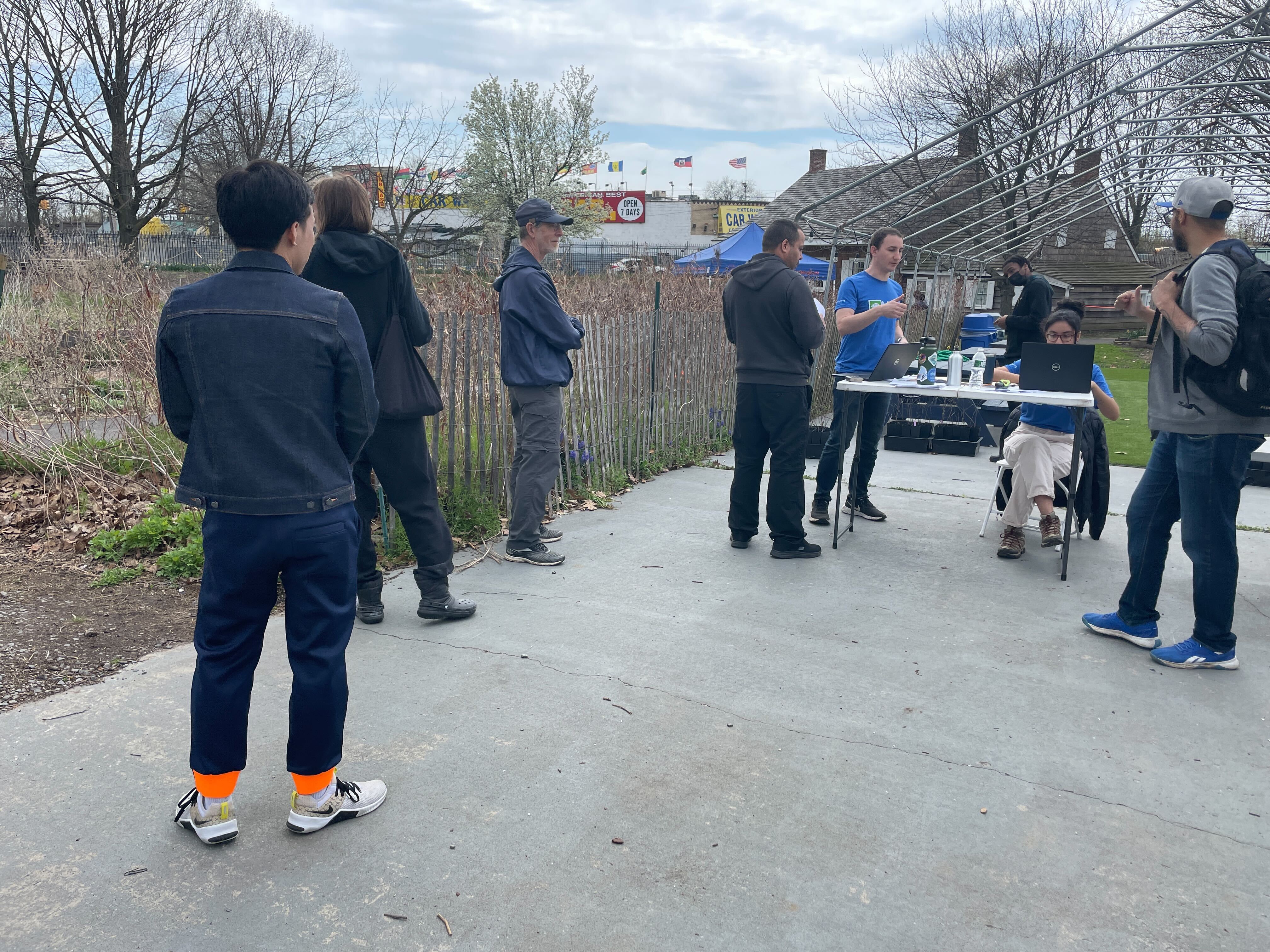 In February, the city's five borough presidents announced an initiative to plant 1 million more trees in New York City over the next decade. Some goals included as part of the project are increasing cooling throughout the city and providing flood protection to at-risk areas along the coasts of the city, especially for communities of color and lower income neighborhoods that have dealt with health problems stemming from pollution and hotter streets as a result of climate change and canopy loss. 
The event Saturday was the kickoff to a weekslong initiative to get trees out to residents for free from New York Restoration Project. The trees range in size from smaller sidewalk trees to larger, fuller canopied trees, all of which residents have free range to plant on their own property. While New York Restoration Project is not affiliated with this iteration of the million trees initiative, the spirit of using trees as a climate solution for underserved communities was similar for the organization.
Michael Horwitz, public programming coordinator with New York Restoration Project, said that areas like Rockaway Beach were hit hard by Hurricane Sandy, and as a result, lost a large amount of tree coverage and canopy that would otherwise provide cooling and flood protection for residents in the area. Other areas of the city like East Harlem, south Brooklyn and the South Bronx are also in need of more coverage, according to both Horwitz and a report from the Nature Conservancy on the state of the city's urban forest and tree coverage. 
"The thing is, trees are infrastructure," Horwitz said. "The soil that they're in and the roots absorb the water. And that's on top of the temperature reduction they provide, which translates to less health issues." 
Horwitz added that, when looking at the demographic makeup of areas in need of more canopy, they are predominantly low income, Black and Latino areas that have dealt with higher asthma rates as a result of climate change and the way their neighborhoods are constructed near highways and car-dense roads. 
Sam Bishop, an education director with the volunteer organization Trees NYC, said that shade is one of the best uses of tree canopy alongside the urban infrastructure of the city,  "so our asphalt streets, our concrete sidewalks, our brick or concrete…buildings are kept from receiving that same sun and getting as hot…because those surfaces hold (heat) really well," Bishop said. 
Trees NYC has worked with the city parks department in the past as a stewardship group, which volunteers to plant trees alongside the parks department throughout the city.
Stewardship programming was active alongside Parks employees to get more plantings and tree care done at a faster rate. NYC Parks data shows a clear dip in activity during the 2020 onset of the pandemic, with a slight increase in 2021 that reflects the ramp back up to consistent activity for the city and those volunteers in their efforts to increase and maintain green spaces. 
Emily Maxwell, the cities director with the Nature Conservancy in New York, said that programs like stewardship are great tools to provide trainings and opportunities for New Yorkers to learn more about the urban forest, but added that it has to be a part of multiple other solutions if the city wants to maintain and increase any canopy coverage in the future. 
"There's not one silver bullet solution that's going to solve those challenges," Maxwell said. She added that to make sure communities in need of this coverage are kept in the loop when it comes to changes in how their neighborhoods look, those solutions have to be in the context of the "many other environmental and social solutions that are out there."
Stewardship programs are still running, with events listed on the parks department website for the next coming weeks. According to Horwitz, tree giveaways are the route that New York Restoration Project has taken as it is a cheaper way to increase plantings in neighborhoods and in private residences in the city than having the city parks department manage plantings.
Additionally, with the tree giveaways, organizations like New York Restoration Project are able to help connect communities with the resources they need to increase canopy in their own backyards and to help increase cooling in their neighborhoods as a result. 
Manhattan borough president Mark Levine stated that "These trees provide… opportunities to protect New Yorkers from extreme weather, absorb runoff and cool neighborhoods. They will pay environmental dividends for decades to come," in a press release.
The new iteration of the million trees initiative is a continuation of a previous project helmed by the Michael Bloomberg administration, and it has the goal of collaborating with private and public sectors in order to get to the 1 million figure. 
Aside from the climate solution that trees can provide to areas like south Brooklyn where the giveaway took place, Hippolyte said that other nature is starting to come back to her yard as a result of her efforts to make her space more green. 
"I'm actually planning on planting this in the front, my trees in the back are already so big. I'm seeing the red cardinals come back, like my kids are learning the birds and everything."