New York State
Where NY's congressional delegation stands on stock trading
A look at who among New York's members of Congress wants a blanket ban on using privileged information to invest in the markets.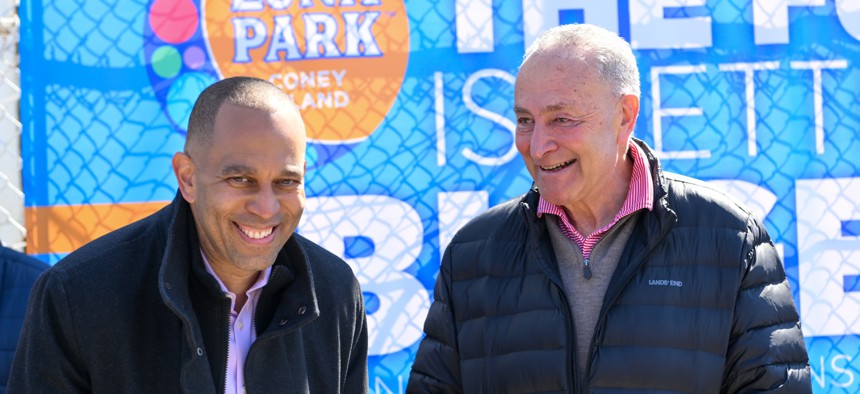 Formulating policy that has the support of more than three in four Americans is virtually impossible given current partisan rigidities. With a perfectly counteractive Senate, and a House subdued by the impending midterms, gridlock is the status quo. And yet, there is at least one issue thatunifies 76% of voters: banning members of Congress from trading stocks.
Throughout recent years, a range of legislative efforts have been made to address the concerns of those who view stock trading as Washington's most patently compromising practice. Officially, the 2012 Stop Trading On Congressional Knowledge (STOCK) Act prohibits members of Congress from employing privileged information to further their personal financial interests. Members are not technically allowed to trade when they know something the market doesn't. And yet, although disclosures must be filed, the existing framework is little more than an honor system. Proving wrongdoing is extremely difficult, and those found to be in violation of the Act face a mere $200 penalty that is routinely waived by ethics officials.
Since the early days of the pandemic, public frustration with this questionable behavior has grown particularly intense. Allegations of insider stock dumping have led to widespread criticism of Senators Kelly Loeffler and Richard Burr, for example, both of whom liquidated major positions in COVID-19 lockdown-sensitive industries throughout February 2020. Consequently, renewed legislative efforts to enact a blanket ban on the behavior have been introduced in both chambers. Momentum is building. Even House Speaker Nancy Pelosi, widely known as one of Washington's most zealous market participants, has voiced support for a ban.
However, given that none of these efforts have been successful despite strong bipartisan support, there's reason to believe that the issue may re-emerge as a talking point in the 2022 midterm elections.
Here's where New York City's congressional delegation stands on stock trading:
Rep. Yvette Clarke
"In light of the unique role in policymaking and access to information that members of Congress are privy to, I think that it is wise to refrain from buying and selling individual stocks," Clarke told City & State. "Excluding the mutual fund investments typically part of the investment strategies of our Finance plans, if we are to avoid any impropriety and/or insider advantage in the market, I don't believe that members of Congress should be able to buy and sell individual stocks."
Rep. Adriano Espaillat
Espaillathas not cosponsored either of the current House bills that would ban the practice of congressional stock trading, nor did he respond to requests for comment. 
Sen. Kirsten Gillibrand
Gillibrand has a lengthy record of advocating for increased transparency with respect to congressional stock ownership. She is also a cosponsor of Sen. Jon Ossoff's recent Bill S.3494, the Ban Congressional Stock Trading Act When asked for comment, a spokesperson provided Gillibrand's comments from a February press release. "In 2012, I passed the STOCK Act to prohibit members of Congress from engaging in insider trading and I've built on that effort with theSTOCK Act 2.0, which prohibits the purchase and sale of individual stocks, not only by federal elected officials but also by Supreme Court Justices and the leadership of the Federal Reserve… This important piece of legislation ends these abuses and will help earn the trust of the American public by demonstrating that their elected officials are acting solely in the national interest," she said in the statement. 
Rep. Hakeem Jeffries
Jeffries, chair of the House Democratic Caucus, has not signed onto either House bill and hasinsisted the matter is not settled within the Democratic Party. A spokesperson, when asked for comment, referred City & State to a January press conference where Jeffries said that "as the Chair of the House Democratic Caucus, I don't get out ahead of Members when there are ongoing discussions about how to deal with issues of importance to them." 
Rep. Nicole Malliotakis
"Like many Americans, candidates for public office also invest in stocks as part of their retirement savings," Malliotakis told City & State. "In pursuit of transparency, prohibiting trades or requiring a blind trust while in office makes sense and should be further considered by Congress."
Rep. Carolyn Maloney
Representative Maloney has cosponsored both House bills and isone of only ten members of Congress to use a qualified blind trust. "Government officials, including members of Congress, must hold themselves to the highest ethical standards," a spokesperson told City & State by email. "That is why I voluntarily use a qualified blind trust that has been approved by House ethics officials to eliminate any real or perceived conflicts of interest. As a co-sponsor of these bills, I am very encouraged by the pace at which this movement has grown and am looking forward to the next steps."
Rep. Gregory Meeks
Meekshas not cosponsored either of the current House bills that would ban the practice of Congressional Stock Trading, nor did he respond to requests for comment.
Rep. Grace Meng 
Meng currently cosponsors two bills to address this issue. The first, the Transparent Representation Upholding Service and Trust(TRUST) in Congress Act, H.R. 336, would require members of Congress, as well as any spouse or dependent child of a member, to place specified investments into a blind trust until 180 days after the end of their congressional tenure. The second bill, theBan Conflicted Trading Act, BCTA H.R. 1579, would prohibit members and senior congressional staff from buying or selling individual stocks with limited exceptions around blind trusts, treasury-issued securities, and mutual funds. Both bills are currently awaiting further action in the House. 
"I'm proud to cosponsor the two leading bipartisan efforts to prevent members of Congress from trading individual stocks," Meng told City & State "Both of these landmark bills would not only help to prevent lawmakers from unethically using their positions for financial gain, but they help bolster the public's trust in government."
Rep. Jerry Nadler
Nadler is a cosponsor of the TRUST in Congress Act. His office did not respond to requests for comment. 
Rep. Alexandria Ocasio-Cortez
Ocasio-Cortez is an original cosponsor of the BCTA, and has pressed for the need to take legislative action. beenoutspoken about the need for legislative action.
"We have access to very detailed, tailored briefs. We, our job is to try to anticipate and legislate for what we see is coming. And we should not have the ability to both have access to that information and be able to hold and trade individual stock," she told Yahoo Finance in Janauary.
Sen. Chuck Schumer
Schumer hasexpressed interest in moving forward with legislation that would prohibit congressional stock trading, recently ensuring reporters that various pieces of legislation are currently under consideration by Democratic leadership: "We have different bills from a variety of different members, and I've asked our members to get together and try to come up with one bill… But I would like to see it done," he told Bloomberg in February.
Rep. Tom Suozzi
Suozzi previously failed to report hundreds of stock transactions ranging in total value from $3.2 million to $11 million, according to areport from the Campaign Legal Center. Business Insider also reported that Suozzi, who also is running for governor, violated a federal conflict-of-interest law by not properly reporting on 31 stock trades. He has not cosponsored either of the current House bills that would ban the practice of Congressional stock trading, nor did he respond to requests for comment. 
Rep. Ritchie Torres
Torres is a cosponsor of the BCTA. "A ban on Congressional stock trading is about eradicating not only the substance but also the appearance of corruption," a spokesperson told City & State when asked for comment. "It is about giving the public confidence that members of Congress are here to serve their interests, rather than our own."
Rep. Nydia Velázquez
Velázquez is a cosponsor of the BCTA. When asked for comment, a spokesperson for Velázquez said, "The Congresswoman has signed onto legislation and other measures in support of banning this including the Ban Conflicted Trading Act."
Samuel Forster is a New York-based writer focused on national politics and current affairs.
Powered By
NEXT STORY: Bills stadium opponents are blitzing legislative overtime