Abortion
Advocates rally against Supreme Court draft opinion to overturn abortion
A demonstration was held in New York City's Foley Square to protest what could lead to a dismantling of Roe v. Wade.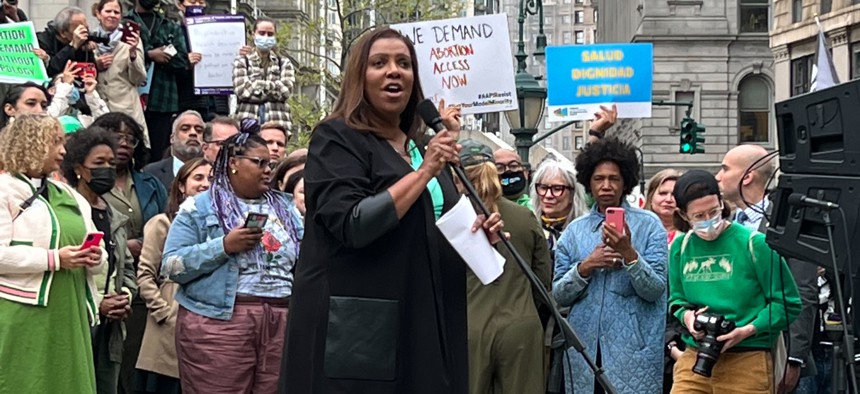 Thousands of protesters gathered in Lower Manhattan's Foley Square Tuesday evening to rally against the recently leaked draft opinion by the U.S. Supreme Court to overturn Roe v. Wade. 
In a draft majority opinion written by Justice Samuel Alito that was obtained by Politico, the court would vote to overrule the right to an abortion, deeming it as "wrong from the start," and whose "reasoning was exceptionally weak" with "damaging consequences."
News of the leak sent off demonstrations around the country, including in Foley Square where hundreds showed up, many representing Planned Parenthood of Greater New York, Girls for Gender Equity and the National Latina Institute for Reproductive Justice, among other advocacy groups.
Speakers at the "Channel your rage into action" rally included state Attorney General Letitia James, who has publically spoken out against abortion bans in Mississippi and Texas.
"I chose to have an abortion. I walked proudly into Planned Parenthood. And I make no apologies to anyone," James said at the rally.
Like James, Beverly Tillery, executive director of the Anti-Violence Project, also spoke of having had an abortion. "On a personal note, as a mother who also had an abortion when I needed to, and who has a 16-year-old daughter, who one day might have to make the decision to have an abortion, I want to make sure she has the ability to make that decision," Tillery told the crowd.
Also on hand, City Council Speaker Adrienne Adams vowed to resist the will of the court.
"We are not gonna turn back the clock today," she told the crowd. "We're not turning it back today, tomorrow or for nine individuals who think they can control millions of women across the United States."
"People of all genders have abortions," added reproductive justice activist Brittany Brathwaite. "People of all immigration statuses have abortions. People of all abilities have abortions."
Abortion rights have long been a contentious battle in the courts and within communities across the nation, with Texas and Mississippi signing into law abortion bans just last year. 
However, New York has been one of the leading states in the fight for abortion rights, with the Reproductive Health Act, which codifies abortion into law, being enacted in 2019. 
New York City in 2019 was the first city nationwide to directly fund abortion by distributing funds to the New York Abortion Access Fund. The city also saw legislation signed into law that expanded access to long-acting contraception at New York City health facilities.