Criminal Justice
Death of Rikers inmate comes as Adams faces growing concern over jail plan
The New York City mayor was criticized on Friday for visiting the jail without meeting inmates. A day later, one died.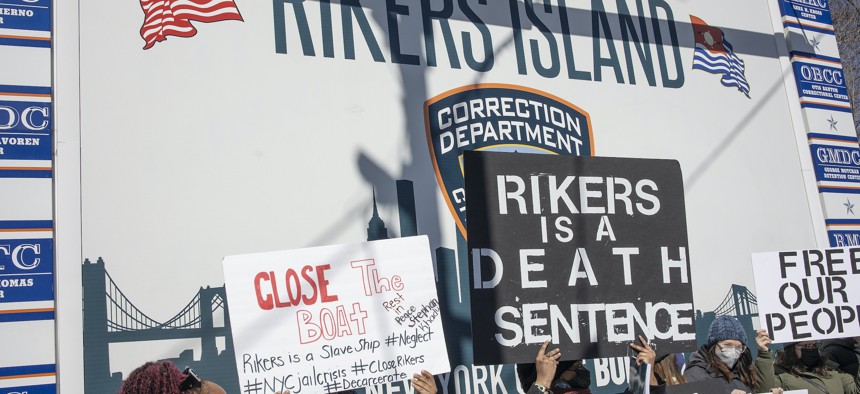 On Friday, New York City Mayor Eric Adams visited Rikers Island "to thank and show appreciation for correction officers," a City Hall spokesperson told the Daily News. It was his first visit to the island jail complex as mayor, and it was not lost on inmate advocates that he did not make time to meet with any incarcerated people or visit their living quarters. "I think that sets the wrong tone," Council Member Jennifer Gutiérrez told the tabloid.
A day later, Dashawn Carter, a 25-year-old inmate with a history of mental health issues, was found hanging from his cell at the Anne M. Kross Center, The New York Post reported, marking the fourth death at Rikers this year. 
Carter's death comes less than a month after federal authorities threatened to take over the jail system – and the timing underscores growing concerns about an imbalance in the policies and priorities of Mayor Eric Adams in managing the humanitarian crisis there. Since taking office in January, Adams restored solitary confinement of violent inmates under a new moniker – "punitive segregation" – sparking backlash from the majority of the City Council. The mayor has been vocal about his support for not only improved inmate conditions, but also correction officers. When he announced Commissioner Louis Molina's appointment on Dec. 16, Adams said: "We must reform Rikers and uphold the rights and dignity of the people that are held in custody. And the men and women who are responsible for protecting them."
Molina replaced Commissioner Vincent Schiraldi, who was widely seen as an advocate for reform and regularly clashed with the Correction Officers Benevolent Association, which said it was "hopeful" about an improved relationship under Molina. 
In Molina's first weeks on the job, he fired internal watchdog Sarena Townsend – a move the correction officers union advocated for and one that Adams defended. Schiraldi called the decision "troubling," telling the Daily News it sent a message that "the unions are running the place."
In the wake of Carter's death, progressive Council Member Tiffany Cabán, who last year coordinated a letter to Adams from 29 Council members in opposition to his punitive segregation, expressed concerns about Adams' "reliance on public safety strategies and the gross mismanagement of Rikers," calling it "a recipe that will continue to make the crisis worse and condemn even more young people to Dashawn Carter's fate," she told City & State in a text message, adding that "warehousing Black and brown New Yorkers in a lethal hellhole is a human rights atrocity, not a public safety program."
"Public safety" was a term Adams used in response to the letter Cabán organized. "The one thing that's different from everyone that signed the letter and Eric Adams? I wore a bulletproof vest for 22 years and protected the people of this city," then-Mayor-Elect Eric Adams said after receiving the letter in December. "And when you do that, then you have the right to question me on safety and public safety matters. I think I know a little something about this."
The federal government said in April the city can't wait any longer for a plan to clean up the jail system. In a letter to the Adams administration, the Manhattan U.S. Attorney's office said the jails are still "in a state of crisis" and "action is desperately needed now."
Adams, in turn, pleaded for more time: "All I say is give me a chance, give me a chance. Give me a chance," he reportedly said. "That's my message to all those who are critiquing Rikers."
The Department of Correction reiterated its confidence that it will meet the federal government's demands in response to a request for comment from City & State.
"We firmly believe that working with the monitoring team and Commissioner Molina, this administration will be able to create a path forward towards resolving the longstanding issues in the city's jails. We will be working diligently to accomplish the goals we have set," a DOC spokesperson said. 
While the mayor's office did not provide a formal response to questions about the perception that Adams has met the demands of correction officers, while failing to address inmate concerns, City Hall pointed to his commitment to "terminate those who are abusing the sick leave procedures," Adams told The Daily News Editorial Board in April.