New York State
New York AG Letitia James seeks NRA babysitter
The request comes after the court refused her office's demand to dismantle the organization for alleged rampant misuse of funds.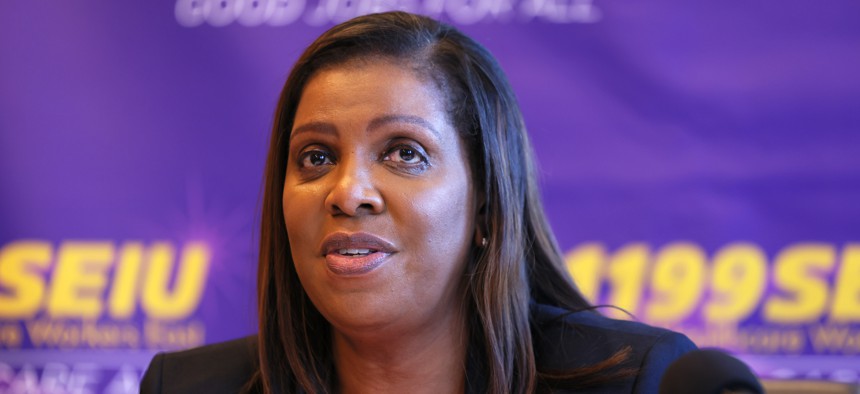 State Attorney General Letitia James is seeking an independent monitor to oversee the finances of the National Rifle Association, according to an amended complaint filed in the Manhattan Supreme Court this week. James' request comes after New York County Supreme Court Judge Joel Cohen in March rejected James' attempt to dismantle the organization, but said the overarching lawsuit alleging misuse of funds by NRA leaders could continue. 
Cohen refused to shut down the NRA on the grounds that doing so would harm its members and the public more than it would benefit them, though he acknowledged troubling financial and leadership patterns. The initial legal action, filed in August 2020, claims that NRA leader Wayne LaPierre spent tens of millions of dollars of NRA money on his own lifestyle, with the help of three top executives who were also financially enriched by the organization's alleged misdeeds. 
"We are considering our legal options with respect to this ruling. We remain committed to enforcing New York law regardless of how powerful any individual or organization may be," James said in March. Two months later, James' office is taking additional steps to reign in spending and mismanagement by the gun-rights group. The amended court documents, filed Monday and first reported by The Trace, outline violations James said the organization made under New York's Estates Powers & Trusts law, which require nonprofits, such as the NRA, to properly administer the organization's charitable assets. 
The NRA failed to supervise or take disciplinary action against its leadership over the allegedly illegal spending, her office wrote in the amended complaint. Court documents also state that the organization lied to the state Attorney General's office and failed to comply with whistleblower protections and conflict-of-interest laws, among other alleged infractions. For example, James' office said LaPierre turned on the NRA president when he began to investigate whistleblower claims related to the questionable finances and structure of the organization. The NRA also allegedly hid reimbursement requests for travel and meal expenses for LaPierre and his former chief of staff Joshua Powell – along with justifications for the reimbursements – to avoid reporting them as part of their taxable income. 
In the amended complaint filed Monday, James sought injunctive relief from the Supreme Court to appoint an "independent compliance monitor" that would report to her office and the court, along with an independent governance expert to recommend reforms to the organization. 
An attorney for the NRA said the association will "vigorously defend its commitment to good governance in the best interest of its members" when asked for comment on the new filing by City & State.
"After the NRA succeeded in obtaining dismissal of her claims for dissolution, the Attorney General files yet another round of equally improper and baseless claims," NRA attorney William Brewer III said in a statement. "It is unfortunate that the NYAG desperately clings to a failing narrative – apparently trying to score political points in her pursuit of the NRA."