Labor
New York construction industry 'flaggers' allege rampant wage theft
Black and Latino nonunion flaggers on public construction projects report being paid just a third of wages they're legally entitled to.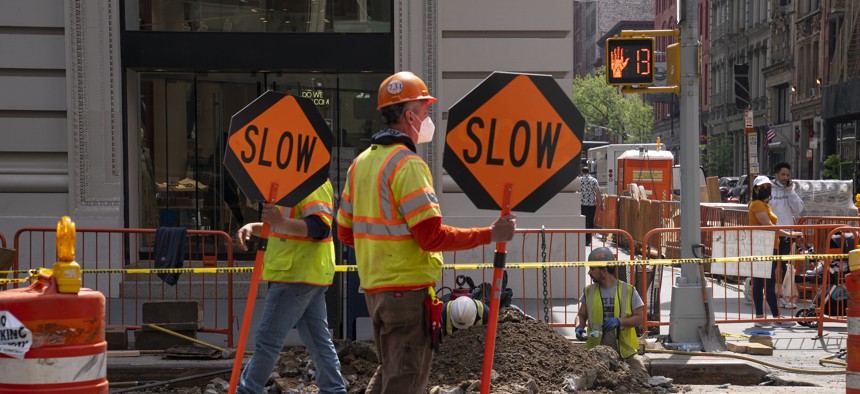 This story is published in partnership with New York Focus.
Victor Ballast was looking for a job. It was January of 2018, he had four children and a wife to support, and he'd had trouble finding work since moving back to the Bronx from Florida. A friend suggested he look into becoming a flagger, a worker who helps keep construction highway projects safe by directing traffic around work sites. Another friend said he was making $42 an hour as a flagger and was in a union. Ballast enrolled in a flagger certification course and jumped into the industry with both feet.
Ballast started working on Con Edison construction sites for the Manhattan-based Griffin Industries LLC. At just $13.50 an hour, the pay was far lower than he'd expected, and he received no benefits. But he had ambitions to grow with the company. He completed two courses for construction workers adding up to 46 hours of training and set his sights on joining a union. "My thing was to make it to the union. My thing was not to sit at $13 or $15 an hour," he said.
But Ballast's enthusiasm for the job soon faded as he came to realize that higher pay was nearly impossible to secure, and he says he – like thousands of nonunion construction workers around the state, including many flaggers – was a victim of wage theft. Although he didn't know it at the time, state labor regulations require flaggers working on government projects in New York City to be paid at least three times what he was making.
Until June of 2018, Ballast said, he would often work twelve hours a day, six days a week, often without any breaks or overtime, standing in traffic to direct pedestrians and cars away from active construction sites. "You know how New York is, so imagine in the winter cold, you got to tell someone that they have to wait to go down a block, cursing you out, taking trash from people. Rain, sleet, or snow, you're the only one who got to stand there," he said.
Union and nonunion: A two-tier system
Flagging is one of the most dangerous jobs in the country, with an on-the-job death rate more than ten times higher than the national average. "You in charge of everybody's safety, so the responsibility and the risk you're taking don't even match up with what you're making," Ballast said. 
He would spend up to two additional hours a day, for which he was not paid, driving between the Griffin office and job sites to pick up and return his timesheet and equipment, he said. The pay was so low, he said, that he could not make his rent, was evicted from his apartment and was forced to live in a family homeless shelter for a time. 
At the job site, Ballast, who is Dominican, began to notice a two-tier system. All the flaggers he worked with were Black or Latino—and nonunion. The other construction workers on the site seemed to be mostly white and all part of a union. "(Unionized workers) can go to lunch, they could leave, they could stay in their cars. And the flaggers got to be out there until the hole is closed," he said.
You know how New York is, so imagine in the winter cold, you got to tell someone that they have to wait to go down a block, cursing you out, taking trash from people. Rain, sleet, or snow, you're the only one who got to stand there. – former construction flagger Victor Ballast
Unionized construction workers make 22% more than nonunion workers. While construction unions have become far more diverse in recent decades, a recent analysis of the New York City construction industry found that non-Hispanic white people still accounted for 45% of unionized workers and only 25% of nonunionized workers.
There are two ways to join a union: organize a nonunionized workplace, or get into a union apprenticeship program. Originally conceived in the 1990s to help unions boost diversity, apprenticeships can offer marginalized workers a pathway to good-paying jobs. But the slots are limited. The state Department of Labor regulates the number of new apprentices that can join construction unions, and union hopefuls have to enter competitive lotteries. As a result, many subcontractors actively recruit new workers like Ballast, who can't afford to wait around to win a lottery.
When Ballast told a few of the union workers—who, unlike him, were employed by Con Edison directly—how much he made, he said they laughed in disbelief and told him he was getting ripped off. Confused, he did some digging and learned about something called a "prevailing wage." New York law requires that construction workers working on public or government-funded projects be paid a prevailing wage rate, which is usually significantly higher than minimum wage and mirrors what a union worker would make. The Department of Labor sets the prevailing wage schedule, which Ballast learned entitled most flaggers in New York City to $42 an hour. He was furious.
"I'm telling my coworkers when I'm at Griffin, 'Yo, they robbing us man,'" he said. "Ain't no way that we here working with Con Edison workers and construction union workers and we making this money. This ain't right." 
Millions in lost wages
Ballast figured it was time to seek representation. In July of 2020, Ballast and several of his co-workers, represented by Attorney Brent Pelton, filed a class action suit against Griffin and Con Edison to recover unpaid prevailing wages, daily overtime and supplemental benefits.
Pelton's firm is currently engaged in several active lawsuits against companies hiring flaggers, including Griffin and Con Edison, that are subcontracted by city and state agencies. A Con Edison spokesperson said the company does not comment on ongoing litigation. An attorney for Griffin, Michael DiChiara, declined to comment. In legal filings, both companies have both denied all allegations.
Similar suits have been successful: In 2016, after a lengthy investigation by the U.S. Department of Labor of wage theft at a federally funded construction site in Lower Manhattan, 63 flaggers were awarded about $1.2 million in back wages. In April, in a class-action case that Pelton has been involved in for five years, a judge found that although the same contractor—Judlau Contracting Inc.—had been classifying the workers as "pedestrian crossing guards" rather than flaggers, the nature of the work that they performed required payment of prevailing wages. Judlau declined to comment for this piece.
According to recent data compiled by the U.S. Bureau of Labor Statistics, there are currently 10,040 New Yorkers working as crossing guards or flaggers—more than in any other state. Many make under $40,000 a year. Meanwhile, subcontractors are raking in millions from taxpayer-funded projects.
"I left them because I knew I was getting ripped off. I'm not going to stay for no $15 an hour, that doesn't pay nothing." – former construction flagger Luis Simone
At Griffin, Ballast was not the only worker to feel he was being exploited. For years, Luis Simone, a 54-year-old Cuban man from the South Bronx, had run a van service driving women to upstate prisons to see their loved ones. He couldn't afford to repair the van when it broke down, and so transitioned to work as a flagger in 2018. At Griffin, he was paid just $13 an hour, he said. He knew the pay was low, but he was married and had two kids to support, so he kept his head down.
"It's very difficult, he said. "You have to deal with traffic. When bulldozers come, you have to guide these trucks, flagging, making sure nobody is crossing the street and no cars are passing by. It was really dangerous."
Simone began to feel the company was taking advantage of him. "Sometimes you have to stand up and eat your lunch," he said. "Sometimes you by yourself flagging, and the other person got to take lunch, and mind, you got to flag a two-way street. It was really difficult and it just wasn't fair."
And like Ballast, he began to notice the racial disparity at the job site. "A lot of the flaggers are Black and Latino," he said. "The majority of Con Edison workers were blanquito, having a great job with the union, getting paid good."
Eventually, Simone and Ballast quit Griffin. "I left them because I knew I was getting ripped off," Simone said. "I'm not going to stay for no $15 an hour, that doesn't pay nothing. Plus I had to pay for my own gas to travel. Are you kidding me? I wasn't making no money."
In 2019 and 2020, both Simone and Ballast said they bounced around several flagging companies, including Out-Look Safety, CE Solutions, Vali Industries Inc, and WorkForce 7 Inc, hoping to find a workplace that was not exploitative. Each company paid them minimum wage or just a few dollars above the minimum wage; not a single company paid the prevailing wage, they said. (None of the companies responded to requests for comment.)
At one company, CE Solutions, Ballast tried to respond by unionizing his co-workers. He said he collected 400 signatures from co-workers who expressed interest in joining a union and contacted Laborers' Local 1010. A strike seemed like the only way to get the company to pay fair wages: "If we don't go to work, things will change. They need us, they can't start working without us there," he said. But many of his co-workers weren't willing to risk losing their jobs, and the union effort ultimately sputtered. CE Solutions declined to comment for this story.
'Why would I pay a prevailing wage… when no one is checking?'
Wage theft is rampant in the construction industry as a whole. Diana Florence, who led the Manhattan district attorney's Construction Fraud Task Force until 2020, said that far too little is being done to rein it in.
"Wage theft is not a crime of necessity, it's a crime of opportunity. And frankly, the government is complicit in allowing it to flourish," she said. "There is an enforcement gap, and so unscrupulous companies make a business decision that they say, 'Why would I pay a prevailing wage… when no one is checking?'"
Pervasive wage theft among flaggers in the construction industry goes back at least a decade, workers say. Joseph Hemans, a 31-year-old African American man from East New York, worked as a flagger for MECC Contracting Inc. and Rojac Watchman in 2012 and 2013. He was 22, and it was his first real job as an adult. MECC was the contractor for several Con Edison worksites, and in turn subcontracted flagging jobs out to Rojac Watchman, which paid Hemans $12 an hour, he said. (Chains of subcontractors can enable construction industry employers to hide wage theft in jobs beyond flagging.) Hemans never sued. Rojac Watchman could not be reached for comment.
In 2017, Pelton's firm brought a class action lawsuit against MECC for failing to pay workers prevailing wages on Con Edison sites. MECC settled the suit in 2019 for $825,000, denying all allegations of wrongdoing. Last year, another wage theft suit was brought against MECC seeking to recover allegedly unpaid prevailing wages, overtime, premium time and supplemental benefits. MECC has denied all allegations in court filings, and the case is still ongoing.
Hemans routinely worked between eight and 16 hours a day and barely received meal breaks, he said. When he got home from work, his clothes would be covered in sweat and his muscles would often be so sore he could barely move. On the job, his foreman told him he was making three times as much as Hemans' salary. "I said, 'How could you be making so much?'" Hemans recounted. "And he said it was because he was in the union."
After a year, he quit to pursue a career with Local 79 as a general laborer, where he now makes a comfortable living wage. He said his advice for flaggers would be to organize for better pay: "If the flaggers were some type of organization I think they will be paid a lot better," he said. "They would have a better future, something to build on rather than living day by day."   
Lowell Barton, union organizing director with Laborers' Local 1010, said the exploitation of nonunion flaggers brings down the wages of unionized flaggers as well. Unions lose their negotiating leverage if contractors are able to pay workers below prevailing wages without repercussions. Barton faults city agencies like the Department of Design and Construction, which did not respond to questions for this article, for failing to adequately regulate the industry.
"If you're able to go rogue on prevailing wage jobs, why should they (contractors) negotiate with a union?" he said. "That's the problem, DDC is allowing contractors to go rogue when it comes to people of color and women, who traditionally do the flagging jobs because there is a prevailing wage and it should be paid according to the task that they are doing." 
Ballast, for his part, moved to Rhode Island and now drives a truck for a living. Since filing his lawsuit against Griffin, he has filed others against Out Look Safety, Vali Industries, Inc. and WorkForce7, which are all still pending. In court filings, the latter two companies denied the allegations. Ballast hopes his efforts will inspire other flaggers to realize they deserve more.
"They would work like 100 hours a week, and at the end of the week, they would get $1,300. They were happy with it, but they were not even counting the hours they were spending at the job," he said. "A good job is when you work less than 40 hours and you could go home and take care of your family." 
New York Focus is an independent investigative news publication covering New York state and city politics. Sign up for their newsletter here.
Amir Khafagy is an award-winning freelance journalist based in New York City. His reporting has been featured in The New Republic, Vice, Bloomberg, Documented,The Guardian, Documented, and In These Times. @AmirKhafagy91
Powered By
NEXT STORY: Hochul dedicates $35 million in state money for abortion access