Eric Adams defends hiring of gun violence czar flagged in DOI probe
"Everybody's going to start telling me 'Why did you pick this one? Why don't you pick that? Because I'm the mayor," Adams said.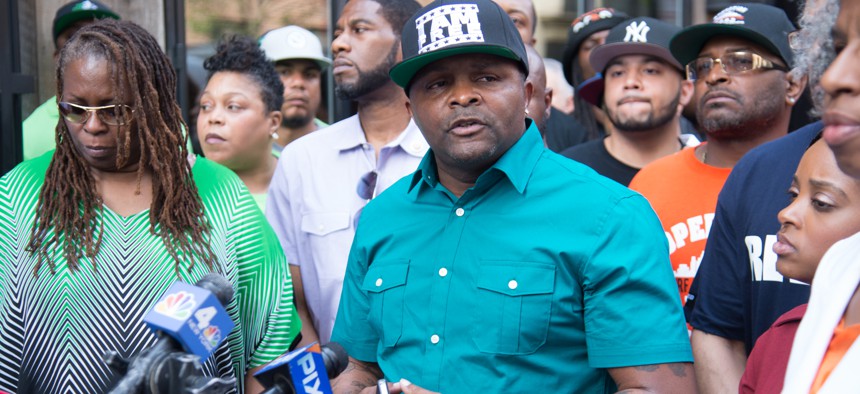 New York City Mayor Eric Adams announced the appointment of a newly created "gun violence czar" on Thursday who will coordinate with liaisons from every agency and the city's crisis management contractors "to address the root causes of gun violence and prevent shootings before they take place," the mayor's office said in a press release. The appointee, Andre T. Mitchell, is the founder of Man Up!, a Brooklyn-based anti-violence organization that provides programs including mediating potential gang conflicts, youth counseling, employment services and hospital intervention.
"We've been dealing with this issue for far too long. And we've been using the same tactics over and over again. And we've been getting the same results. So no one should have a problem with us trying something different. Give us a chance to prove ourselves," Mitchell said at a press conference on Thursday alongside Adams at City hall.
Mitchell, who reportedly told The New York Times he will serve in a "volunteer capacity," will also co-chair the Gun Violence Prevention Task Force Adams installed via executive order in January. Police Commissioner Keechant Sewell, along with the deputy mayors of several departments are also members of the task force. The group is charged with coordinating with the "anti-gun violence liasions" Adams instructed each city agency to appoint. 
Mitchell's experience, Adams said, has given him a unique understanding of the range of issues that contribute to gun violence in minority communities. "I think we often dismiss it, because the victims of handgun violence for the most part are Black and brown and in the inner cities all across America, so we've normalized it and stated that is just the way it has to be. And we're saying today, you're damn right it's not the way it has to be. We can turn it around and make it happen," Adams said Thursday, flanked by council members and New York City Public Advocate Jumaane Williams.
Adams defended Mitchell after reports surfaced earlier in the day highlighting alleged financial mismanagement at Man Up! "Everybody's going to start (saying) 'why did you pick this one? Why don't you pick that?' Because I'm the mayor," Adams said. A Department of Investigation probe in 2019 found that money from Man Up!, which receives millions of dollars in taxpayer funds, ended up in Mitchell's personal bank account. The DOI also reported that Mitchell hired several family members to work for the organization. "The DOI did their investigation, they came up with recommendations. He followed the recommendations," Adams said of Mitchell. "You're talking about DOI. I'm talking about DOA (the emergency services term Dead on Arrival). Our children are dying. Our children are dying."
Adams himself has faced criticism that several previous hires lacked experience and seemed to secure the jobs because they were close confidants or a relative of the mayor. Adams on Thursday billed that as a good thing. "I think you all beat me up when I wanted to hire my brother," Adams said, speaking to reporters. "I only had to vet one person, AT Mitchell. He was the right person for the job because of my long relationship (with him) being on the ground. I don't have to find people. I have relationships with people."
In announcing Mitchell's appointment, Adams spoke about a wide range of gun violence issues. He reiterated concerns he has expressed previously about an impending ruling from the Supreme Court that could loosen open carry restrictions in New York. He described the gun violence epidemic as one that is "not a big city problem," but an "America problem . . . it's not a Democrat (or) Republican problem," he said. Adams also touched on social media's role in proliferating violence, something elected officials have been raising alarms about in the wake of the Buffalo mass shooting on May 14, in which the accused gunman allegedly live-streamed his actions and published a racist manifesto detailing his plans. "I've said this over and over again that many rivers feed the sea of violence, and it's time to dam every river. Not just one with law enforcement," Adams said.