Policy
Making broadband internet connections to New York's hardest-to-reach places
Gov. Kathy Hochul's $1.4 billion ConnectALL initiative is aiming to boost speeds and incentivize new fiber optic cable installations.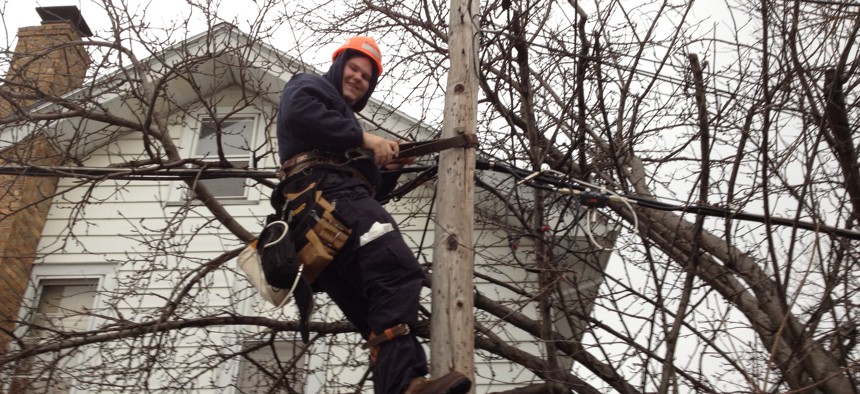 New York is continuing to expand broadband internet access statewide through a new initiative called ConnectALL. A replacement for former Gov. Andrew Cuomo's New NY Broadband Program, the ConnectALL initiative is a $1.4 billion program that will use $300 million of state money and $1.1 billion from the federal government. Of the federal money, $800 million comes from the Infrastructure Investment and Jobs Act and $345 million from the American Rescue Plan.
The money will allow the state to provide faster internet speeds to areas that are below the recommended speed of 100 Mbps, give a $30 per month internet subsidy for low-income households and provide grants to assist with construction projects to lay fiber optic cables.
Gov. Kathy Hochul also revoked the state Department of Transportation's PERM 75 permitting program – known as the Fiber Tax – that allowed the department to impose a fiber optic fee, charging internet service providers thousands of dollars per mile on fiber installations in the state's right of way.
In 2015, when Cuomo started the New NY Broadband Program, 7 million New Yorkers and 113,000 businesses did not have internet access at 100 Mbps speeds, including more than 70% of upstate New York. About 256,000 locations, homes, businesses and community centers were connected to broadband right before the COVID-19 pandemic hit. This helped many people get through the pandemic while working or attending school remotely.
Despite that leap, there are still New Yorkers who lack broadband access, particularly those in rural areas.
"It was a longtime goal of ours to remove barriers to the rural parts of the state," said Scott Rasmussen, the acting director of ConnectALL. "Gov. Hochul recognizes that we're not out of the woods yet. The next phase will see a more comprehensive way in terms of competition, equity and digital literacy."
Kristin Devoe, an Empire State Development spokesperson, said what was left behind by the previous initiative was "very, very expensive" and there is much to be covered, especially in the hardest-to-reach rural areas. According to state Comptroller Thomas DiNapoli as of September 2021, more than 1 million New York households do not have broadband connection. Most of these places are in the North Country, Mohawk Valley and Central New York.
Another underserved place was the Southern Tier region. Steve Manning, the CEO of the telecommunications nonprofit Southern Tier Network, said between 15,000 and 22,000 households have been defined as underserved for not having 100 Mbps broadband access.
Yates and Schuyler counties, the third- and second-least-populated counties in New York, are setting up their own broadband projects to solve this issue. Yates County Administrator Winona Flynn came up with the Yates County ReConnect Project, which aims to provide broadband access to the 26% of households still using DSL or dial-up internet. It is being funded by the U.S. Department of Agriculture's ReConnect grant, and it is a public-private partnership with an internet service provider. Flynn said the Fiber Tax would have cost the county about $20,000 a year, since Yates will be owning the installed fiber and share revenue with the provider.
Fonda Chronis, the county administrator for Schuyler County, which has a population of 18,000 people, said eliminating the Fiber Tax will provide a significant savings for its own broadband projects.
"We would have to pay to connect onto those lines," he said.  "Anything that raises the costs of these efforts takes away from our ability to run fiber. Anytime the state can take away a regulation and some costs, that's completely beneficial to the overall project to getting broadband out to everyone that we can."
Marian Walrath, the project manager of the Yates County ReConnect Project, also pointed out that private internet providers cannot afford to install fiber themselves in rural areas, and therefore, choose not to install them.
"They don't make enough money to build to those locations," Walrath said. "They'll build in areas where we have a high-density location of properties. But where we have all the farms and the houses that are a half a mile off the road, it then becomes for every mile that the internet service provider has to build, they're not going to build down that road if all they're going to get is that one person to sign up.
City & State asked Charter Communications about its Spectrum internet service and the obstacles preventing it from providing broadband in rural New York. Lara Pritchard, a company spokesperson, said that while the costs of building a cable system should be the same statewide, fewer homes meant fewer chances in acquiring customers, and therefore, more money. There is also an issue with the telephone poles.
"Poles are typically owned by telephone or electric utilities, not cable providers," Pritchard said. "When attaching to poles owned by those utilities, we need their permission. Many older poles in rural areas lack modernization and investment, and with the need to attach to more poles to get to potential customers in these areas, it often requires more pole replacements. Without equitable rules, broadband providers are forced to pay all of these costs, even though they do not own the poles."
Rural New York is not the only place struggling to pay for internet service. According to Steve Myrthil, the vice president of information technology for the housing development and social services nonprofit Westhab, some people in Yonkers can only access the internet via their cellphones and others struggle to pay for internet service. According to the Census Bureau, 16.2% of Yonkers households do not have a broadband internet subscription.
Westhab works on renovating vacant buildings to create affordable housing with in-house social services in Westchester County and New York City. It has been working to bring free Wi-Fi to its Westchester locations, including in Yonkers. Early last year, a $250,000 grant from Cisco allowed Westhab to provide state-of-the-art technology for one of its housing campuses in Yonkers' Nodine Hill neighborhood. Myrthil's next project is to oversee the Y-Zone program, which will partner with Yonkers and several organizations so that households in Yonkers' underserved areas would have free Wi-Fi access. Myrthil said many landlords cannot afford to hire internet companies to install Wi-Fi in their own buildings.
"There's drilling holes and actual hardware," Myrthil said. "There's also standard government bureaucracy, like paperwork and getting permits, and that can take weeks."
Despite all the financial obstacles standing in the way all over the state, there are projects being developed. Schuyler County has turned to the ConnectALL program to develop a map that will pinpoint which parts of the county are in need of better service so it can move forward on broadband projects. The map is expected to be ready by early June. But, Chronis said the map could uncover some surprises on where service is not up to par.
He also expects intensive planning and much funding will happen next, and the county will need to create a coalition of internet service providers and regional leaders.
"The challenge is localized," he said. "But still very important."
Walrath thinks so, but added it was an item on Yates County's longer-term strategic plan that needs to be addressed.
"My understanding is that utilities like gas, heat and electric are regulated largely due to the significant infrastructure investment required," she said. "While broadband does require infrastructure investment, there are so many varied technologies out there and they are changing so fast. So personally I believe that maybe competition (among providers) is the best nonregulated way to manage broadband."
Even Rasmussen would like to see competition between internet service providers, though he said the state Legislature would have to work on that.
He added that developing broadband projects for ConnectALL's next phase helps empower local residents.
"The local communities are in the best position to solve local problems," Rasmussen said. "Access issues are different in urban, suburban and rural areas. It's a big challenge, but we're really approaching this not as rural versus urban, but to get everyone on board. This (phase) is set up to exceed the first time around."
Megan McGibney is a freelance reporter living in Brooklyn. She focuses on politics, education, reproductive health and neurodivergence.
NEXT STORY: What is gun microstamping?