Housing
Why are rent stabilized tenants getting rent hikes?
New York City has a housing affordability crisis. So why are 2 million rent stabilized tenants getting a rent increase?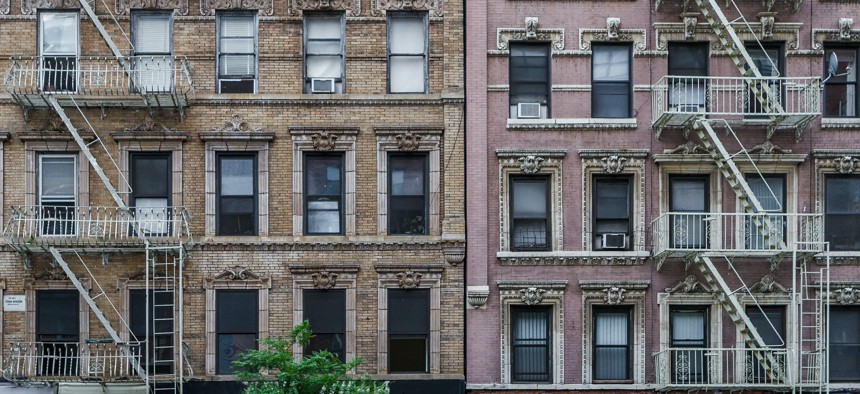 Roughly 2 million New York City tenants could see their rents increase as soon as October, and while the vote approving those increases didn't come as a total surprise, housing advocates said it packs a wallop for those rent stabilized tenants now facing the largest rent increase since Michael Bloomberg's administration.
New York City's Rent Guidelines Board approved rent increases of 3.25% for one-year leases and 5% for two-year leases for the roughly 1 million rent stabilized units across the city. The increases go into effect for leases starting on or after Oct. 1 of this year.
That's not to say that all landlords were satisfied by the vote, however. Landlord groups had been pushing an even larger increase, citing eight years of either rent freezes or lower increases that maxed out at 2.75% for two-year leases under former New York City Mayor Bill de Blasio. Landlords have argued that inflation has hit their own maintenance and operating costs, and they need additional rental income to stay afloat.
But in the central fight between tenants and landlords over what kinds of increases for stabilized tenants – if any – should be allowed, Tuesday night's vote represented a win for landlords. The vote marked not only the largest rent hike since the beginning of the COVID-19 pandemic, but the largest in nearly a decade. (Under former New York City Mayor Michael Bloomberg, the board approved a 4% increase on one-year leases and a 7.75% increase on two-year leases in 2013.) Even as New York City faces a housing affordability crisis, the Rent Guidelines Board opted against a rent freeze, or even increases at the lowest end of the spectrum of recommendations that the board initially approved last month. 
Some housing advocates and progressive lawmakers suggested that a landlord-friendly mayor is to blame. "@NYCMayor cannot distance himself from this vote, it's the direct consequence from his appointments, and it resulted in the most severe rent increase since Bloomberg," state Sen. Jessica Ramos tweeted on Wednesday.
The mayor appoints the nine appointed members of the Rent Guidelines Board, but currently only three of those members are Adams appointees. The rest were appointed by de Blasio. Two of the board's members are appointed to represent tenants, two are appointed to represent owners and five represent the general public. Adams has so far appointed one member to represent tenants, one to represent owners and one to represent the general public. David Reiss, the board's current chair, was appointed by de Blasio but "serves at the pleasure" of the current mayor.
Two of Adams' appointees – Arpit Gupta, appointed to represent the public, and Christina Smyth, appointed to represent landlords – voted in favor of the 3.25% and 5% increases on Tuesday, though Smyth had previously pushed for higher hikes. Adán Soltren, who Adams appointed to represent tenants, voted against those increases. Given that the increase was approved by a 5-4 vote, Adams' appointees could be considered decisive.
"It's not uncommon for mayors to signal one way or the other, to say an outcome that they would consider fair," said Samuel Stein, a housing policy analyst at the Community Service Society. "In his public statements, Eric Adams was often bringing up the concerns of landlords when people asked about the concerns of tenants, which may have been a way of signaling to the board how he thought they should be voting." 
Matthew Murphy, executive director of New York University's Furman Center, said that while mayors do typically express preferences, "the board is designed to insulate elected officials from the decision, so they will ultimately form their own judgment and arrive at their vote."
Adams released a middle-of-the-road statement on Tuesday night, expressing sympathy with both tenants – who fought hard against increases amid a housing affordability crisis – and small landlords, many of whom fought for higher increases, arguing inflation takes a toll on them too.
"While we raised our voices and were successful in pushing the increases lower, the determination made by the Rent Guidelines Board today will unfortunately be a burden to tenants at this difficult time – and that is disappointing," Adams said, referring to earlier comments he made that he asked the board to opt for increases at the lower end of the spectrum. "At the same time, small landlords are at risk of bankruptcy because of years of no increases at all, putting building owners of modest means at risk while threatening the quality of life for tenants who deserve to live in well-maintained, modern buildings." Adams also said that he would continue to pursue additional support for tenants and landlords in Albany.
Adams himself is a landlord, who owns a brownstone in Brooklyn. Critics say the across-the-board increase of rent stabilized leases can be a blunt instrument, treating the small landlords that Adams often highlights the same as large, institutional landlords who may control thousands of homes.
Murphy attributed the outcome of Tuesday's vote to a few factors. "The rent hike appears to ultimately be tied to inflationary pressure, which is affecting nearly everything across the economy right now," he wrote in an email. Changes in state rent laws passed in 2019 restricting how landlords can increase rents also played a role, Murphy said. "The result of state law's limitation on avenues to raise rents outside of the RGB's annual rent adjustment is that the RGB is now the sole driver of rent increases in the rent stabilized stock."
The Rent Guidelines Board is meant to consider a variety of factors on both the tenants' and owners' side, along with public testimony, when determining annual rent adjustments. Under state law, the board is required to consider factors including operating costs, interest rates, cost of living trends, and housing supply and vacancy rates. "To operationalize this, the RGB does a lot of analysis and hears testimony, and in its more recent history, has focused on holding constant the net operating income of properties with at least one rent stabilized unit," Murphy wrote. 
The staff of the board produces several reports throughout the process that are then presented to members, including estimates of what rent adjustments would be needed to keep net operating income constant. Members aren't required to adopt those estimates though. 
This year, the estimates in that report included proposed increases of up to 4.5% for one-year leases and up to 9% for two-year leases – figures that grabbed headlines as tenants worried the final guidelines might rise that high. The actual guidelines adopted on Tuesday night are somewhat lower, at 3.25% and 5%.
Powered By
NEXT STORY: Eric Adams claims progress at Rikers despite several recent detainee deaths