Criminal Justice
Elijah Muhammad was kept in isolated unit on Rikers for over 30 hours days before his death, board member says
The 10th person to die in the custody of New York City jails this year was found dead of a suspected drug overdose on Sunday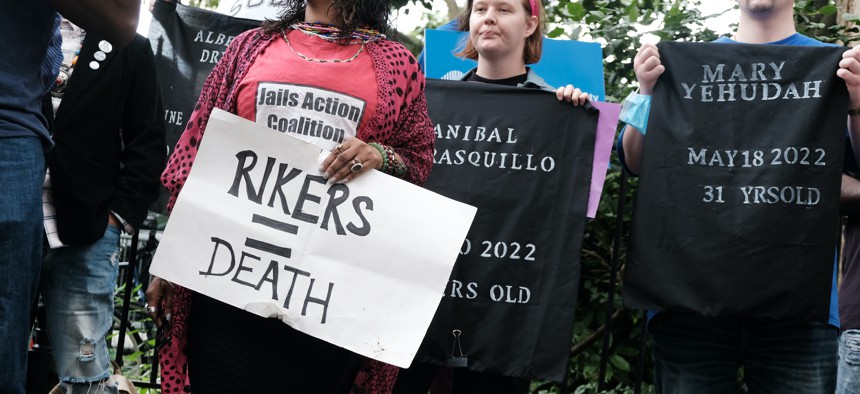 Less than a week before Elijah Muhammad became the 10th detainee to die on Rikers Island this year, he was placed in an isolated de-escalation unit for over 30 hours – more than five times longer than what department policy allows – according to a New York City Board of Correction member. The disturbing finding is the latest evidence suggesting Muhammad was reportedly subjected to a pattern of neglect and cruelty at the troubled jail complex.
BOC member Robert Cohen visited the George R. Vierno Center jail on July 5 and met with Muhammad and two detainees in unit 2B, where de-escalation cells are located, he said during the board's monthly meeting Tuesday. According to Department of Correction policy, detainees who act out are supposed to be taken to the cells temporarily to cool off, for a maximum of six hours. Muhammad was placed there for much longer, and it's unclear why, Cohen said.
"When I visited there, there were three men, one was coming in, and two had been there for over 30 hours. It is not clear from our review there had been any incidents that had brought them in," Cohen said. "They weren't getting out of their cells at all. They weren't getting their medication. And one of the men I talked to that day was Elijah Muhammad, who died on Sunday."
Cohen asked DOC Commissioner Louis Molina: "What have you done to clarify to your staff that the de-escalation units are not just places to dump people?"
Molina expressed concern about Cohen's findings and said that officers have been disciplined previously for misusing the de-escalation units. 
"I will look into the gentleman that you say was there for over 30 hours . . . that shouldn't have happened," Molina said. 
Muhammad, 31, was found dead at the George R. Vierno Center on Sunday around 9:45 p.m. from a suspected drug overdose, according to The Daily News. He had been held there since June on an assault charge. He allegedly laid dead in his cell for hours before his body was discovered, The New York Times reported Tuesday. Earlier that day, he appeared disoriented and unable to walk, The Times wrote, citing a source familiar with the incident. It's unclear how Muhammad was able to obtain drugs inside of the jail, but the circulation of contraband has been an increasing problem at Rikers, even as the number of outside visitors inside has declined.
Since January 2021, there have been five confirmed and two suspected overdose deaths on Rikers Island, BOC Executive Director Amanda Masters said Tuesday. Eight other people have died by suicide. 
Department staff are supposed to be trained on how to administer the life-saving overdose reversal drug Narcan. But that's not happening consistently, Masters said. "Some of the officers that we spoke with yesterday were not aware that they had access to the Narcan or that they were expected to use it," she said. 
A Department of Correction officer was fired in connection to Muhammad's death, according to multiple reports. Molina said in a statement that a "preliminary review of this incident required that we take immediate action against the staff involved," NY1 reported, noting the DOC would not provide any additional information on Muhammad's death or the exact reason for the firing. 
The DOC has repeatedly delayed its plan to limit use of solitary confinement, most recently in June. New rules were supposed to take effect on July 1 that would have required detainees to have at least 10 hours outside of their cells a day. They were put on hold when the federal monitor who is overseeing the department expressed concerns about the lack of staff needed to monitor detainees with serious needs, The City reported.
Molina said during Tuesday's meeting that the department has been able to make some changes to its solitary confinement policies, nonetheless. "We are no longer utilizing restraint desks in any of the restricted housing units," he said, referring to desks equipped with chains and locks.
Board members on Tuesday expressed ongoing concerns with the use of solitary confinement at the jail. According to Board Member Felipe Franco, young adults are being housed "in awful spaces, 23 hours a day confined behind Plexiglass with no human contact at all, no programming and actually no clarity on how they can get out," he said. The observations were based on a BOC visit to units 3B and 3C at the North Infirmary Command earlier this month. "I met with a young person who completely (broke down) and began talking about suicide," Franco said. 
Department brass said it is working to "dismantle" the isolation unit at NIC.
"These are very complex problems that have existed over decades here," Molina said. "We have been in the process over the last six months of rebuilding this entire department."