New York State
Janet DiFiore's resignation comes at a pivotal time in New York's fight against conservative Supreme Court
Gov. Kathy Hochul will choose a new judge to lead the state's highest court, which could be tasked with making determinations on consequential issues, including abortion and gun control.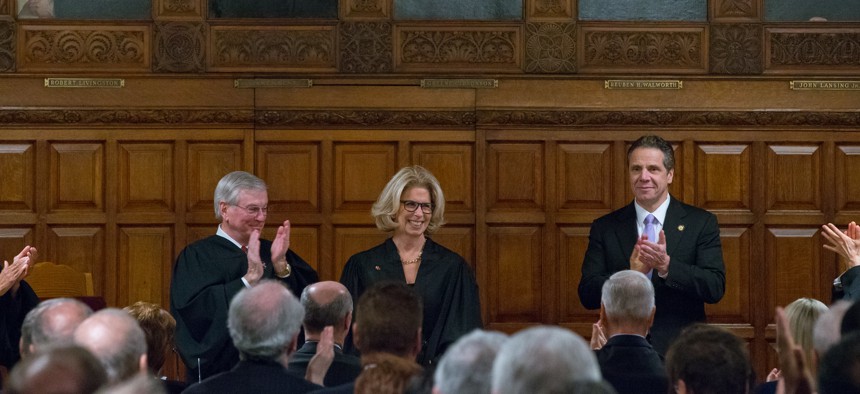 The pending resignation of Chief Judge Janet DiFiore from the Court of Appeals is an opportunity for Gov. Kathy Hochul to appoint a replacement that can aid her party at a time when the high court could decide New York's fate on pivotal issues of abortion and gun control, experts said Monday. 
DiFiore announced Monday she is stepping down after six years on the court. A former Westchester prosecutor, she was nominated by Gov. Andrew Cuomo in 2015. 
Under her tenure, the court established a pattern of leaning conservative and issuing terse majority opinions. The court angered Democrats by issuing a ruling earlier this year that the state Legislature redrew state Senate and Congressional maps in violation of the Constitution. Some in the party were happy to see DiFiore go. "Good riddance," Rep. Hakeem Jeffries said in a statement, while specifically mentioning the redistricting ruling. 
All but one of the judges were appointed by Cuomo, so DiFiore's resignation marks an opening for Hochul to wield her influence over the court. The existing judges will appoint an interim replacement. Then, the State Commission on Judicial Nomination will recommend potential candidates to Hochul, whose pick is subject to approval by the state Senate. The process is likely to take about 90 days, said Vincent Bonventre, a professor at Albany Law School who is an expert on the Court of Appeals.
DiFiore's resignation came as a shock to those in the legal community, multiple sources told City & State. "I was surprised, shocked when I saw the news. I thought she did a great job of handling the operation of the courts during the pandemic," said Carl Forbes Jr., president of the Metropolitan Black Bar Association. 
Others speculated whether the court's redistricting decision and its impact on DiFiore's ability to push court reforms through the Democrat-controlled Legislature could have played a role in her decision. 
"On the one hand it was really surprising given she had many more years in the position, however, on the other, not hugely shocking given her focus on the court system where she has already implemented a number of reforms," said Noah Rosenblum, an assistant professor at New York University School of Law and former clerk at the Court of Appeals from 2017 to 2018. "I have to imagine after the redistricting case, the Assembly is likely to be pretty suspicious of any bill being pushed by the chief judge."
With the exception of the last two chief judges, historically, governors have chosen someone who already sits on the court, giving them an opportunity to make another new appointment, Bonventre said. Hochul's first nominee to the court, Judge Shirley Troutman, would be a "historic" opportunity for her to appoint the first Black, female chief judge, he said. Troutman is from Buffalo and most recently served as a judge on the Appellate Division of the State Supreme Court before she was nominated by Hochul in November.
Forbes Jr. also advocated for Troutman.
"I think the most important thing is to bring diversity," Forbes Jr. said. "Judge Troutman comes to mind as the perfect opportunity for Gov. Hochul. She would be an inspired choice for a few reasons," he said, adding that DiFiore appointed Troutman in 2018 to the Franklin H. Williams Judicial Commission that focuses on addressing issues of racial biases and inequities both in the judiciary and for litigants in the court.
Court of Appeals Judge Rowan Wilson, who is also Black, has a strong progressive record. "I would want to see (someone) with real experience championing marginalized communities, low income communities, communities of color," said Winn Periyasamy, a volunteer organizer with the judicial advocacy People's Parity Project. "I see Judge Wilson as a really strong pick among advocates on the ground."
However, Hochul will need to strike a balance between someone who can carry out Democratic principles, but is not too liberal at a time when crime is a top concern among voters. "If she appoints somebody who is known to be very liberal in criminal law, you can be sure that Republicans on the Judiciary Committee and Republican state senators are going to condemn her for ignoring the reality of rising crime in the state," Bonventre said.
The court currently veers to the right – DiFiore is a former Republican – and her resignation allows Hochul to appoint someone who could sway its ideological leanings. The court possesses the ability to be a counter force to the conservative majority in the Supreme Court by making decisions that could uphold New Yorkers' rights at the state level if they're stripped federally. 
"In an environment where the federal courts are increasingly conservative and hostile to rights that New Yorkers cherish, it's going to be really important to pick a judge who understands how to use New York law to protect New Yorkers' rights and insulate New Yorkers' rights from federal courts and nefarious federal legislation," Rosenblum said. "And that's a sophisticated jurisprudential problem."
Correction: An earlier version of this story used the wrong name for Judge Rowan Wilson.
Powered By
NEXT STORY: RIP JCOPE