New York State
RIP JCOPE
New York's beleaguered ethics watchdog has officially been replaced, going out with something of a bang for its last action.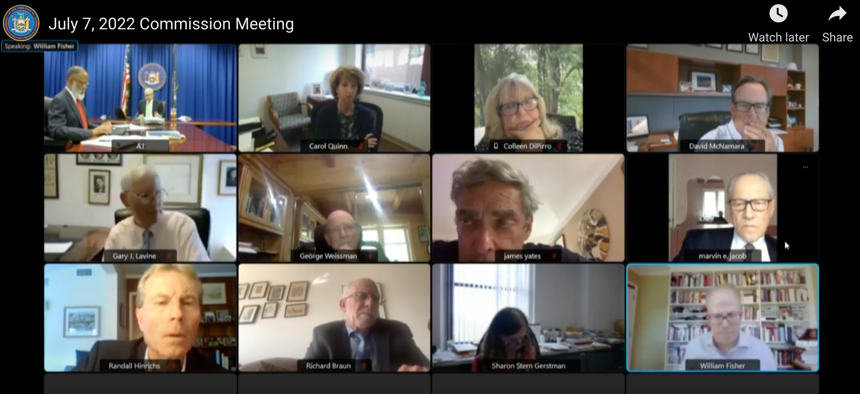 It had a mediocre run, but the Joint Commission on Public Ethics' time has run out as the commissioners held their final meeting on Thursday. The beleaguered ethics agency formed under disgraced ex-Gov. Andrew Cuomo leaves behind a less-than-stellar record from its 11 years in existence. While much of its work happened quietly with the regulation of lobbying, when the commission made the news, it was almost always negative. 
But JCOPE decided to go out with a bang, releasing the results of an independent investigation it commissioned into Cuomo's $5.1 million COVID-19 book deal it approved. The report ultimately concluded that the ethics agency had failed to do its due diligence, permitting the Cuomo administration to dictate the terms of the agreement. This final revelation closes the door on JCOPE in a fashion akin to how it had operated during its lifespan: with an apparent failure to do its job of keeping the powerful in government accountable. 
It's somewhat fitting for JCOPE to end with a Cuomo book deal, considering that one of its first acts in 2011 had been to approve a different Cuomo book. Blair Horner, executive director of the government watchdog group New York Public Interest Research Group, said that neither deal should have happened, but did because of the very nature of JCOPE. "It was designed to fail, and fail it did," Horner told City & State. He noted that much like its predecessor, the Commission on Public Integrity, which ended its operations by fining former Gov. David Paterson for lying under oath, JCOPE's final bit of courage in the face of executive power came too little, too late. 
The root of the failure, according to Horner and many other good government advocates who pushed for JCOPE's replacement, came from the political nature of its commissioner appointments. This led to not only partisan disagreements among commissioners, but to an apparent lack of willingness to take on those who had appointed them, the very people they were charged with overseeing.
A particularly notable example came with former Cuomo enforcer Joe Percoco, who went to prison for his part in the Buffalo Billion bid rigging scandal. Although a federal court found him guilty, JCOPE never moved to discipline Percoco, despite having the authority to do so and having received a complaint to investigate the misconduct. In 2019, years after the scandal, the commission met to discuss whether to open a probe into Percoco – but Cuomo quickly found out about the decision thanks to a leak the agency never tracked down. And he wasn't happy with how some of the commissioners voted, notably Assembly Speaker Carl Heastie's appointee. The agency similarly voted twice not to investigate ethics complaints into Cuomo himself.
The Buffalo Billion debacle and its many issues is just one example of public missteps by JCOPE. "All of that sort of created an environment in which JCOPE became known as J-joke, and was doomed for the dustbin of history," Horner said. And he said that the most recent book deal illustrated everything wrong with the agency since its inception. According to the report, the Cuomo administration decided what information it would disclose and when and actively misled the commission. But it also concluded that the agency should have recognized the potential ethical issues with the deal. The commissioners themselves didn't even have knowledge of the deal before it happened thanks to delegating the task of outside activity approval to top staff.
With JCOPE officially gone, its replacement, the Commission on Ethics and Lobbying in Government, has some ways to go before it's fully up and running. It has an executive director, and likely rollover staff, but top state officials still have not appointed their commissioners. Although law school deans will have some say in vetting candidates, politicians still ultimately have the final say on who makes up the commission. And it has Horner concerned that this replacement may follow the same path as JCOPE. "It's designed more or less on a failed system," Horner said, adding that it will rely on the honor system that officials follow the recommendations of the law school deans. But given Albany's track record, who knows how long that may last. 
Powered By
NEXT STORY: Takeaways from JCOPE's 2021 New York lobbying report