New York City
Proposed Midtown shelter for asylum-seekers raises concerns about safety, size
The Adams administration is eyeing the Row Hotel on 8th Avenue as a possible site to house migrants, sources said.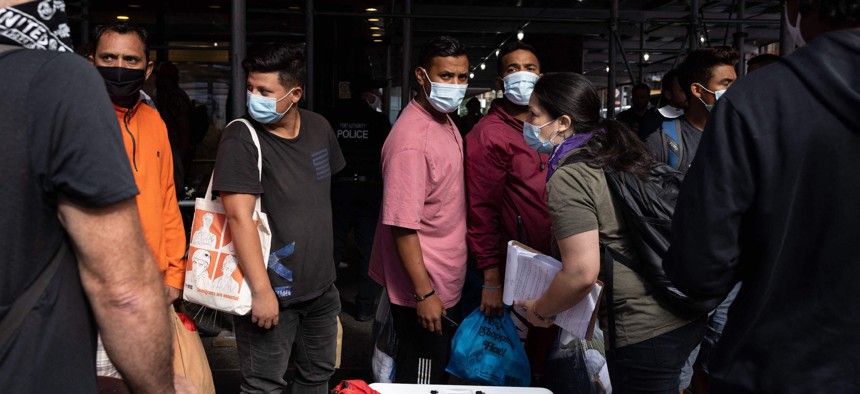 An attorney for Legal Aid said New York City's plan to house 600 asylum seekers in one single facility could be a violation of state regulations and create safety issues for migrants who are housed there. 
The city on Thursday put out a request for proposals to shelter operators for a facility in Midtown Manhattan to deal with the influx of migrants who have been coming to the city after crossing the border via both charity organizations and because they were sent here by the Texas government. 
The Department of Homeless Services has identified an undisclosed location in Midtown Manhattan for the facility, but notes that contractors may propose an alternate site, according to a copy of the request for proposals, which was first reported on by the New York Post. Mayor Eric Adams' administration is eyeing the Row Hotel on 8th Avenue as a possible shelter for migrants, according to two sources who have been briefed on the situation, though it's unclear if that is the same Midtown site the RFP refers to as the preferred location for the 600-bed facility. The city is already using six hotels across the city to house asylum seekers, officials said Tuesday at a Council Committee on General Welfare oversight hearing. The Row Hotel was also used as a shelter during the height of the COVID-19 pandemic and is located two blocks from the Port Authority Bus Terminal where migrants are being dropped off.
The proposals for the "City Sanctuary Intake Facility" are due Wednesday and the selected vendor is expected to begin offering services as early as Monday. The operator will be required to provide an extensive list of resources, including food, clothing, transportation, job training and placement, recreation and security guards. Daytime medical services, including COVID-19 testing and vaccination are also required, and Spanish-speaking workers must be on staff 24/7, the document states. In addition, the operator must coordinate with the Department of Education to provide school enrollment services for families with children and with mental health professionals to offer counseling services and legal service providers. The city is also seeking an operator who can transport migrants from the facility to Federal Plaza for court appearances related to their asylum cases. 
It's unclear how much the city has budgeted for the contract, which will remain in effect for six to 12 weeks, unless the city opts to extend the agreement.
Legal Aid said that the 600-bed shelter would likely not meet state regulations that limit most shelters at 200 beds. 
"This would not comply, for one it's too large, and also the populations aren't supposed to mix. Singles and families with kids have completely separate regulations," Legal Aid Staff Attorney Kathryn Kliff said. "We're just very confused how they can build this and still comply with state regulations. So it sounds like they might be trying to seek an exception of some kind." 
She also said the organization is concerned about housing migrant families in a high-priced retail corridor. 
"Midtown Manhattan is not a place where things are particularly affordable to our clients. That was an issue when they used hotels in that area during Hurricane Sandy. It's really expensive and not really tenable for them to go buy food," she said.
Kliff said city officials have indicated they are working with the Office of Temporary and Disability Assistance to ensure the state approves the site. Neither the state agency nor Adams' office responded to requests for comment about the facility.