New York State
Texas Gov. Abbott escalates feud with Eric Adams by 'shamelessly' sending migrant buses to NYC
The move follows Adams' refusal earlier in the week to accept Abbott's invitation to visit the Texas border towns where migrants are crossing into the U.S.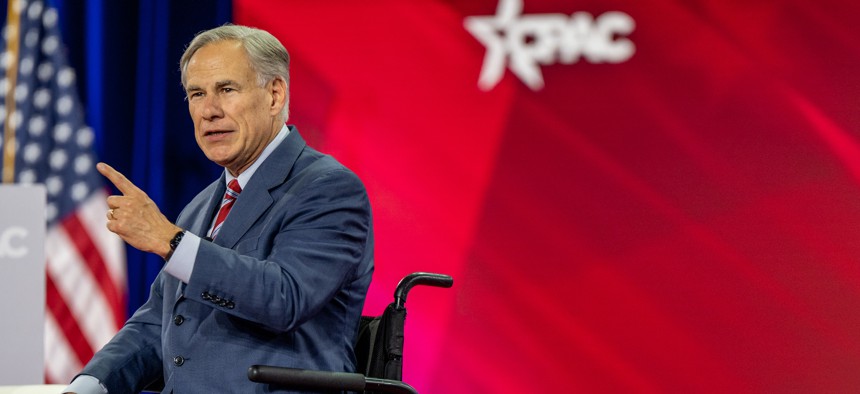 In an apparent act of spite against New York City Mayor Eric Adams, Texas Gov. Greg Abbott on Friday announced the state will begin busing people who recently crossed the border to New York City.
The battle between the two leaders began last month when Adams blamed the Abbott administration, along with the government of Arizona, for flooding New York City's shelter system by sending asylum seekers from Latin America here. Both governors denied doing so. Abbott previously announced Texas was sending people to Washington, D.C. in an effort to get the attention of President Joe Biden. 
Adams' comments also drew ire from homeless advocates, who said the mayor was essentially blaming the migrant influx for chaos and overcrowding in the city's shelter system that has been intensifying for months.
The mayor's team on Friday framed Abbott's announcement as proof that the mayor was correct.
"Governor Abbott is finally admitting to what we've known he's been doing all along. His continued use of human beings as political pawns is disgusting, and an embarrassing stain on the state of Texas," Adams' spokesperson Fabien Levy said in a statement. "New York will continue to welcome asylum seekers with open arms, as we have always have, but we are asking for resources to help do so. We need Washington, DC's assistance in dealing with the cruel political games being played by inept politicians like the governor of Texas."     
The first group of approximately 50 migrants arrived at the Port Authority Bus Terminal Friday morning around 6:30 a.m., according to the Daily News. 
"Because of President Biden's continued refusal to acknowledge the crisis caused by his open border policies, the State of Texas has had to take unprecedented action to keep our communities safe," Abbott said in a statement. "In addition to Washington, D.C., New York City is the ideal destination for these migrants, who can receive the abundance of city services and housing that Mayor Adams has boasted about within the sanctuary city."
New York City is one of few municipalities in the United States that has a right-to-shelter mandate, meaning anyone who goes to a shelter before a certain time of day is guaranteed overnight housing. 
Abbott's announcement follows a public showdown earlier in the week between the two leaders when Adams rebuffed the governor's invitation to visit the Texas-Mexico border, with Levy calling the offer a "photo-op." 
The Legal Aid Society, along with the Coalition for the Homeless, assailed Abbott on Friday for "shamelessly exploiting these migrants . . . to serve some myopic political purpose," the groups said in a statement, while calling on Adams to "immediately provide this Administration's plan for addressing the needs of all migrants arriving in New York City and requiring our help." Both organizations led criticism of Adams following his claims that the migrant influx was largely to blame for issues at the city's shelter systems. The advocates instead attribute the issues to surging evictions, along with understaffing and mismanagement at city shelters. 
It's unclear how many migrants Abbott plans to send here and where they are from. His administration did not respond to questions from City & State.
Powered By
NEXT STORY: Congestion pricing's next obstacle? The exemption debate.