New York City
NYC homeless advocates cast doubt on Eric Adams' claims that '2,800 asylum seekers' have entered shelters
Advocates accused the mayor of using asylum seekers and the federal government as scapegoats for the failures of his own housing policies.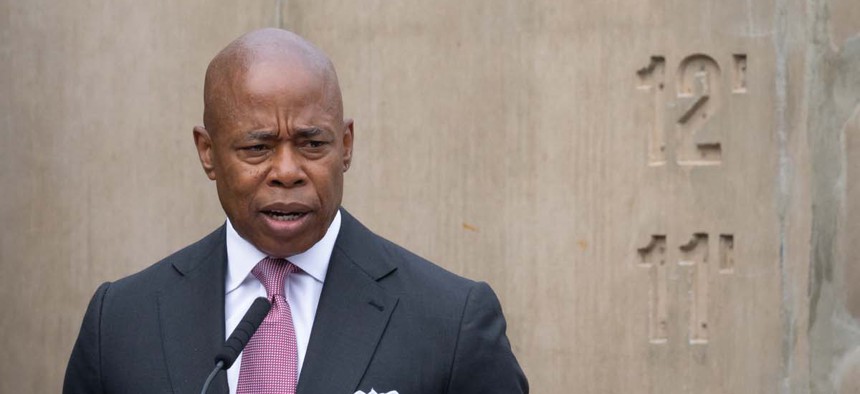 New York City homeless advocates accused Mayor Eric Adams of deflecting blame for the city's overburdened shelter system on an influx of migrants after the mayor on Tuesday called for "federal resources to assist with arriving asylum seekers in New York City." 
"Over the last several weeks . . . New York has experienced a sharp increase in asylum seekers from Latin America and other regions, with more than 2,800 individuals entering New York City's shelter system," the mayor's office said in a statement issued Tuesday morning. 
"In some instances, families are arriving on buses sent by the Texas and Arizona governments, while in other cases, it appears that individuals are being sent by the federal government," the statement said. 
Homeless advocates questioned Adams' math and said the increase in the shelter population is instead attributable to the city's affordable housing crisis, along with bureaucratic delays in helping unhoused people find permanent homes.
"If the mayor wants to talk about why the shelter census is increasing, it's a much more complicated picture, a lot of which falls on to City Hall," said Josh Goldfein, a staff attorney with Legal Aid's Homeless Rights Project. "The city has some cumbersome rules around approving apartments." He pointed to the Department of Social Services' lengthy approval process for shelter residents who obtain coveted CityFHEPS vouchers to secure apartments, along with utility costs that sometimes exceed the rent payable by vouchers. Goldfein added that staff at the city agency tasked with filing lawsuits on behalf of New Yorkers who are denied apartments because they planned to use government subsidies to cover the rent – the New York City Human Rights Commission's Source of Income Unit – has also been slashed as part of a cost-cutting measure by Adams, CityLimits reported in April.
Adams' comments on Tuesday follow a similar plea for federal aid made over the weekend by Washington, D.C. Mayor Muriel Bowser. Her city has seen an influx of asylum seekers from Arizona and Texas, where their Republican governors have offered migrants who cross the border from Mexico bus trips to Washington, The Washington Post reported.
Texas Gov. Greg Abbott announced in April that he would begin sending volunteer migrants to Biden's doorstep after the president lifted the Trump-era immigration policy that allows authorities to deny migrants' entry at the border. Abbott's office, in a statement issued after this story was published, denied that the state was sending migrants to New York City under the same program. 
"If these Democrat mayors are now that concerned about having migrants in their cities, they should call on President Biden to do his job and secure the border, instead of attacking Texas with baseless political accusations," Abbott spokesperson Renae Eze told City & State. "Texas has only been busing migrants to Washington, D.C. since the Governor launched the border mission back in April, busing over 5,100 to our nation's capital – and counting."
Goldfein suggested Adams could be wading into the partisan political battle to detract from the failures of his own housing policies.
"Just to point the finger at red states and the federal government and say 'that's why we're having this problem' is not talking straight with the people of New York City," Goldfein said.
Shelly Nortz, deputy executive director for policy at the Coalition for the Homeless, cast doubt on the mayor's claim that 2,800 asylum seekers have entered the shelter system in recent weeks and accused him of repeatedly misrepresenting statistics related to his homeless initiatives. 
"If there's some kind of hidden flood or people coming to New York City, they're not coming through our hotline, we're not getting complaints of large numbers of people having problems navigating the application process," she said. "I've learned to be skeptical about numerical claims that come from this administration, because when we peel back the layers, they're double counting or misclassifying. So I would want to see some much harder evidence before I were to buy this hook, line and sinker." Specifically, she pointed to the mayor's claims that 1,700 homeless people confronted through the city's subway sweep program have accepted social services or shelter placements.
As of Sunday, 48,188 individuals were living in the city's shelter system, according to data from the Department of Homeless Services. That's up from an average of 45,241 in March, but down from an average of 51,400 in March 2021.
In a joint statement issued following Adams' calls for more federal aid on Tuesday morning, the Legal Aid Society and Coalition for the Homeless said: "Let's be clear: the growing shelter census crisis squarely falls at the Mayor's feet, and asylum seekers shouldn't shoulder the blame for this."
Responding to the criticism at an unrelated press conference, Adams acknowledged the shelter system is already overburdened, but reiterated that it's only been exacerbated by the increasing number of asylum seekers he said are coming to New York City. 
"These states are sending people to New York without any communication or coordination: fact. We're not receiving any dollars in addition to the new responsibility that we're going to have: fact," he said. "So I'm just not clear on what Legal Aid believes we are doing that is blaming anyone. We're saying . . . we do need help to deal with this new wave of those who are in need of shelter."
Andrew Scherer, policy director of the Wilf Impact Center for Public Interest Law at New York Law School and director of the Housing Rights Clinic, said that both sides of the argument have merit. More asylum seekers have entered the U.S. as a result of President Joe Biden's reversal of his predecessor's restrictions on migrants, and it's likely that more have also ended up in New York. Many migrants may have family who already live in the city. Combined with the city's right to shelter laws that require it to offer housing to anyone who needs it, along with its status as a "sanctuary city" that limits local law enforcement's cooperation with immigration authorities, New York City has long been a welcoming place for migrants.
"I don't think this by any means is the sole reason for the increase in the shelter census, but for these particular individuals, if they are showing up as a result of their application for asylum, and they are showing up in new York City, it seems to me that it's reasonable the federal government should provide assistance to deal with them," Scherer said. 
With reporting by Jeff Coltin
This story has been updated to include a statement from Texas Gov. Greg Abbott's office.

Powered By
NEXT STORY: Monkeypox cases nearly double as NYC continues to plead for more vaccine doses