New York State
Hundreds of bills from last session still await Kathy Hochul's signature. Here are some of the major ones.
The state Legislature wrapped in June with a deluge of influential bills passed. With an election coming up in November, here are some Hochul has yet to sign off on.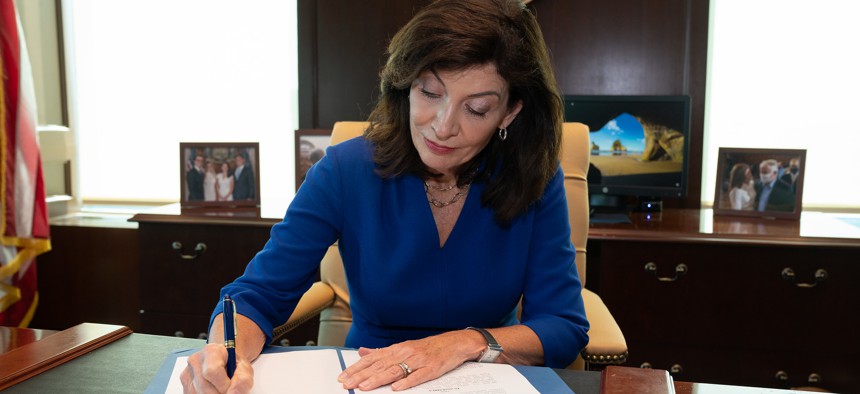 Gov. Kathy Hochul checked one of the many outstanding bills off her to-do list last week by signing the New York City class size legislation into law. Starting next year, public schools will be required to cap class sizes at 20 students in kindergarten through third grade, 23 students for fourth through eighth grade, and 25 students for high schoolers. The bill has officially become law after getting passed by the state Senate and Assembly three long months ago.
This isn't the only outstanding bill that has been awaiting signature by the governor. While state lawmakers continue their break from the state Capitol, there are about 450 bills that have passed both chambers and are awaiting review by the governor as of Sept. 9. Those include ones that would establish a moratorium on cryptocurrency mining and require insurance coverage for prescription drugs to prevent HIV.
The governor has 10 days (minus Sunday) to sign or veto a bill once it's sent to her desk. If the bills are never sent to the governor's desk, they will expire at the start of the 2023 Legislative session in January. Hochul also has the authority to request bills get sent to her before the start of the next session. There are many reasons why the governor may hold off on requesting controversial bills for a while, including the upcoming general election in November.
Here is a breakdown of what some of the remaining outstanding bills would do.  
Establishing a moratorium on cryptocurrency mining
This bill, sponsored by state Sen. Kevin Parker and Assembly Member Anna Kelles, would establish a two-year moratorium on cryptocurrency mining that would limit the state from approving any new permits for new cryptocurrency mining plants. As digital currencies become extremely popular amid carbon emission concerns, the bill would also require crypto operations to be subject to an environmental impact review. With the increased presence of cryptocurrency lobbying in Albany, the bill faced major pushback. Hochul has been aloof concerning the legislation and has not made her position on it clear.
Requiring insurance coverage to prevent HIV infection
This bill, sponsored by state Sen. Brad Hoylman and Assembly Member Daniel O'Donnell, would require all insurance policies for prescription drugs to include coverage for pre-exposure prophylaxis (PrEP) and post-exposure prophylaxis (PEP) to prevent HIV infection. PrEP is known to be extremely effective in slowing the transmission of HIV. PEP can aid in protection from virus transmission following possible exposure.
Requiring public hearings for utility rate hikes
This bill, sponsored by state Sen. John Brooks and Assembly Member Kimberly Jean-Pierre, would require utility companies to include notices of all public hearings on rate hikes on consumer bills. For years, climate change has meant extreme heat during the summer months and an increase in utility bills. With utility bills already increasing along with the added increases due to rate hikes, consumers can feel the impact on their pocketbooks. If passed, this bill would equip consumers with information about future rate hikes and prevent them from being blindsided by utility bill increases.
Prohibiting state agencies from charging additional interest on student debts
This bill, sponsored by Sen. Jamaal Bailey and Assembly Member Ken Zebrowski, would prohibit state agencies from collecting additional interest on student loans. Under current law, the state charges an additional 22% interest when a student defaults on payment to SUNY schools on top of interest they were already charged. This law would protect students from accruing additional debt when unable to pay loans.
Establishing the definition of "serious mental illness" for inmates
This bill, sponsored by state Sen. Luis Sepúlveda and Assembly Member Jeffrion Aubry, would establish the definition of serious mental illness for inmates. Inmates who are considered seriously mentally ill cannot legally be placed in solitary confinement. In New York City, the effects of this bill can easily be seen. Amid concerns about the treatment of detainees on Rikers Island in New York City and pressure from Mayor Eric Adams to roll back on bail reform, nearly half of the people incarcerated on Rikers have some form of mental illness. This bill would provide further protection to those detainees.
Requiring state disaster preparedness for medical supplies
This bill, sponsored by state Sen. James Gaughran and Assembly Member Jeffrey Dinowitz, requires the state disaster plan to include how medical supplies and medication will be delivered to pharmacies, hospitals and nursing homes during times of emergency. It's been ten years since Hurricane Sandy tore through communities across New York. The bill points to the difficulty of getting medical supplies to hospitalized patients when the Port Authority closed off access to bridges for non-emergency vehicles.
Correction: A previous version of this story – included in the Albany Agenda newsletter – misstated the number of days the governor has to sign or veto a bill. The governor has 10 days, not including Sundays, to sign or veto a bill after it is sent to her.
Powered By
NEXT STORY: Hochul lifts mask mandate on transit