Policy
With inflation soaring, some lawmakers want to hike New York's minimum wage rates next year
They also want to follow the lead of 16 states who annually index their minimum wage to inflation to keep up with the cost of living.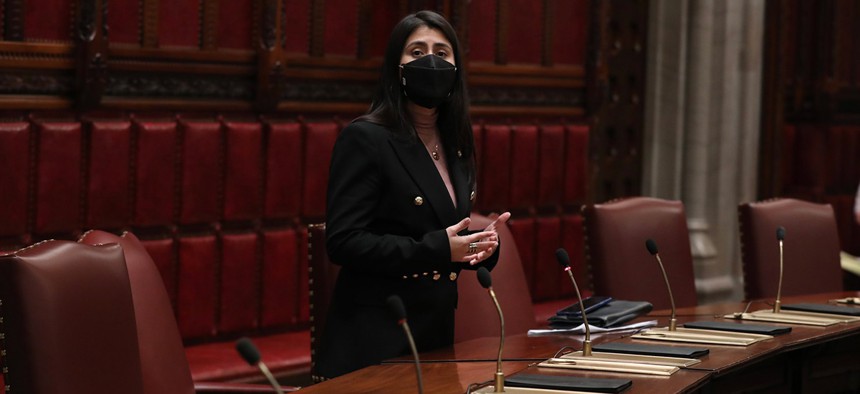 Gabriela would love, every once in a while, to take her two sons – Carlos, 15, and Steven, 8 – out to their favorite Mexican restaurant in Brooklyn for chorizo tacos with guacamole and breaded chicken cutlets. That's their favorite meal. But she can't. In fact, most nights, she can't afford to serve them meat of any sort in the single room they share in an apartment inhabited by others. They mostly live on rice and beans.
That's because Gabriela, 47 – who withheld her last name because she is an undocumented immigrant from Mexico – pulls in a little more than $2,000 a month as a housecleaner working at the current New York City minimum wage of $15 an hour. (One employer, she said – speaking in Spanish through translator Guadalupe Cortez, an organizer at New York Communities for Change – actually pays her below the legal minimum, $14 an hour, but she can't afford to complain.)
Her monthly rent for that room is $670, which leaves her about $1,330 to cover all other expenses, including food, transportation and the boys' clothes and school supplies. But with the U.S. Department of Agriculture having recently reported that, with current inflation, food prices were up nearly 11% from last summer, Gabriela is really feeling the squeeze. "A dozen eggs have gone from $5 to $6, and meat has gone even higher. I'm very stressed and start crying, and then my youngest starts crying and saying, 'Oh my God, we don't have money again.'"
If the New York City minimum wage went up to $20, she said, her monthly income would increase roughly by $800. "That would help a lot," she said.
Gabriela is not the only one struggling. In May, the nonprofit Robin Hood reported that 1.4 million New York City residents (including 1 in 5 children) – about 16% of residents – were living in poverty in 2020, even before inflation surged in the wake of the COVID-19 pandemic. The report also found that roughly 41% of Hispanic residents, 36% of Black residents and 27% of Asian residents faced material hardship, compared to 15% of white residents.
And that hardship was not limited to downstate. The U.S. Census Bureau found that seven of the 10 counties in the state with the highest poverty levels were upstate: Tompkins, Montgomery, Franklin, St. Lawrence, Chautauqua, Oswego and Broome. And currently, the state minimum wage outside of New York City, Long Island and Westchester is not $15, but $13.20. Working that rate at 40 hours a week comes to $2,112 each month before taxes, at a time when the average rent statewide for a two-bedroom apartment is about half that. (Households are considered unduly rent-burdened if 30% or more of their income goes to rent.)
For all these reasons, a coalition of state lawmakers and advocates will push in next year's legislative session to raise the minimum wage incrementally over the next few years on three separate tiers – New York City, downstate (Long Island and Westchester) and upstate – until likely 2025, then peg the minimum wage to inflation annually thereafter. That kind of annual indexing is already done in 16 states and Washington, D.C.
A version of such a bill, introduced in the state Senate by Sen. Jessica Ramos, died in the previous legislative session – due largely, advocates said, to having been introduced late, with little time to promote it properly. The bill called for raising the minimum wage by 2025 to more than $20 in New York City, to $17.95 downstate and to $15.75 upstate – and then pegging those floors to inflation going forward.
Ramos said exactly how the new bill would tweak those numbers was still being worked out privately, but that passing such a bill was imperative.
"I've always argued that the minimum wage should cover the bare minimum of expenses, but today that includes not just food, shelter and clothing, but broadband, health insurance and higher education," she said. "The minimum wage should be a living wage, but even before the pandemic" – and the inflation that has followed it – "the minimum wage in our state was out of step with the cost of living."
The last minimum wage hikes in the state were passed in the mid-2010s, incrementally bringing New York City's rate to its current $15 and other regions' to somewhat below that. (Of course, a recent trend of more job openings than those interested has, in many instances, brought offered wages above the minimums, sometimes well above $20, in many service and traditionally low-wage jobs.)
According to Maritza Silva-Farrell, executive director of the nonprofit ALIGN, which is part of a statewide coalition focused on minimum wage called Raise Up NY, a broad goal is to bring the statewide minimum to $21 an hour by 2025, or perhaps 2028, regardless of how the new bill details shake out.
"There hasn't been a minimum wage hike in New York in four years even as prices have skyrocketed, so this is a moral step we must take," she said.
She said the coalition was currently planning a monthslong campaign to raise awareness and support for the bill with elected officials, business leaders and working communities across the state. She said there would be a rally in support of the bill on Sept. 10 in Manhattan, and that the group, working with Ramos and Assembly Member Latoya Joyner, hoped to unveil a new bill in late October.
Advocates for the hike were reluctant to speculate how easily the bill could pass next year in Albany, where some seats will be in play in the November elections. Most observers expect Democrats to hold on to their comfortable majorities in both chambers.
"True," said Silva-Farrell, "some politicians' hands are tied because they take money from big business. But on the other hand, this isn't a Democrat versus Republican issue, because everyone is struggling. Hopefully, we'll have newly elected people who know that their constituents need this just to keep up with the rising cost of living."
Plus, advocates pointed to an April poll from the progressive group Data for Progress that found 95% of New Yorkers thought the minimum wage should be at least $15, and 62% thought it should be at least $20. Majorities of Democrats, independents and Republicans said a living wage in the state was at least $20.
The coalition hopes to increase its pool of small and midsize businesses that support the legislation – partly on the idea that, if the minimum wage is pegged annually to inflation, then businesses will know what to expect for their payrolls year to year and can plan accordingly. One business owner already on board is Jonathon Welch, owner of Talking Leaves Books in Buffalo, who starts his staffers at just above the upstate minimum wage of $13.20 but also has workers currently making as much as $18.
"People need to make a living wage, which the current minimum wage is not," he said. "But also, if people make more money, then they're able to spend more and also don't have to be on food stamps and a burden to the state."
He also thought, as much research has suggested, that paying people more made them more loyal and efficient workers and reduced turnover, which comes with its own costs. "I want people to work here for a long time and become committed to the store," he said, "because staff that develops relationships with customers helps me stay in business."
Of course, liberal and conservative economists have long argued over whether wage hikes are ultimately good or bad for the overall workforce and the economy, and this time is no different. On the pro-hike side, supporters pointed to a 2019 report on the massive New York City restaurant sector from the New School's Center for New York City Affairs and the National Employment Law Project that found that as New York City's minimum wage gradually rose to $15 by that year, "the large wage floor rise did not diminish various indicators of restaurant performance, including job growth."
James Parrott, director of economic and fiscal policies at the Center for New York City Affairs, said the wage hike did not hurt restaurants because "in the wake of a wage increase, turnover goes down, which saves employers on recruitment and training."
And the wage hikes have good outcomes beyond employers, he said: "If you increase wages, workers tend to spend a lot of that back into the local economy, which increases demand for many businesses."
If more hikes pass, he said, ""We expect it'll reduce child poverty and increase the incomes of about 2 million workers statewide, which is more than 20% of the entire state workforce, which will help some portion of them rise above poverty."
But on the flip side, Peter Warren, research director of the conservative Empire Center for Public Policy, said, "If it makes sense for a business to raise its wages, they can do so on their own. Who would know more than a business owner the impact of the wages they pay on hiring prospects, employee satisfaction and the company bottom line?"
Warren also said that the cost of hiring in the state had gone up due to the recent hike in unemployment insurance payroll taxes resulting from mass layoffs sparked by the COVID-19 pandemic. "Those increased taxes are essentially a tax on hiring," he said, "with each new hire costing more to keep on the rolls."
And, although he acknowledged the difference between federal and individual state scenarios, he cited a 2021 Congressional Budget Office report finding that if the federal minimum wage were increased incrementally from its current $7.25 up to $15 by 2025, that would increase the cost to employers of producing goods and services – increases that they would pass on to consumers via higher prices, thereby reducing consumption, which would in turn would make employers produce fewer goods and services and, accordingly, cut their worker rolls. (The report also found that raising the federal minimum wage to $15 would lift nearly 1 million people out of poverty.)
Warren also pointed to a 2021 National Bureau of Economic Research report that looked at countless studies since the early 1990s on the effect of minimum wage hikes on the job market overall – and concluded that there was "a clear preponderance of negative effects," with "evidence stronger" for negative growth in the job market "for teens and young adults as well as the less educated."
It's through that lens that groups like the New York chapter of the National Federation of Independent Business oppose the hikes in New York. 
"Small businesses are sinking under the weight of substantial economic headwinds," said Ashley Ranslow, a spokesperson for the group. "Supply chain issues, 40-year-high inflation, stubbornly high gas and energy prices, and excessive unemployment insurance taxes are pushing small businesses to their breaking points. While the nation has largely recovered and many states have surpassed pre-pandemic employment levels, New York's unemployment rate is significantly higher than the national average, and the state has not recovered all of its pre-pandemic jobs. The absolute last thing Albany should be contemplating is increasing the minimum wage, and even worse, indexing it to inflation."
But despite those arguments, pro-hike advocates are confident that 2023 will be the year the increases go through in Albany. "We got the bill out late in the game last year when there was already quite a bit on the agenda," said Charles Khan, the organizing director of the Strong Economy For All coalition, part of the Raise Up NY coalition. "This year, we'll get it out early, really raising the voices of regular New Yorkers."
In Brooklyn, Gabriela is hoping for that. "If the minimum wage gets raised to $20, it would help many people, not just me," she said. But, she added, it certainly would help her. "I could buy Steven a toy occasionally, and we could have chicken every day."