New York State
New York lawmakers want your right to an attorney to cover immigration too
With a bill that has failed to pass the state Legislature in recent years, more low-income immigrants would have access to representation – the only problem is finding lawyers for them.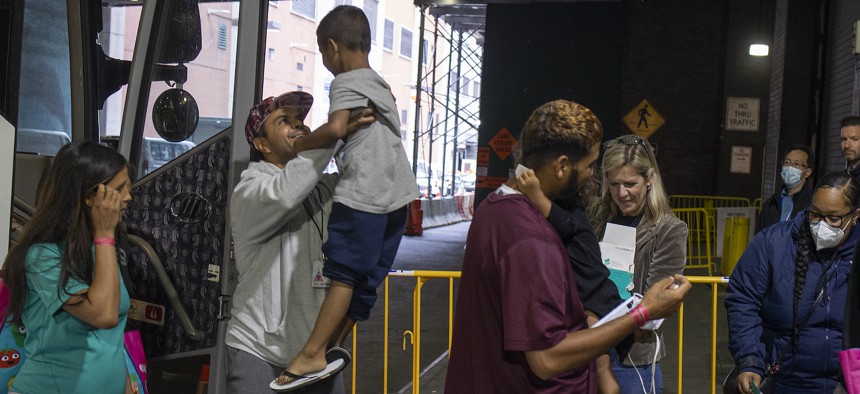 Anyone who's grown up watching Law & Order probably knows their Miranda Rights very well. Chief among them: You have a right to an attorney. But that only applies to criminal cases. In other instances where legal cases can result in losing your home or getting deported, the same right isn't extended. 
That's what the Access to Representation Act in the state Legislature aims to remedy. The bill, sponsored by state Sen. Brad Hoylman and Assembly Member Catalina Cruz, would create a right to counsel in immigration court with accompanying funding to make that possible. But while the sponsors and immigration advocates agree on the significant need for the legislation, its rollout may face the same hurdles as New York City's existing right to counsel in housing court. Namely, a shortage of lawyers to handle a huge number of cases. 
The Access to Representation Act would give immigrants in the state making up to twice the federal poverty income the right to an attorney if they wind up in immigration court. This could be for any number of reasons, though perhaps most significantly to retain their residency in the U.S. And though New York isn't a southern border state, Cruz said that countless immigrants in the state would benefit from her bill. 
A memo from the bill sponsors references a report from the American Immigration Council on the benefits of counsel in immigration court. According to that report, immigrants who went to court with lawyers had a significantly higher chance of receiving favorable outcomes and of winning their cases: 44% of immigrants were able to challenge their detention when represented, compared to just 18% of those without attorneys. And from there, 44% of immigrants with counsel were released from custody, compared to 11% of those without. Among never-detained immigrants, 78% ultimately won their cases when represented by an attorney, compared to only 15% otherwise.
Immigration issues have led the news in recent weeks locally as Texas Gov. Greg Abbott has sent buses of migrant asylum seekers to New York City, where municipal infrastructure is struggling to accommodate the sudden influx. But according to Cruz, the need for a right to counsel long predates the current news coverage and will long outlive it. "Even if all of a sudden, tomorrow, we wake up and the Biden administration and Senate got it together and gave us immigration reform, the need for lawyers actually wouldn't decrease," Cruz told City & State. 
But that doesn't mean that the rollout will happen immediately, or seamlessly, if the bill gets approved next year. Although there is not "a tremendous surplus" of immigration attorneys now, Hasan Shafiqullah, attorney in charge of the Immigration Law Unit at the Legal Aid Society, said that he would expect that number to increase over a slow rollout. "I think the challenge more than finding the attorneys to do the work is finding supervisors of those attorneys," Shafiqullah said. "That has sort of been the bottleneck on the housing side as well." 
Shafiqullah was referencing New York City's right to counsel in housing court, established in 2017. Getting that program fully up and running has been years in the making, slowly expanding it to more parts of the city as new lawyers entered the field. But it was and continues to be a process, one that a statewide right to counsel for immigrants will doubtless go through. "There's only so much growth you can do without a supervisory component," Shafiqullah said.
Even now the housing court right to counsel program faces roadblocks to achieving true universal access. In recent weeks, housing advocates have called on the courts to slow the pace of cases because it exceeded the number of lawyers able to handle cases as it makes its way through the pandemic backlog. Attorneys face a similar backlog of immigration cases after a slowdown the past several years.
The Access to Immigration Act would come with a fund that at its peak would dole out $300 million annually to support organizations that provide legal services to immigrants. Cruz said that while the money won't go toward incentivizing more people to specialize in this particular field of law, it would allow these groups to hire more lawyers and offer them competitive wages to attract more talent. "The problem is right now that they just don't have the money, even if the lawyers existed," Cruz said. "The main part of the bill is just creating the capacity." Shafiqullah also predicted that with more jobs available, law schools will begin providing more externships that offer students immigration law experience.
This all is contingent on the proposal becoming law, which has failed to happen in years past when lawmakers introduced it. But Cruz said she remains hopeful that 2023 will be different. "What I'm hoping to see next session is that it's not just a need – it's an immediate need because it's right in our face," Cruz said. "It's a crisis that we have to help solve, and lawyers for this situation are going to be a key component of that solution."