New York City
New York's new concealed carry law is severely flawed, federal judge says
The Wednesday ruling allowed the new law to take effect, but reads like a blueprint for future court battles.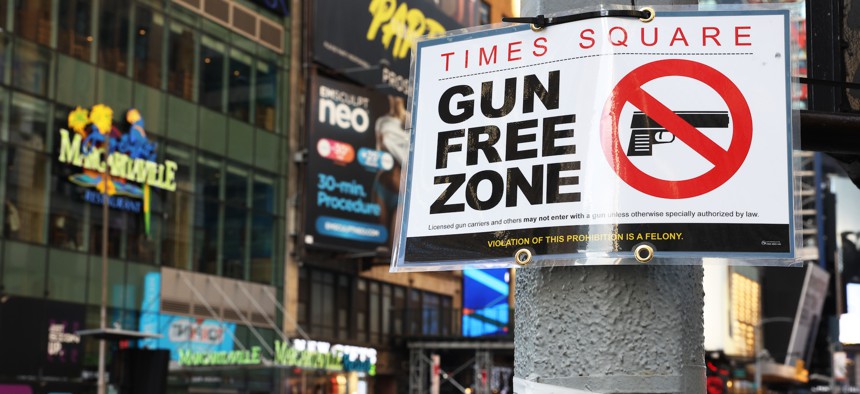 While Gov. Kathy Hochul on Wednesday lauded a federal court ruling that essentially determined the state's new concealed carry restrictions could take effect as planned on Thursday, the judge's decision cast doubt on the constitutionality of numerous aspects of the law, setting the stage for future court battles. 
Judge Glenn Suddaby denied a motion brought by a Schenectady man, along with several gun-rights organizations, for a preliminary injunction on the grounds the plaintiffs could not sufficiently prove how the law would negatively impact them. Suddaby also found that the defendant in the case, New York State Police Superintendent Kevin Bruen, was not directly responsible for carrying out many of the provisions the plaintiffs argued were violations of their constitutional rights. 
Effective Thursday, the bill set up new restrictions for who can obtain a handgun license and where they can carry their weapons in response to the Supreme Court's June 23 determination that the state's previous requirement that an applicant show "proper cause" to obtain a concealed carry permit permitted an unconstitutional degree of subjectivity.
Ivan Antonyuk, along with Gun Owners of America, the Gun Owners Foundation and Gun Owners of America New York, filed the legal action in the Northern District Court on July 20 following the state legislature's passage of the "Concealed Carry Improvement Act." While they ultimately lost the court battle, Suddaby's ruling gave merit to several key arguments, determining they "would tip the scales in favor of granting plaintiff's motion, if they had standing." These are the major legal fallacies associated with the new law, according to Suddaby:
1. The state's requirement that licensing agents can only issue permits to applicants who will not endanger others by using their guns in public is logically implausible.
The provision that only people who have the "essential character temperament and judgment necessary to be entrusted with a weapon and to use it only in a manner that does not endanger oneself or others" is absent of four important words – "other than in self-defense," Suddaby wrote in one of his most scathing criticisms of the new legislation, noting that the act of using a gun in public inherently endangers others.  
"While pursuing the laudable goal of public safety, and in an attempt to curb ever-increasing mass shootings, the New York State Legislature has generated an unconstitutional statute in the CCIA. In its eight-day haste to pass a legislative response to the Supreme Court's decision in NYSRPA (which reads less like such a measured response than a wish list of exercise-inhibiting restrictions glued together by a severability clause in case some of the more fanciful restrictions were struck down), the New York State legislature forgot four important words – 'other than in self-defense.'" 
2. The state cited irrelevant case law in its defense.
Suddaby contested the state's claim that the "essential character" language mirrors case laws cited in the Supreme Court's decision, writing that none of the statutes "require a condition that is literally impossible to achieve: the use of a firearm in a manner that does not endanger oneself or others." The judge also questioned the state's logic in citing the New York Mental Health Hygiene Law to defend the omission of the self-defense clause, considering that law applies only to people who have been diagnosed with a mental illness.
"Not surprisingly, Defendant cites no examples from this Nation's historical tradition of firearm regulation requiring an analogous logical impossibility as a condition precedent to carrying a firearm (concealed or not)." 
3. The legislation still gives licensing officers "open-ended discretion" to determine who can obtain a permit.
"Although this open-ended-discretion issue presents a closer call than does the impossibility-of-performance issue discussed in the prior section of this Decision and Order, the Court must ultimately agree with Plaintiffs that a majority of Justices on the Supreme Court would find that New York's new definition of 'good moral character' does not in fact remove the open-ended discretion previously conferred by New York State's licensing regime on licensing officials and condemned by those Justices . . . Instead, New York State's new definition merely changes the nature of that open-ended discretion." 
4. The law could potentially violate First and Fifth Amendment rights. 
By requiring concealed carry applicants to submit a detailed accounting of their social media histories, the law essentially forces a degree of self-incrimination, a possible infringement on Fifth Amendment rights, according to Suddaby. Using social media postings to determine whether someone can obtain a permit introduces "First Amendment concerns stemming from the applicant having to disclose, and being punished for, political speech," Suddaby wrote.
5. The state's list of "sensitive places" where guns are banned is "almost limitless" and is outside of the scope of what the Supreme Court allowed. 
The court found that the "common thread" tying together the list of sensitive locations where the new law banned guns is that they are all areas where people typically congregate and where law-enforcement and security professionals are presumably readily available. Those are the same reasons the Supreme Court used to reject the state's initial proposed definition of sensitive places, according to Suddaby. He also took issue with the gun ban on private property:
"By declaring a policy governing all property owners, New York State is usurping (not protecting) the rights of property owners to decide things for themselves, effectively seizing people's private property and declaring it to be a gun-free zone."