gun control
Supreme Court strikes down New York's concealed carry law
The court ruled in favor of two upstate men who argued the state's restrictions on who can carry a gun outside their home infringed upon their Second Amendment rights.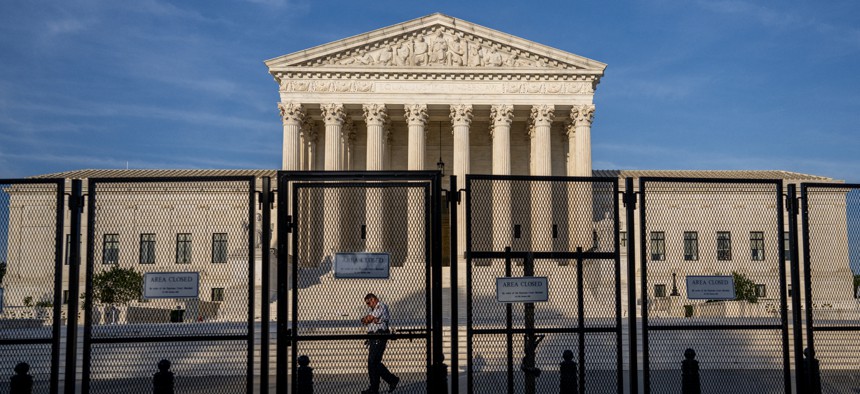 The Supreme Court struck down New York's restrictions on who can carry a concealed weapon in public on Thursday in a landmark decision that marks a significant victory for gun rights activists. 
"Because the State issues public-carry licenses only when an applicant demonstrates a special need for self-defense, we conclude that the State's licensing regime violates the Constitution," Justice Clarence Thomas wrote on behalf of the conservative-majority court, which ruled 6-3 against the New York State Police. "Nothing in the Second Amendment's text draws a home/public distinction with respect to the right to keep and bear arms, and the definition of 'bear' naturally encompasses public carry."
The court's more conservative justices concurred with Thomas, while Justices Sonia Sotomayor and Elena Kagan – both New York natives –  joined Justice Stephen Breyer's dissenting opinion. 
The plaintiffs in the case – two upstate men, Robert Nash and Brandon Koch, along with the New York State Rifle and Pistol Association – argued that the state's requirement to show "proper cause" to obtain a concealed carry license violated their Second Amendment rights, contending that their desire to protect themselves was reason enough. The 111-year-old law effectively banned anyone who could not "demonstrate a special need for self-protection distinguishable from that of the general community" from carrying a gun outside their home. 
The decision is one of the most notable changes made to gun laws by the Supreme Court since it overturned Chicago's ban on handgun ownership in 2010. The ruling is expected to affect five other states with gun laws that say officials "may issue" a concealed carry permit, rather than "shall."
Liz Fine, counsel to Gov. Kathy Hochul, said she expected people to begin applying for licenses "today" under the new permit requirements, CBS 6 in Albany reported. However, there will still be some limitations on who can obtain the licenses, according to Thursday's ruling. 
"The Second Amendment 'is neither a regulatory straightjacket nor a regulatory blank check,'" Kavanaugh wrote, citing previous case law. "Properly interpreted, the Second Amendment allows a 'variety' of gun regulations." Federal laws prohibit convicted felons and people who have been declared mentally incompetent by a court or committed to a mental hospital from possessing guns.
In oral arguments in the case last year, the Supreme Court justices indicated they generally agreed with the argument that the state's law was too vague, but suggested the restrictions could stand in certain "sensitive places," such as the subway system and college campuses. "The court affirms . . . that States may forbid public carriage in 'sensitive places,'" Breyer wrote in his dissent. "But what, in 21st-century New York City, may property be considered a sensitive place?" Thomas, however, wrote Thursday that the "sensitive places" provision should be carefully applied. "There is no historical basis for New York to effectively declare the island of Manhattan a 'sensitive place' simply because it is crowded and protected generally by the New York City Police Department," he wrote. 
Mayor Eric Adams, in a statement issued shortly after the ruling, said his office would conduct "a comprehensive review of our approach to defining 'sensitive locations' where carrying a gun is banned."
"We will work together to mitigate the risks this decision will create once it is implemented, as we cannot allow New York to become the Wild West," Adams said.
Gov. Kathy Hochul immediately said she was looking into calling the state Legislature back to Albany for a special session in order to pass gun control laws that could withstand the court's scrutiny. 
State Sen. Brad Hoylman, a Manhattan Democrat, said he's eager to go. "That's exactly the response. We can't sit back and have these out-of-touch justices dictate public safety in New York – especially when we've just experienced the worst mass shooting in New York history," he told City & State Thursday morning. "I'm fully prepared to go back to Albany once the governor makes that call. And tailor a bill that keeps New York's carry laws strong."
The state's top law enforcement officials also said they were reviewing the opinion and looking at ways to strengthen gun laws. 
"New York still has some of the toughest gun laws in the country on the books, and we will continue to use these statutes to hold accountable those who commit gun violence," Manhattan District Attorney Alvin Bragg said in a statement. "At this very moment, my office is analyzing this ruling and crafting gun safety legislation that will take the strongest steps possible to mitigate the damage done today."
State Attorney General Letitia James, who successfully argued against the case in a lower court, also said her office "will continue to do everything in our power to protect New Yorkers from gun violence and preserve our state's common sense gun laws," she tweeted.
Not all New York liberals were disappointed, however. An organization of Black legal aid lawyers had filed an amicus brief calling for the law to be struck down, since, in part, it's applied in a racially discriminatory manner. "Virtually all our clients whom New York prosecutes for exercising their Second Amendment right are Black or Hispanic," the brief reads. "And that is no accident."
The Legal Aid Society as a whole seemed to see the ruling as an opportunity. The organization issued a statement Thursday urging officials to rewrite the law to eliminate racial disparities in the permit approval process. 
"As lawmakers consider next steps in response to this decision, let us be abundantly clear: it would amount to a historic disservice to both public safety and the best interests of the New Yorkers for Albany to reproduce a regulatory scheme that perpetuates the same disparate outcomes yielded under the previous law or to further criminalize gun ownership," Legal Aid said in a statement that also condemned "the white supremacist and anti-democratic agenda of the gun lobby and the NRA and the hate-filled tragedies that have taken the lives of so many in Buffalo and across this country."
Powered By
NEXT STORY: Why are rent stabilized tenants getting rent hikes?