New York City
What has New York done to protect from storms in the year since Ida?
A year after the devastating storm, New York has taken some steps to introduce absorbent infrastructure, but major vulnerabilities like basement apartments remain an issue.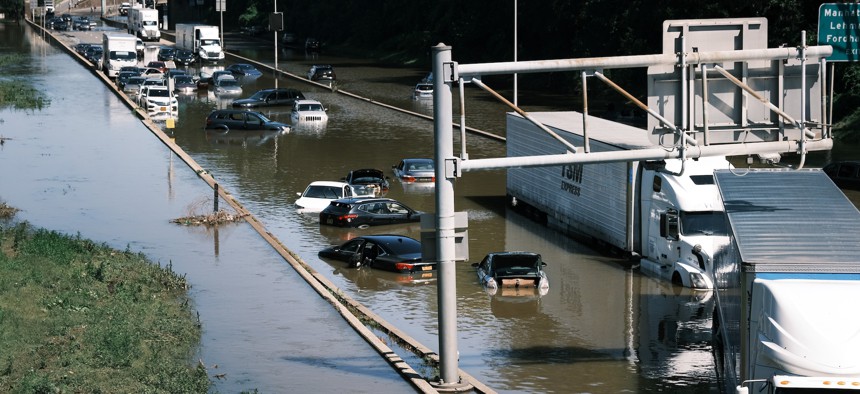 In the aftermath of Hurricane Ida – the remnants of which devastated the New York metropolitan area one year ago, killing 13 people in New York City – local lawmakers sounded an alarm that climate activists have been ringing for years. New York can and should expect more severe weather like this.
The storm produced a chorus of calls for action to protect from future flooding and record rainfall, including action to protect residents of basement apartments – where most of Ida's victims died. On the anniversary of Ida on Thursday, New York City Mayor Eric Adams touted steps the city has taken to build more resilient – and absorbent – green infrastructure like curbside rain gardens to absorb stormwater. But he acknowledged that there hasn't yet been progress on regulating the city's illegal basement apartments for the purpose of making them safer.
Echoing statements made by his chief climate officer in a City Council hearing on this topic last month, Adams said on Thursday that the fixes that are needed to mitigate damage from severe weather are not going to be achieved in the short term. "This is not a one-year change. This is a sustained change that we have to do," Adams said. "What has changed (from) last year to this year is building out more (flood) sensors. It's building out more of these (rain) gardens. It is putting in the systems with better communication to zero in on those who live in basement apartments."
A year later, here's where New York stands on some of the post-Ida calls to action.
Improving alert systems
The storm that hit the New York region on Sept. 1 last year arguably shouldn't have been as much of a surprise as it was. Despite the predictions of heavy rainfall and flooding leading up to it, the storm nonetheless seemed to catch New York City off guard, leading to criticisms that alerts and advisories made by the city, state and the National Weather Service fell short. There was even a concern that too many alerts – like mobile push notifications – from these different sources left New Yorkers confused or overwhelmed about how to prepare, or contributed to "warning fatigue." Curbed reported that Notify NYC, New York City's emergency alert system, alone sent 29 alerts during Ida.
In the aftermath, then-Mayor Bill de Blasio suggested that the city might have to enact more aggressive emergency advisories to prepare for future storms, including travel bans or evacuations of basement apartments. But experts have also suggested that travel bans and advisories to find higher ground might be difficult to act on in a dense low-lying city like New York.
According to Rainfall Ready NYC, a new action plan for storm preparedness and response released by the Adams administration in July, New York City Emergency Management is set to activate its Flash Flood Emergency Plan if the forecast predicts rainfall of one inch or more per hour. That would include steps such as inspecting chronic flood locations and clearing debris from catch basins. Adams also announced the expansion of flood sensors to monitor conditions on streets during storms.
The plan also asserted that Emergency Management and City Hall will coordinate on travel advisories, potential travel bans and specific advisories for residents of basement apartments. It was unclear, however, if there will be more coordination on alerts from city, state or federal authorities in the future to cut down on confusion or conflicting messages. State Attorney General Letitia James also called on the National Weather Service to expand the number of languages for its severe weather notifications – since it only sends alerts in English and Spanish. Notify NYC is currently available in 14 languages, including American Sign Language.
Regulating basement apartments
Despite a groundswell of support behind legalizing and regulating basement apartments in New York City after Ida, state lawmakers failed to advance a bill last session that could have allowed that to happen. The legislation, sponsored by Assembly Member Harvey Epstein and state Sen. Brian Kavanagh, would have given the city power to enact regulations and safety standards for existing illegal basement apartments. "We do need Albany's help to legalize these apartments so that we can do our role," Adams said on Thursday when asked about the risks that residents of basement apartments – who are usually low-income and sometimes immigrants – still face.
In the meantime, New York City Comptroller Brad Lander proposed steps this week to recognize the basement units and require the implementation of basic safety measures like smoke detectors and water backflow preventers.
Building green infrastructure
Acknowledging the inflexibility and age of much of New York's street and transit infrastructure to absorb heavy and sudden rainfall, experts have pointed to "green infrastructure" solutions to help manage stormwater, including permeable playgrounds, green roofs and rain gardens. In his press conference on Thursday, Adams said 11,000 curbside rain gardens have already been constructed around the city, and another 1,000 are on track to be finished by the end of this year.
But like the city's program to distribute inflatable flood dams to homes in vulnerable areas, these steps have been referred to as Band-Aid measures that won't on their own protect New York from future flooding.
Upgrading sewer systems
The focus on green infrastructure highlighted where New York City's sewer system – which was not designed to manage the heavy rainfall that Ida brought and that future storms will certainly bring – falls short. "For more than a century our sewer system handled most every storm pretty well," New York City Chief Climate Officer and Department of Environmental Protection Commissioner Rohit Aggarwala said Thursday. "They aren't perfect. They require ongoing maintenance. Some of our sewers, due to the decisions of borough presidents long ago, are substandard in some parts of the city. Like parts of Southeast Queens nearby, there are no storm sewers."
Adams reiterated on Thursday that the city was working on upgrading its sewer infrastructure, including putting $2.5 billion in upgraded sewers in Southeast Queens. But that work can't happen quickly enough. "The reality is that heavy construction takes time and public engagement takes time and sound planning takes time," Aggarwala said at a City Council hearing last month. "Even if we operated under pandemic-like emergency procedures, it would still take a long time to change our infrastructure."